News
Project Blue Book Episode 6 Trailer and Episode Guide
Former Game of Thrones schemer Aidan Gillen delves into the world of UFOs in History series Blue Book, produced by Robert Zemeckis.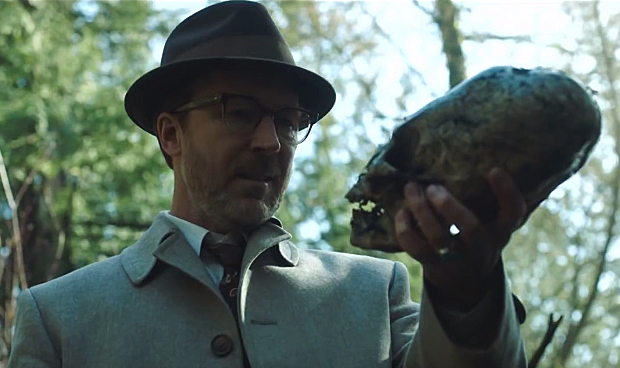 While Aidan Gillen will probably spend a long time shaking off the residual chaos reaped by his Game of Thrones character Peyr "Littlefinger" Baelish, his starring role on History series Project Blue Book could represent his biggest Baelish departure yet.
Project Blue Book will blip History's radar as a 10-episode series. Gillen will star in the 1950s-set fact-based drama as Dr. Josef Allen Hynek, depicting secret U.S. Air Force investigations into supposed UFO (Unidentified Flying Object) encounters and generally unexplainable X-Files-type phenomenon.
Project Blue Book Episode 6 Trailer
Project Blue Book Episode 6 is called "The Green Fireballs" and debuts on February 12. Here's a trailer:
Project Blue Book Episode Guide
Project Blue Book Episode 1: The Fuller Dog Fight
Astrophysicist Dr. Allen Hynek is recruited by the U.S. Air Force into a top-secret program investigating UFOs; Dr. Hynek joins Capt. Michael Quinn to investigate the case of a military pilot who survived a dogfight with an alien craft.
air date: 1/8/19
Read our "The Fuller Dog Fight" review here.
Project Blue Book Episode 2: The Flatwoods Monster
Dr. Hynek and Captain Quinn investigate a West Virginia case of a woman and her two children who witnessed a flying saucer crash near their farm and an alien being emerge from the fiery wreck; based on the Flatwoods Monster case.
air date: 1/15/19
Read our "The Flatwoods Monster" review here.
Project Blue Book Episode 3: The Lubbock Lights
Hynek and Quinn are brought in to investigate when the citizens of Lubbock, Texas, witness a mysterious V-shaped craft in the night sky.
air date: 1/22/19
Read our "The Lubbock Lights" review here.
Project Blue Book Episode 4: Operation Paperclip
A commercial airliner's bizarre UFO encounter leads Hynek and Quinn to a top-secret program involving ex-Nazi scientists in Huntsville, Ala., that has a mysterious agenda all its own.
air date: 1/29/19
Read our "Operation Paperclip" review here.
Project Blue Book Episode 5: Foo Fighters
Hynek and Quinn follow a series of strange clues leading them to a secret group of people who not only claim to have witnessed strange lights during combat called Foo Fighters, but also claim to know a way to contact them.
air date: 2/5/19
Read our "Foo Fighters" review here.
Project Blue Book Episode 6: The Green Fireballs
After mysterious green fireballs nearly cause a nuclear disaster during a weapons test, Hynek and Quinn must investigate how this could have occurred, each with altering theories as to what is really going on.
air date: 2/12/19
Project Blue Book Release Date
Project Blue Book premieres on Tuesday, January 8 at 10/9c on History.
Project Blue Book Trailer
Here are some of the Project Blue Book trailers that have surfaced over the past months.
The one immediately above was the first Project Blue Book trailer, which arrived back in July, showcasing a series that appears to put the real-life investigations of the eponymous project and J. Allen Hynek (Aidan Gillen) through the eerily-lit lens of The X-Files. Indeed, we see Hynek accompanied by assigned military partner, Captain Michael Quinn (Michael Malarkey), interviewing witnesses to purported U.F.O. sightings and other seemingly supernatural events, carrying an appropriate amount of skepticism for the show's 1950s setting while left flummoxed by the things they encounter.
While it's safe to say that the veneer of artistic license glistens prominently in what we've been seeing, the series, nevertheless, looks like an intriguing entry in the genre, especially for X-Files fans who regained an appetite for the stuff in the aftermath of the recent revival seasons.
Project Blue Book Cast
Aidan Gillen (Game of Thrones, Bohemian Rhapsody) has been tapped to star on the series, playing Dr. Josef Allen Hynek, an astrophysicist by trade, who eventually – to national prominence – takes up the profession of "Ufology," skeptically investigating mysteries seen in the skies. Of Hynek's Air Force research projects, 1952-1970's eponymous Project Blue Book – designed to collect data and assess if UFOs are a threat to national security – remains one of the most cited amongst the circles of enthusiasts (despite its skeptic-sided conclusions).
Micheal Malarkey (The Oath, The Vampire Diaries) will play Captain Michael Quinn, a decorated WWII Air Force pilot who is tasked with running Project Blue Book, partnered with Dr. Allen Hynek (Aidan Gillen), providing a perspective of gut-feelings and general instinct, contrasting with Hynek's detached scientific approach.
Laura Mennell (The Man in the High Castle, Watchmen) will play Josef's wife, Mimi, who becomes immersed in a friendship with a mysterious woman named Susie (Ksenia Solo), with potentially dangerous consequences.
Ksenia Solo (TURN: Washington's Spies, Lost Girl) will play Susie, an attractive and confident new arrival in town, who , under suspicious circumstances, quickly strikes up a friendship with Mimi.
Neal McDonough (Arrow, Captain America: The First Avenger) will play General James Harding.
Michael Harney (Orange is the New Black, True Detective) will play General Hugh Valentine.
Project Blue Book Crew
While Project Blue Book arrives as a project based on a spec script by up-and-coming screenwriter David O'Leary (who serves as co-executive producer), it will manifest on History with major gravitas from legendary Back to the Future Trilogy, Forrest Gump and Cast Away director Robert Zemeckis, who is onboard as an executive producer. The director's chair will be occupied for the first two episodes by Robert Stromberg, director of 2014's Angelina Jolie-starring Sleeping Beauty adaptation Maleficent, whose resume contains Art Direction Oscars for Avatar and Alice in Wonderland. However, the buck will stop with Sean Jablonski (Gypsy, Suits, Nip/Tuck), who serves as showrunner, executive producer and writer.
Joseph Baxter is a contributor for Den of Geek and Syfy Wire. You can find his work here. Follow him on Twitter @josbaxter.