News
Preacher Season 4: Jesse Turns Down the Throne in Exclusive Clip
Jesse doesn't need to mull Fiore's offer over too long in this exclusive new clip from Preacher season 4 episode 8.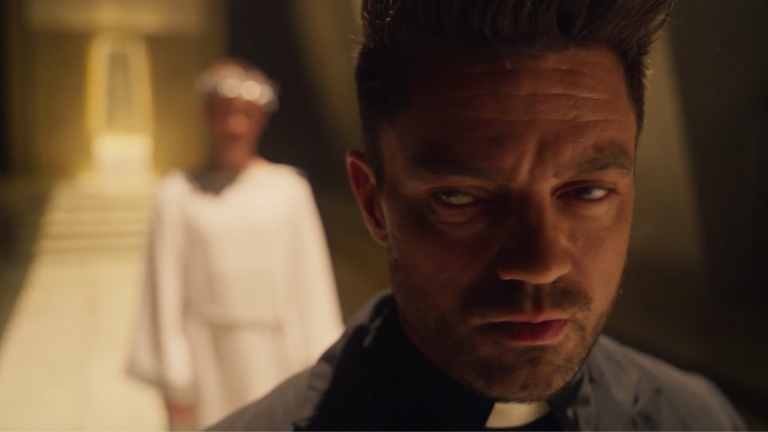 Nobody on Preacher has a more complicated relationship with his creator than Jesse Custer. Annville, Texas's man of God began the series arc by trying to track down the Holy Father to make him answer for his many crimes. Now in Preacher season 4, Jesse and friends Tulip and Cassidy are closer than ever. 
Still that didn't stop Jesse from turning down a very tempting offer last week. With God momentarily away from his throne, wayward angel Fiore presented a very tempting offer for the titular preacher. Just sit on the thing, take over God's job and prevent the coming apocalypse. Jesse's response? An emphatic no. In this exclusive new clip from Preacher season 4 episode 8, "Fear of the Lord," Jesse reveals his reasoning.
"After all he's done, knowing what he plans to do, you're really gonna stick with God? Like a child?" Fiore demands to know from Jesse.
"I gave you my answer," Jesse responds.
"Well it's a shit one."
"Then I guess it's back to watching my dad get killed over and over. I'll let you in on something, Fiore. I've had that playing in my head since I was 10 years old. A little film strip ain't gonna change shit."
further reading – Preacher: The Most Shocking Moments From the Comics
Lest we forget, Jesse is actually in hell, and forced to live the traumatic circumstances of his father's death over and over again. But as he explains to Fiore, his hell seems quite a bit like Earth already anyway. How Jesse's decision to turn down the throne will effect the oncoming Humperdoo/Hitler apocalypse (this show is weird) remains to be seen but surely Jesse and friends have a plan. Still, Fiore seems to think there's something he's overlooking.
"Let me let you in on something preacher," he begins, before the clip tantalizingly cuts off.
The description for the episode reads "Masada is abuzz as the Messiah has arrived and the Apocalypse Revue is ready to take the stage. Our heroes mount one final assault in a desperate attempt to thwart the end of the world, but God uses every trick in His omniscient arsenal to divide them. Back in Australia, Eugene gets out of prison."
Preacher season 4 episode 8 "Fear of the Lord" airs on Sunday, September 15 at 10 p.m. ET on AMC.
Alec Bojalad is TV Editor at Den of Geek and TCA member. Read more of his stuff here. Follow him at his creatively-named Twitter handle @alecbojalad