News
Preacher Season 3 Exclusive Sneak Peek
We've got an exclusive look at Preacher's new season!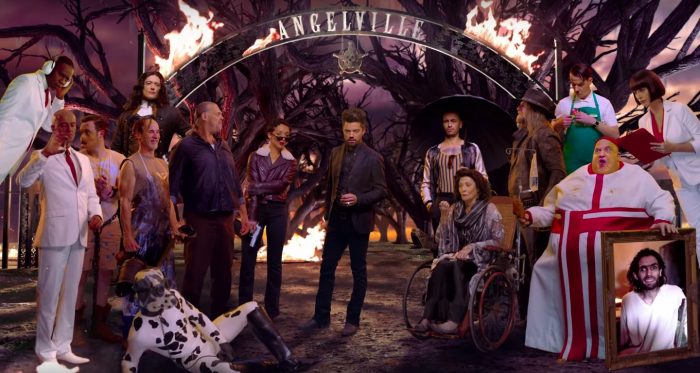 This article contains spoilers for Preacher.
After watching this exclusive sneak peek of Preacher's new season, I have to tell you—I have no idea what's going on. And I mean that in the best way possible. I truly appreciate that AMC is all in on this show, allowing the world of Garth Ennis and Steve Dillon's cult Vertigo comic book come to life in all its twisted, profane glory on the small screen. Preacher is nothing if not unpredictable, as this video makes abundantly clear.
The usual suspects are back, of course: Dominic Cooper, Ruth Negga, and Joe Gilgun reprise their roles as the misbegotten trio at the heart of this unholy enterprise. The last we left them, Tulip was mortally wounded—or so it seemed. To save her, Jesse would have to stare down his demons by returning to the last place on earth he wants to be—his childhood home deep in the Louisiana bayou.
Which brings us to some of this season's new faces, most notably Jeremy Childs as Jody and Colin Cunningham as T.C., two specters from Jesse's traumatic past. It's obvious from the trailer that Jody and T.C. continue to haunt Angelville—and taunt Jesse. Running the show is Betty Buckley as Jesse's cruel and sadistic Gran'ma. (Don't expect her to bake cookies for his grandson anytime soon.) But I have to wonder–will John Wayne be making an appearance as well this season?
Pip Torren's scene-chewing Herr Starr is in the mix as well, which means Jesse will be grappling with his past and the Grail this season. Not to mention a full supporting cast that includes Eugene, the Saint of Killers, and Hitler. That's an awful lot of story to pack into ten episodes. Even if you've read the Vertigo comic, as I have, the writers and producers have a way of throwing plenty of curveballs to keep viewers on their toes. Here's to hoping the next ten hours of Preacher deliver on all the over-the-top action, violence, and deeply dark humor we've come to expect from this brilliant show.
Preacher season 3 premieres on AMC June 24th, 10pm EST. And be sure to join us here for our weekly reviews of season 3!