News
Powerless: New Clips For NBC Superhero Show, Release Date, and More
NBC's Powerless is a comedy about ordinary folks working at an insurance agency in the DC Universe. Here's everything we know.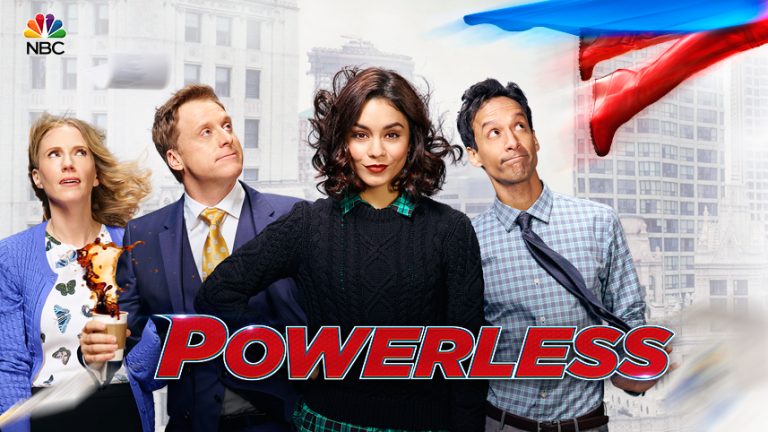 DC TV superhero comedy Powerless, dealing with the insurance agents who have to pick up the pieces after superhero battles, has been ordered to series at NBC. 
Michael Patrick Jann will direct the pilot. 
There are some brand new clips from NBC's Powerless. The first one even has a Joker connection…
Check the rest of 'em out here…
Powerless has been slowly starting to lean on its Batman/Wayne Enterprises connections recently, but now this new promo reveals that Alan Tudyk's character has a Gotham City connection of his own. He's playing Van Wayne, who is Bruce Wayne's cousin.
Watch it here…
And he even gets a phone call from Batman…
Powerless Trailer
You can spot a couple of little nods to DC Comics mythology, including a Bruce Wayne self-help book in this brief TV spot!
Powerless Premiere Date
Powerless arrives on NBC on February 2nd at 8 pm.
Powerless Story
An official synopsis from NBC suddenly has a Batman connection, in the form of who everyone on the show works for, and where they're operating out of.
In a world where humanity must cope with the collateral damage of Super Heroes and Super-Villains, Emily Locke (Vanessa Hudgens) begins her first day as Director of Research & Development for Wayne Security, a subsidiary of Wayne Enterprises that specializes in products that make defenseless bystanders feel a little safer. Full of confidence and big ideas, Emily quickly learns that her expectations far exceed those of her new boss (Alan Tudyk) and officemates, so it will be up to her to lead the team toward their full potential and the realization that you don't need superpowers to be a hero.
NBC executive Jennifer Salke spoke to IGN and revealed some details about the show, the tone, and what DC superheroes might actually appear. "This is a world where superheroes are not only just on green screen out the window of this insurance office," he said, "but they're also running into you on the street and wreaking havoc."
You can see exactly that in this image from the pilot, which shows off minor DC Comics heroine, Crimson Fox…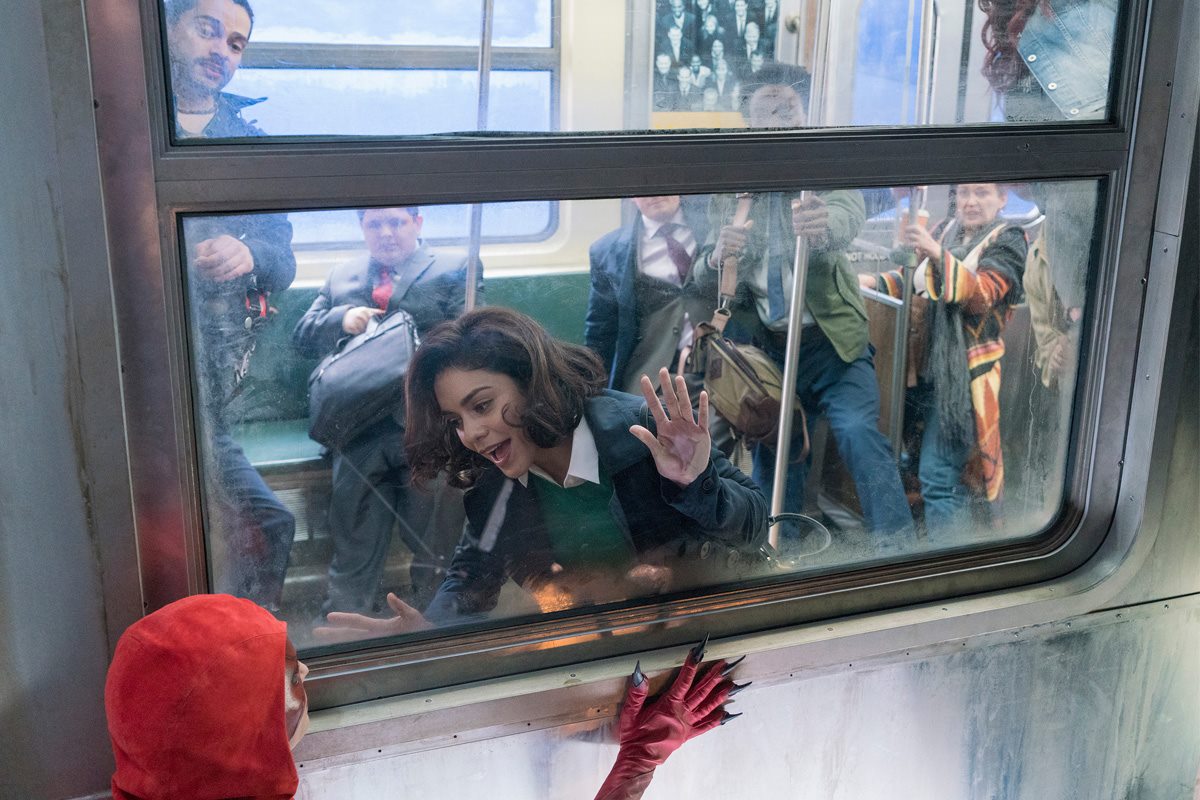 Now, if you're thinking that this still sounds more than a little like Marvel's Damage Control (which is headed to ABC), nobody would be mad at you. BUT…Salke said a little more, too. "The idea isn't that it's the creme de la creme of the superheroes. It's a world where there's a whole population of superheroes with all sorts of all challenges themselves."
Ms. Salke promises that the first superhero to come into the office is "someone recognizable" (although not Batman or Superman) and that apparently DC hasn't declared anybody "off limits." If this opens the door for some Justice League International style bwa-ha-ha humor, I'm all in, and it should be a fine antidote to the untinentional hilarity of the overwrought Batman v Superman: Dawn of Justice. This might be our chance to see dickhead Green Lantern Guy Gardner on screen, for example (and they had better give him his penis-shaped '90s bowl cut). I'd be a little bummed if this is just an excuse to do the Ted Kord Blue Beetle as the butt of people's jokes, and it sounds like there are other plans for Booster Gold. 
Powerless Cast
Vanessa Hudgens will play Emily Locke, who "loves her job because she gets to help people." Here's what else we know about her:
"Emily likes to fly under the radar and just get her work done. She finds herself increasingly exasperated by the disruptive antics of the various superheroes that proliferate in her city."
Community's Danny Pudi will play Emily's best friend, Teddy. Alan Tudyk plays Del, the new manager at the insurance company. Christina Kirk (A to Z) is Jackie, a superhero fangirl who is Emily's assistant.
We'll get you more details on Powerless as they become available.
____
For more TV discussion and creator interviews, check out the TV IV podcast and subscribe! iTunes | Stitcher | Soundcloud