News
Powerless Canceled by NBC
NBC's DC Comics world-set sitcom Powerless won't be back for season 2.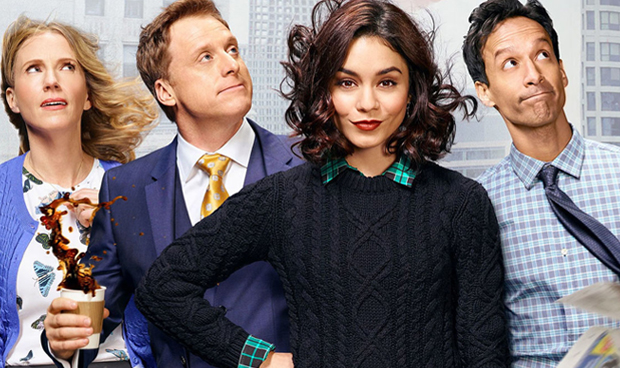 UPDATE: 
NBC has decided that Powerless is exactly that. After having its final two episodes unceremoniously yanked from the schedule in April, NBC has taken the next logical step. Powerless has been canceled.
No word on what will become of those final two episodes, one of which features a guest spot from classic Batman, Adam West. We'll update you if there's any info about that.
Our original story from April follows…
It appears that NBC sitcom Powerless could be on the verge of powering down, judging by the network's latest move. The series, set in a DC Comics superhero-inhabited world, capitalized on the comic book movie/show craze, showcasing a team of embattled Wayne Security R&D employees in their ordinary existences amongst a city filled with the fantastical. However, inauspiciously, NBC has just pulled the series from its schedule.
The news came via tweet by Powerless executive producer Patrick Schumacker, who, within the confines of the 140-character post matrix, managed to ambiguously convey both uncertainty and lament. Powerless just aired Episode 9 of Season 1 on April 20, which yielded 2.03 million viewers, which was a slight uptick from the previous week's 1.99 million. However, with NBC's abrupt shelving of the series, the remaining two produced episodes will be left in a state of flux until something is arranged – be it an off-peak airing or simply a post-season dump as exclusives to the Season 1 DVD/Blu-ray or in streaming form. Currently, Powerless averages 2.291 million viewers for NBC on Thursday nights.
— Patrick Schumacker (@PMSchumacker)
April 25, 2017
Powerless stars Vanessa Hudgens as Emily Locke, a recently-hired supervisor to a group of engineers at Wayne Security, whose sanguine nature sometimes clashes with ennui-afflicted cohorts Teddy (Danny Pudi), Ron (Ron Funches), Jackie (Christina Kirk), Wendy (Jennie Pierson) and her conceited/clueless middle-management boss and forgotten cousin of Bruce Wayne, Van Wayne (Alan Tudyk). However, the series that NBC aired was the result of a significant evolution from its original vision, which was supposed to center on an insurance agency that deals with the messy aftermath of superhero incursions. The original, unaired pilot even maintained a different dynamic, with Hudgens's Emily as a jaded established employee who hated being stuck with superhero messes.   
While Powerless arguably had sporadic moments of genuine mirth, feedback for the series has been generally unkind and its DC Comics setting, acknowledged by obligatory references to the franchise superheroes, often feels like pandering, rather than earnest comic book fan service. Nevertheless, it will certainly be interesting to see what NBC does with Powerless. While cancellation seems to be the likely fate, the show has already been radically retooled. Thus, it could be the case that the network decides to salvage the series with one more retooling.