Reviews
Portlandia seasons 1 & 2 DVD review
Jake checks out seasons one and two of IFC comedy sketch show Portlandia, out on DVD in the UK this week...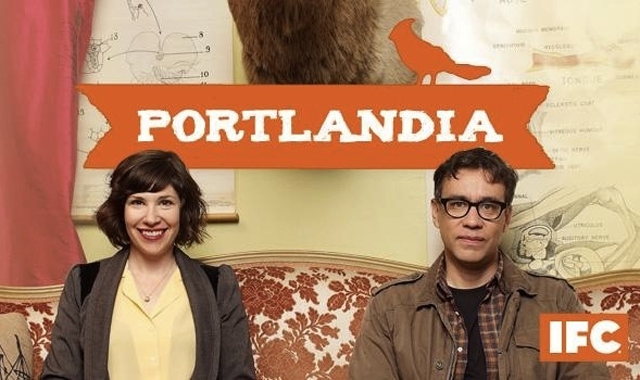 Every five years or so, it's proclaimed that comedy is the new rock and roll which is a ridiculous thing to say. Rock and roll has its roots in twelve bar blues. Comedy has only one major bar, which Del Boy memorably fell through. 
But for Portlandia, the above cliché has a grain of truth as the main leads both have strong musical pedigree. Co-creator, writer and performer Carrie Brownstein was previously known as one of the greatest modern guitarists playing for seminal riot-grrl band, Sleater-Kinney, a band known for their darkly introspective lyrics covering topics like date rape, abortion and sexuality. Moving into sketch comedy might not seem like the most natural of career progressions. 
Fred Armisen, other half of this equation, started playing drums in punk bands back in the 80s, making a guest appearance on Les Savy Fav's 2007 album Let's Stay Friends. Having self-produced short films and sketches, he joined the cast of famed US showcase Saturday Night Live in 2002 becoming a regular in 2004. Since then, Armisen has appeared in acclaimed US sitcoms such as 30 Rock, The Sarah Silverman Programme and Parks and Recreation. 
Fred and Carrie first met in the early 00s and began uploading short sketches under the name ThunderAnt in 2005. Eventually they became more and more Portland-centric, Carrie's adopted hometown, before being pitched to producer Lorne Michaels, he who helped bring to screen SNL, 30 Rock and Canadian offbeat sketch legends, Kids in the Hall. Recruiting a writing team whose credits include shows such as Arrested Development, Community, The Simpsons, Tim & Eric, South Park and The Daily Show, the result was Portlandia. 
Set around the largest city in Oregon, Portlandia neatly skewers the everyday madness of 21st century living with a mixture of sharp observations, broad yet well-drawn characters and at times ambitious flights of fancy. Having both lived in the counter culture of the 90s and seen how it's developed in the 00s, Armisen and Brownstein have created a show that affectionately mocks the well-intentioned yet sometimes clueless liberal stereotype. 
The series starts off with a music video that sets the tone for everything that follows perfectly, 'The dream of the 90s is alive in Portland'. There are jabs at The Huffington Post, self-important cyclists, over-educated yet under-experienced dog owners/parents, Kickstarter, music trends and ageing hipsters clinging to their youth. One memorable sketch takes a well aimed swipe at the cult of twee, 'put a bird on it'. Each episode has its own running gag that's neatly tied up at the end, One Moore Episode in particular will be painfully recognisable as a couple end up losing their lives to Battlestar Galactica. 
There's a naturalistic tone which just heightens the stranger elements throughout. A lot of sketches are made in the edit, cut together from improvising around the scene. Both Fred and Carrie are likable performers with natural wit so the humour never feels too forced, though it may be too gentle for most tastes. The supporting cast includes stand up Kumail Nanjiani who makes a great deadpan foil and Kyle Mclachlan as the chirpy yet dim mayor of Portland. The cameo list however includes Steve Buscemi, Eddie Vedder, Jeff Goldblum, Andy Samberg, Aubrey Plaza… (deep breath) Aimee Mann, Joanna Newsom and Tim Robbins. 
Having only previously been available in the UK via Netflix, it's great to see a cult series like Portlandia released. Having spun off into a book and live tour, Portlandia deserves a similar measure of success over here and this is the perfect introduction. Sixteen episodes with a load of extras is decent value. If the idea of Wes Anderson directing The League of Gentleman appeals then take a trip to Portlandia!
Portlandia seasons 1 and 2 are out now on DVD. Read our take on why you should be watching Portlandia, here.
Follow our Twitter feed for faster news and bad jokes right here. And be our Facebook chum here.