News
Pilot for unofficial Doctor Who spin-off Minister Of Chance
A micropilot for The Minister Of Chance film project, starring Paul McGann and Tim McInnnerny, debuts today. Details here...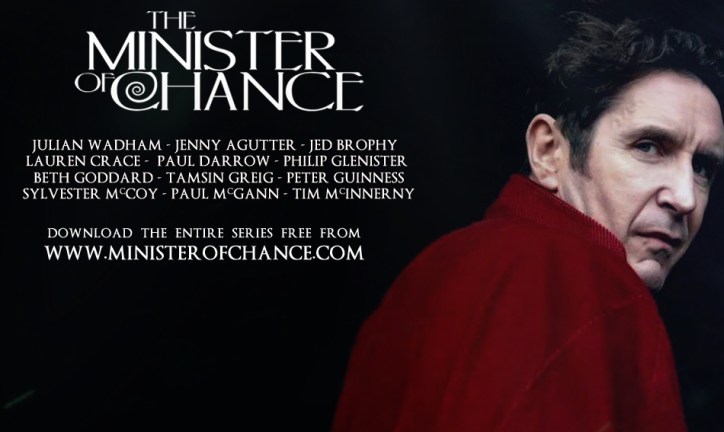 Producer Clare Eden and writer/director Dan Freeman are the brains behind the wonderful The Minister Of Chance audio series, an unofficial spin-off from Doctor Who that's built a real fanbase. A few months ago, the pair began fundraising for a film version of The Minister Of Chance, and today, they're presented a micropilot of it. We invited Clare to say a few words about it…
We are delighted to have finally completed a micropilot for the award-winning podcast series The Minister Of Chance. The short film – based on The Prologue – stars Paul McGann and Tim McInnerny and has been entirely funded by our now international fanbase.  Today, the Minister Moguls who financed the film by buying a variety of perks will join the online premiere, many also holding their own gatherings with other local fans to celebrate.  
Anyone else wishing to view the 7 minute film will need to purchase a cinema ticket (or any other perk of their choice) from http://www.ministerofchance.com/#!shop–cart/cac6. This will not only help us with our production costs but enable us to keep the Parsec Award winning podcast series available as a free download.  The extant series also stars Jenny Agutter, Jed Brophy, Tamsin Greig and Sylvester McCoy, with Julian Wadham and Lauren Crace as the central characters of The Minister and Kitty –  all available here: http://www.ministerofchance.com/#!download/ckae.
The fans have been truly phenomenal – not just supporting us with their hard earned cash, but by creating a wonderful community on Facebook and Twitter that has been our main source of publicity and support!