News
Pick Up Our Lost in Space Edition Magazine At Big Apple Con!
Big Apple Con is happening in New York City on Saturday, and Den of Geek will be there!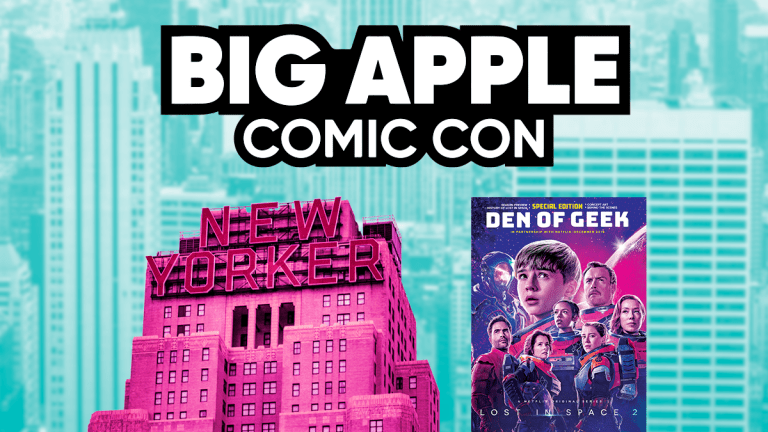 New York's longest running comic con, Big Apple Con, is taking place on Saturday, Dec. 14 in (where else?) New York City! Convention-goers have always known that the Big Apple Con is where fans can go to dig deep and score the best back issues and collectibles. This is the only place where you can do your holiday shopping and maybe even spend a little time with geek icons.
True to the spirit of the holiday season, this has been dubbed The Big Apple Christmas Con, and it's got a new location: The New Yorker Hotel on the corner of 34th st. and 8th ave. in Manhattan. The show runs from 10 am to 7 pm, but VIP ticket holders can get in as early as 9 am . You can purchase tickets here! With a guest list that includes Flash Gordon's Sam J. Jones, Peter Scolari, Michael Uslan, Jim Steranko, Neal Adams, and many more, Big Apple Con gives you an opportunity to spend some time with some of your favorite celebrities and comics creators.
Oh yeah, and Den of Geek will be there, too! We're celebrating the launch of Lost in Space season 2 on Netflix by giving the franchise its long overdue magazine treatment. We partnered with Netflix to release a 32-page Lost in Space special edition magazine.
Inside, we reflect on the history of the franchise, showcase colorful new character posters, go deep with our season two preview, featuring cast and creative team interviews, and get a behind-the-scenes look at the making of the series. On these pages, you'll find that legacy is a starting point. The adventures of the Robinsons and their fans are just beginning.