News
Phineas and Ferb Return in Milo Murphy's Law: Exclusive First Look
The popular Phineas and Ferb cast return in an epic crossover with Milo Murphy's Law and we've got an exclusive clip!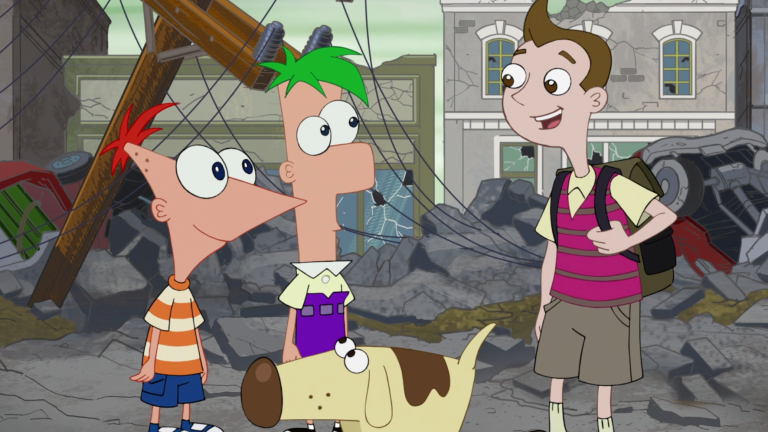 "Mom, Phineas and Ferb are making another crossover!"
That's right, after leaving the airwaves a few years ago the characters of Phineas and Ferb are returning to the small screen in the season two premiere of the Disney Channel series, Milo Murphy's Law. That episode will be titled, "The Phineas and Ferb Effect" and we've got an exclusive clip below. What happens when the Phineas and Ferb cast meet the Milo Murphy's Law cast? Let's find out.
Of course something would blow up when these two casts get together. Of course. Also, there's just satisfying about Ferb saying "murphy's law." Bless this crossover already. But wait, what about the other Phineas and Ferb characters? Below you'll find a description of the episode which tells exactly who will appear.
"The Phineas and Ferb Effect" follows Milo and his friends, along with their newly discovered neighbors—Phineas, Ferb, Perry the Platypus, Candace, Isabella, Baljeet and Buford—as they work together to overcome Murphy's Law in order to stop a pistachio invasion.
Phew, Perry the Platypus will be there. Don't worry! Acclaimed animation producers Dan Povenmire and Jeff "Swampy" Marsh (creators of both series), will also reprise their Phineas and Ferb roles as Dr. Doofenshmirtz and Major Monogram.
Povenmire and Marsh said, "The story arc of 'Milo Murphy's Law' has been designed from the very beginning to lead us to a big crossover with all the 'Phineas and Ferb' characters. We've planted lots of clues and Easter eggs in the first season, and we can't wait for the fans to see these two worlds collide."
The crossover specia will air Saturday, January 5th (7:00–8:00 a.m. EST/PST), on both Disney Channel and Disney XD. It will also be available that same day on DisneyNOW and Disney Channel VOD.
Shamus Kelley is a pop culture/television writer and official Power Rangers expert. Follow him on Twitter! Read more articles by him here!