News
Personal Space Trailer Explores Inner and Outer Space
Space cadets are head cases in new science fiction comedy vignette series Personal Space streaming on Amazon Video .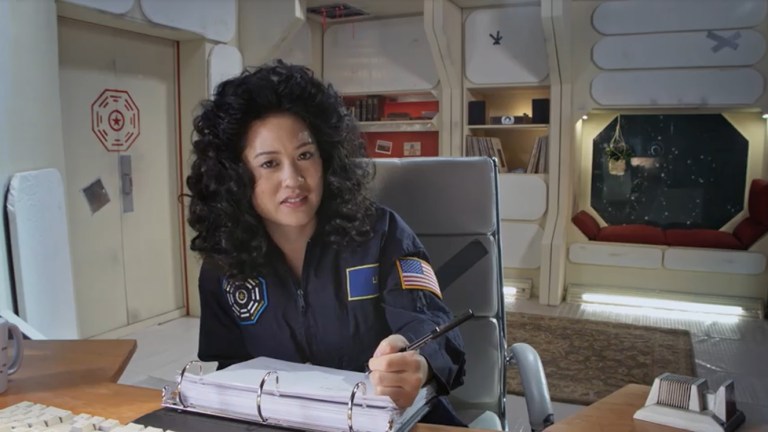 Twenty five years ago, America launched Overture, a generation ship to a nearby star. Now the astronauts are the stars of a new reality show, and they're so far away they have no idea their innermost thoughts are being broadcast. They would also be too far away to collect residuals if the show goes into syndication. The new science fiction comedy/drama series Personal Space will stream on Amazon Video starting March 2nd. The 28-vignette series premiered as part of the Boston Science Fiction Film Festival and will screen on Saturday, February 24th at 11am at the Village East Cinema, as part of The 2018 Philip K. Dick Science Fiction Festival.
Personal Space features one of the final performances by Richard Hatch. The Battlestar Galactica star died in February 2017, shortly after his scenes were filmed. The ensemble cast also features Nicki Clyne of Battlestar Galactica, Kurt Yaeger of Sons of Anarchy, Cliff Simon of Stargate SG-1, Tim Russ of Star Trek: Voyager, Brent Bailey of Emma Approved, and Sean Persaud of Edgar Allen Poe's Murder Mystery Dinner Party.
The series will also feature an appearance by Mark Tierno, the star of SyFy's The Mercury Men, as Wernher von Braun.
Personal Space is set in an alternate timeline where the U.S. space program is decades ahead of actual history. The crew of the Overture, which launched in the early 1990s, serves in 25 year shifts. "The audience watches current events aboard the ship unfold in 2017, as the second shift is supposed to take command, while the crew of Overture speak in confidence to the ship's therapy computer," reads the press statement. "The key phrase here is 'supposed to.'"
"Astronauts aboard generation ship Overture have no idea their therapy sessions are being broadcast on Earth as a reality show," reads the official premise.
The series comes from Tom R. Pike, with Zack Wallnau & Dana Luery Shaw, who are known as the creators of the hit webseries Echo Chamber, as well as producer Jeff Hammer.
You can watch the trailer here:
Personal Space will  begin streaming on Amazon Video on March 2nd.