News
People of Earth Season 2 Trailer Released, SDCC Panel Details, Nasim Pedrad to Join Cast
Are you a believer now? People of Earth season 2 is coming to TBS in 2017.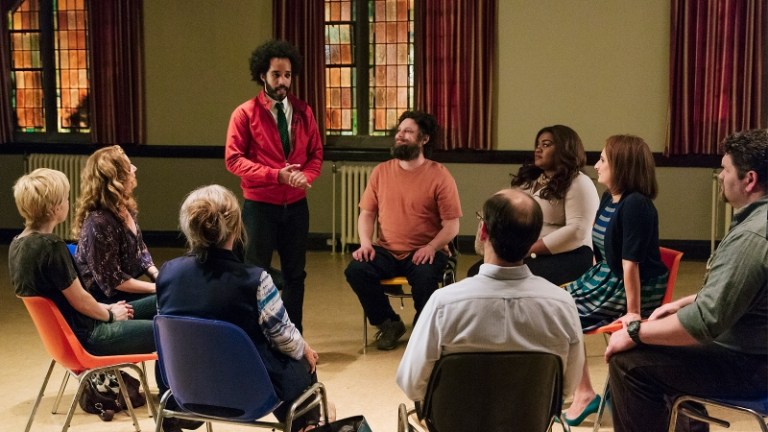 This is our news hub for People of Earth Season 2. The latest news will be published to the top of the article.
People of Earth, the alien abduction comedy from David Jenkins, Greg Daniels, and Conan O'Brien was a steady performer for the network, earning a top 10 finish for cable comedies in the coveted 18-49 demo. The multiplatform release approach paid off for TBS, with believers tuning in to spark ratings growth each week.
Wyatt Cenac leads the ensemble cast as Ozzie, an investigative journalist who gets caught up in abduction conspiracies when he goes to write a story about a group of "alien experiencers" in upstate New York.
People of Earth Season 2 SDCC Panel Details
People of Earth is coming to San Diego Comic-Con for a panel on Friday, July 21st at 6:00 p.m. in Room 6A. They are showing the premiere episode and will have a Q&A with cast members Ana Gasteyer, Oscar Nunez, Michael Cassidy, Ken Hall, Björn Gustafsson and Nasim Pedrad, and series creator/executive producer David Jenkins.
Read and download the full Den of Geek SDCC Special Edition magazine here!
People of Earth Season 2 Cast: Nasim Pedrad To Join Ensemble
SNL alumnus Nasim Pedrad is set to appear in People of Earth season 2. TBS confirmed the casting announcement which pegs Pedrad as a series regular. She'll play Special Agent Alex Foster, a "smart, dedicated FBI investigator getting a second chance after recently being disgraced. Alex comes to Beacon on the hunt for local newspaper owner Jonathan Walsh (Cassidy), who is wanted for white-collar crimes."
Pedrad joins lead Wyatt Cenac and ensemble cast of fellow SNL alumnus Ana Gasteyer, Oscar Nuñez, Michael Cassidy, Alice Wetterlund, Luka Jones, Brian Huskey, Nancy Lenehan, Tracee Chimo, Da'Vine Joy Randolph, Björn Gustafsson and Ken Hall.
People of Earth Season 2 Release Date Expected in Late 2017
You are not special. That much is clear. People of Earth, however, is a special comedy. TBS seems to agree as they've confirmed People of Earth season 2 for 2017. No official premiere has been set, but we'll keep you posted. Season one premiered on October 31st, 2016.
The People of Earth renewal was announced with a pickup order for a second season of Search Party, another breakout hit for the network. Both shows, along with Full Frontal With Samantha Bee and Angie Tribeca, are part of TBS's dramatic original programming overhaul that has earned the network critical acclaim.
"Twelve months ago we set out to reimagine the TBS brand and its place in the TV landscape. To end 2016 with all six shows returning is humbling," said Brett Weitz, executive vice president of original programming for TBS in a statement. "The amazing teams behind People of Earth and Search Party have created complex, funny characters and crafted truly distinctive stories. Renewing both shows is the perfect end to a transformative year for TBS."
We'll keep you posted on casting, premiere date, and production updates for People of Earth Season 2 as we have it.
____
For more TV discussion and creator interviews, check out the TV IV podcast and subscribe! iTunes | Stitcher | Soundcloud