News
People Magazine Investigates: Cults Shears the Shepherds
Investigation Discovery sheds light on the dark world of cults in its upcoming People Magazine Investigates: Cults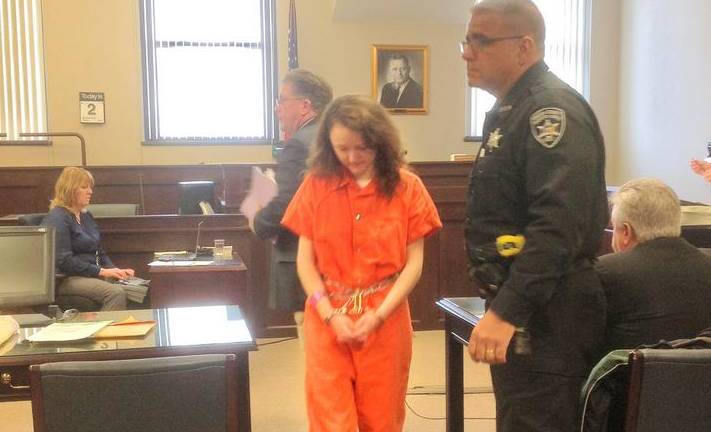 Cults have come a long way since the new religious movement of the mid-1800s. The earliest spiritualist movement wanted to uplift the soul, but even in those innocent days, apocalypse offshoots would grow out of peaceable communities, much like the recent pop-culture phenomenon Wild Wild Country that recently ran on Netflix. Today there are sects that make the clownish cult on American Horror Story: Cult look like Sunday morning CCD. Investigation Discovery's upcoming series People Magazine Investigates: Cults promises to strip the spiritual veneer from modern religious movements to expose the seedy and dangerous underbelly just below. The series will premiere on Monday, June 4 at 9 p.m.
"From Jonestown to the Army of God, People reporters are on the front lines, revealing the untold stories of power-crazed cult leaders using mind control, sex, and violence to manipulate and dominate followers," according to the ID press statement.
People Magazine Investigates: Cults will consist of six one-hour episodes. The series explores how "destructive and terrifying cults can be to cult members and their families." Each installment will dive "deep inside a twisted American cult, building to that pivotal moment when blind worship turns violent and even deadly," according to the press statement. The journalists "doggedly investigate the evolution of these cults, expose their bizarre and brutal day-to-day rituals, and speak first-hand to survivors who narrowly escaped lives of misery to put their cult nightmares finally behind them. "
People Magazine Investigates: Cults marks a new partnership between the channel and the magazine. "We couldn't be more excited to expand our wildly successful partnership with the ever-popular PEOPLE brand," Henry Schleiff, group president of Investigation Discovery, Travel Channel and American Heroes Channel, said in a statement. "Their fearless journalism and tenacious reporting style combine with these hot-button topics to provide ID superfans a fresh – indeed, unique – perspective to these infamous cases." 
ID also announced the new series People Magazine Investigates: Crimes Of Fashion, which puts a designer brand on the old adage "if looks could kill." The magazine's journalists have exclusive access behind the "labels" you know, going beyond the catwalk to reveal that fashion can sometimes prove fatal.
People magazine revolutionized personality journalism when it launched as a weekly in 1974 with a mission to celebrate extraordinary people doing ordinary things and ordinary people doing extraordinary things. It continues as it expands the brand into television.
"Our success is based on knowing our audience and super-serving them with compelling content," Bruce Gersh, President of People and Entertainment Weekly, and head of Meredith's in-house television production group, said in a statement.
Each episode explores high-end fashion icons and their couture crimes that captured headlines.  In 3 one-hour episodes, "tales of depravity, obsession, and family betrayal in the fashion world all have a common thread — cold-blooded murder," reads ID's press statement. 
"People's  investigative reporting always resonates with our audiences," says Jess Cagle, editor in chief, People. 
People Magazine Investigates: Cults is produced for Investigation Discovery by Lucky 8.
People Magazine Investigates: Cults Schedule:
Tony Alamo
Initially, the Alamo Christian Foundation once held hope for a better society for young people seeking purpose. But when Susan Alamo dies of cancer, Tony reveals his dark side and turns his anger on his followers, including taking multiple child brides. The episode premieres Monday, June 4, 2018 at 9 p.m.
Jonestown
In the late 50's Jim Jones founded the People's Temple, which focused on helping those in need.  By 1975 he was setting up what was supposed to be a utopia known as Jonestown.  But utopia quickly turned into a hell as Jones spiraled deeper into his own paranoia. The episode premieres Monday, June 11, 2018 at 9 p.m.
Word of Life Church
The Word of Life Church starts as a small bible study group led by Pastor Jerry Irwin. After his death, his daughter Tiffanie gains control, making life hell for church followers, and leads to the brutal death of a teenaged boy. The episode premieres Monday, June 18, 2018 at 9 p.m.
Nation of Yahweh
Yahweh Ben Yahweh is a respected religious leader in the 1980s, but behind the facade, he rules his followers with terror and violence. One survivor shares the story of this cult leader, whose ruthless tactics ruined hundreds of lives and left 14 dead. The episode premieres Monday, June 25, 2018 at 9 p.m.
Army of God
Deborah and Jim Green believe they're Generals in a holy army for God.  For more than 30 years their harsh rule has destroyed families and ruined lives. Cult survivors reveal how the Greens transformed from charismatic hippies into militant cult leaders. The episode premieres Monday, July 9, 2018 at 9 p.m.
The Nuwaubian Nation of Moors
The followers of cult leader Dwight York come from all walks of life. Ruby joins the Nuwaubian Nation when looking for answers to life's big questions while Niki is brought in as a child. Both become disillusioned as they learn the truth about York. The episode premieres Monday, July 9, 2018 at 9 p.m.
People Magazine Investigates: Cults will premiere on Investigation Discovery on Monday, June 4 at 9 p.m.  People Magazine Investigates: Crimes of Fashion will premiere later in the third quarter of 2018