News
Pennyworth Cast, Episode Guide, Trailer, Release Date
Pennyworth, a Batman prequel focusing on Alfred, has begun airing on EPIX. Here's everything you need to know.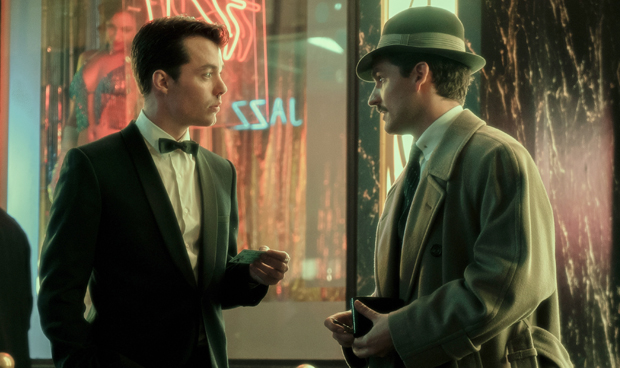 Bruno Heller and Danny Cannon, the masterminds behind Batman prequel, Gotham, are staying in the DC Universe a little longer. EPIX is the well-kept home for Pennyworth, a series about the youth of future Wayne butler Alfred Pennyworth, to apply his trade. 
No, wait, come back. There's a rather cool hook to this, as Pennyworth, which arrives as a 10-episode TV series period piece, is set in London in the 1960s. Here's the official Pennyworth synopsis:
"[Pennyworth] follows Bruce Wayne's legendary butler, Alfred Pennyworth, a former British SAS soldier in his 20s who forms a security company and goes to work with a young billionaire Thomas Wayne, who's not yet Bruce's father, in 1960's London."
You can check out our spoiler-free review of the first episode here.
Or you can read our full review of "Martha Kane," the latest episode here.
Next up on Pennyworth? Episode 4, titled "Lady Penelope." The episode airs on August 18th. Here's the official synopsis:
"Alfred and Martha Kane take a train ride into the countryside on an assignment, while tragedy strikes in London."
Pennyworth Cast
Pennyworth is headlined by Jack Bannon (The Imitation Game, Ripper Street), who, of course, is playing Alfred Pennyworth. As for what we can expect from young Alfred? The official character description reads: "Alfred Pennyworth is a boyishly handsome, cheerful, charming, clever young man from London. Honest, open-faced and witty; you'd never take him for an SAS killer. Alfred doesn't know how to reconcile the kind-hearted boy he used to be with the cold, calculated killer he was forced to become. He's a man on the make, who doesn't know what to make of himself yet."
Ben Aldridge (Fleabag, Skinny Dip) has been cast as Thomas Wayne, described as "a young, fresh-faced billionaire hailing from the east coast of the United States. Confident and extremely disciplined, this young aristocrat meets an unlikely business partner in Alfred Pennyworth."
Emma Corrin of The Crown fame will play Esmé, a modern woman living her fab life in the '60s when she catches Alfred's eye. This may prove bad for health, however judging by her being kidnapped in the trailer.
Ian Puleston-Davies (Tin Star) and Dorothy Atkinson (Mr. Turner, Topsy Turvy) will, meanwihle, play Alfred's parents, one of whom is (wait for it)… a butler.
Polly Walker has joined Pennyworth to play the recurring role of Peggy Sykes, sister of show villainess Bet Sykes (Paloma Faith). The character, a sensible matriarch to a family of maniacs, is referred to as "one of Lancashire's busiest and most successful dominatrixes." She is further described as "fiercely loyal, endlessly resourceful, and lives by her own strange but rigorous moral code." She of course worked with Bruno Heller on Rome.
Jason Flemyng will play Lord Harwood. His character is a villain on the series, described in a statement as an "upper class Englishman; he's cultured, urbane, brilliant and supremely sure of himself." It goes on to say, "his sadistic, cruel nature has a veneer of charm." He joins a burgeoning rogues gallery that already includes the recently-cast Bet Sykes (Paloma Faith).
Paloma Faith is set as a series regular. She will play Bet Sykes, an antagonistic character described as "a spirited, sadistic and sharp-tongued villain." Faith is best known for her status as a pop star in the UK, where she has accumulated several industry awards. She's fielded acting roles in TV and film sporadically, notably 2015 TV movie Peter and Wendy, 2009 horror thriller Dread, 2009 fantasy comedy The Imaginarium of Doctor Parnassus.
Additional cast members include Ryan Fletcher (Outlander) and Hainsley Lloyd Bennett (Eastenders), and Emma Paetz (Gentleman Jack).   
Pennyworth Episode Guide
Pennyworth Episode 1: "Pilot"
"Just out of the English air service, Alfred Pennyworth finds himself at loose ends and endeavors to start a security company."
Original air date: July 28th, 2019
Original air date: August 11th, 2019
Original air date: August 25th, 2019
Pennyworth Trailer
There have been several trailers showcasing Alfred Pennyworth (Jack Bannon) in London during the swinging '60s and his newfound friendship with Thomas Wayne (Ben Aldridge). You can watch both of 'em below.
Check out exclusive clips from the first two episodes here and here.
Pennyworth Release Date
Pennyworth premiered on EPIX on Sunday, July 28 at 9 pm ET/PT.
Pennyworth Details
It should be noted that this isn't a prequel to Gotham, and doesn't exist in that universe. 
"As genuine fans of these classic DC characters, as well as the incredibly talented Bruno Heller and Danny Cannon, we couldn't be more excited to make EPIX the home of this series," EPIX President Michael Wright said in a statement when the project was first announced back in May. "We can't wait to work with Bruno and Danny – along with Peter Roth, Susan Rovner, Brett Paul and the team at Warner Horizon – on this fantastic origin story."
"Michael and his colleagues have created the perfect venue for original storytelling, and all of us working on Pennyworth are thrilled to be on the EPIX slate," added Bruno Heller and Danny Cannon.
Read and download the Den of Geek SDCC 2019 Special Edition Magazine right here!