News
Pennyworth Season 2 Confirmed by Epix
Epix has renewed the Batman-adjacent prequel television series, Pennyworth, for a second season of espionage and conspiracies.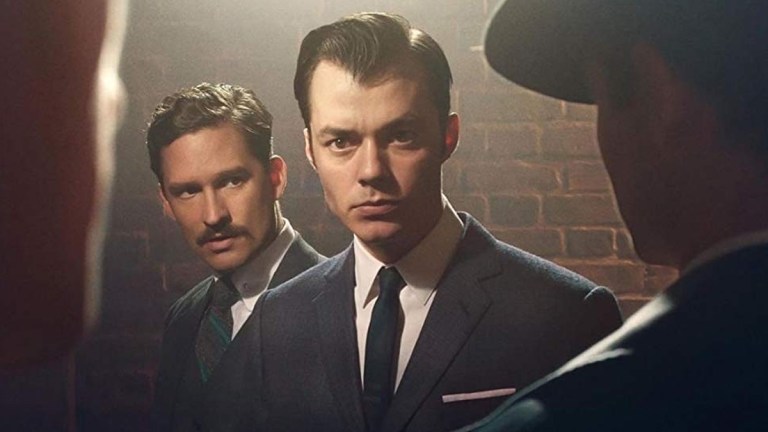 Pennyworth Season 2 is officially a go at Epix!
The stylized hour-long drama centered on the action-packed pre-cummerbund exploits of Bruce Wayne's butler/father-figure (and Batman's lifeline), Alfred Pennyworth, will return to the premium cable channel, setting up a 10-episode sophomore season, matching the show's recently-concluded inaugural run.
Pennyworth is the manifestation of creative personnel from Fox's recently-concluded Batman prequel series, Gotham, run by that show's primary duo in creator/executive producer/writer Bruno Heller (The Mentalist, Rome) and executive producer/director Danny Cannon (CSI TV franchise). Similarly utilizing characters originally conceived by Batman creators Bob Kane and Bill Finger, this series sets itself in 1960s London, following the exploits of a young version of Alfred (Jack Bannon), a recently discharged British SAS soldier, as he – joined by a duo of fellow former squad-mates – navigates a post-military existence dominated by off-book jobs that utilize his own particular set of skills.
As Michael Wright, President, Epix, expresses in a statement:
"Pennyworth has been a big hit for us, embraced by critics and fans alike. It was the highest-performing original series ever to premiere on EPIX, more than doubling the viewership of the shows that came before it. Bruno Heller, Danny Cannon and WBTV have delivered a brilliant, must watch series. We can't wait to work with this phenomenal cast and creative team on another exciting season." 
The series premiered on July 28, arriving as a small-screen curiosity touting a bizarre premise, which seemed to push the boundaries of comic book adaptation beyond any conceivable limit, especially for fans who never warmed to the wantonly-comic-anachronistic nature of Gotham. However, Pennyworth proved to be a unique offering, showcasing a cynically-stylized, smog-strewn quasi-historical version of Swinging '60s London that, despite the lack of costumed heroes, is effectively put through the lens of DC Comics. It also shines an intriguing light on Alfred's relationship with his eventual employers, Thomas Wayne (Ben Aldridge) and Martha Kane (Emma Paetz), in an organic way that's managed to be pertinent to the immediate plot about rival cabals waging a secret war in London.
Further Reading: Pennyworth Review (Spoiler Free)
Indeed, while Bannon's portrayal of Alfred as a baby-faced cockney-accented rogue is a clear tribute to The Dark Knight Trilogy's Alfred actor Michael Caine as he appeared in iconic form in '60s caper movies, notably 1969's The Italian Job, his arc has defied the initially inauspicious expectations for a show about a future butler, as his secretly-violent freelance exploits has him – in a manner akin to his eventual ward, Bruce –  walking a line between darkness and light; a dynamic that, even in the show's first season infancy, has already cost him dearly. Yet, the series never takes itself too seriously, balancing its morose moments with a unique cheekiness, perhaps similar to Gotham, though not quite as over-the-top.  
Season 1 saw star Jack Bannon (The Imitation Game, Ripper Street) joined in the cast by Ben Aldridge (Our Girl, Fleabag), Emma Paetz (Gentleman Jack), Hainsley Lloyd Bennett (Eastenders), Ryan Fletcher (Outlander), Dorothy Atkinson (Mr. Turner, Topsy-Turvy), Ian Puleston-Davies (Coronation Street), with a primary rogues gallery consisting of Polly Walker (Rome, Caprica), singer Paloma Faith and Jason Flemyng (The Curious Case of Benjamin Button).
Pennyworth Season 2 Release Date
Pennyworth Season 2 has yet to set a release date. However, the series will return to Warner Bros. Studios Leavesden in the UK to commence production in January 2020, eyeing a premiere on Epix later in the year.
Joseph Baxter is a contributor for Den of Geek and Syfy Wire. You can find his work here. Follow him on Twitter @josbaxter.