News
Pennyworth Exclusive Clip: Alfred's Views on Violence
Check out this exclusive clip of Epix's Pennyworth, showing Alfred explaining his violent journey to girlfriend Esme.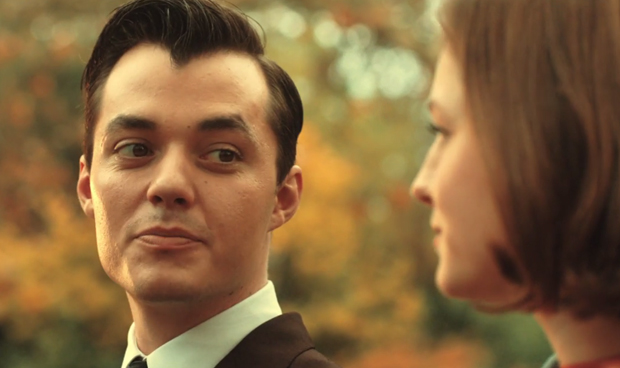 Pennyworth may be a show about the most famous fictional butler in comic book history (sorry, Jarvis, an Avengers: Endgame cameo won't win you this one), but it's certainly not a show about… well, butlering. Chronicling the exploits of a young version of DC's fated Batman butler/de facto father, the upcoming Epix series sets itself in the London during the twist-happy mod mania of the 1960s; a classy backdrop that, as you will soon see, contrasts with the unbridled brutality of the wetwork that Alfred's involved with during this period.
In this exclusive sneak peek clip from Epix's Pennyworth, we see how Alfred Pennyworth (Jack Bannon of Medici and Endeavour) finds himself in quite the quandary, as his former occupation of shedding blood with "the Queen's gun" in the SAS starts to catch up to his more endearingly amorous pursuits with his girlfriend, Esme (Emma Corrin, who will play Princess Diana on The Crown next season). Of course, Alfred's pursuit of the "peaceful life" isn't exactly auspicious.
For fans of Fox's just-wrapped Batman prequel series, Gotham, the impending arrival of Pennyworth – thematic and aesthetic differences aside – should serve as a welcome recompense for the loss. While the show's setting seemingly precludes any of the Batman mythology trope-dropping that some might expect, we will get to see Alfred's own run as the hero that London – not Gotham – deserves (and we'll see if he's the one it needs).
Indeed, Alfred's dilemma develops when a fateful employment situation falls into his lap from none other than Thomas Wayne (Ben Aldridge of Fleabag and Our Girl), whose employment he'll enter, starting in Wayne's security company. Of course, we already know that said job will involve quite the Batty evolution, especially pertaining to the nighttime exploits of Thomas's eventual son, Bruce.
Moreover, Gotham fans can take solace in the fact that Pennyworth will manifest under the purview of Bruno Heller – who, besides shows like Rome and The Mentalist, was that show's creator – as executive producer/writer. He'll be joined by that show's other key component, Danny Cannon, who will serve here as executive producer/director.