News
Peaky Blinders series 5 trailer, release date, cast and more
All the news you need about Peaky Blinders...
Like Line Of Duty before it, Peaky Blinders was been given a promotion in the schedules and moved for its fifth series to BBC One.
BBC Two developed the early twentieth century gangster show in 2013 and has been its home ever since. From series five onwards though, the Shelby family will reside in new digs over on the BBC's mainstream drama channel, a sign of Peaky Blinders' rising popularity.
Peaky Blinders series 5 trailer
Here's its first real trailer for series five featuring music by Anna Calvi, Sam Claflin as Oswald Moseley, the Shelby family and fire:
A first glimpse of series five is also in the BBC trailer below. Keep an eye out…
Courtesy of the BBC and photographer Ben Blackall, our first peek at Helen McCrory's family matriarch Aunt Polly in the forthcoming series of Peaky Blinders is here and it is a look.
Feast your eyes:
The suit, the hat, the gloves, the sunglasses, the car, the 'why should the boys have all the fun' pose… this is Aunt Pol squared. By the looks of things, 1929 is treating Polly very well.
Peaky Blinders series 5 cast
Production began on series five back in autumn 2018, when the Beeb announced a host of new cast mates for Cillian et al.
Sam Claflin (The Nightingale), Anya Taylor-Joy (Split, The Witch) and Brian Gleeson (Phantom Thread, Logan Lucky) are the biggest names of the bunch, with Neil Maskell (Happy New Year, Colin Burstead), Kate Dickie (The Cry), Cosmo Jarvis (Lady Macbeth) and Emmett J Scanlan (Butterfly) also climbing aboard. Elliot Cowan (The Spanish Princess), Charlene McKenna (Ripper Street), Andrew Koji (Warrior) and Daryl McCormack (A Very English Scandal) have also scored parts in series five.
Here's a first look at Taylor-Joy in the show…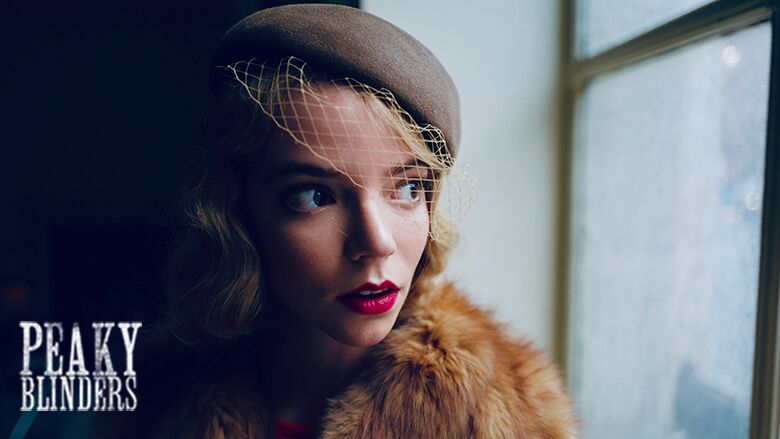 "I could not possibly be more excited to be joining such a talented group of people." the actress said in a statement.
Peaky Blinders series 5 plot
A new series 5 synopsis is doing the rounds…
Series five of Steven Knight's crime family saga finds the world thrown into turmoil by the financial crash of 1929. Opportunity and misfortune are everywhere. When Tommy Shelby MP (Cillian Murphy) is approached by a charismatic politician with a bold vision for Britain, he realises that his response will affect not just his family's future but that of the entire nation.
Helen McCrory (Skyfall) will once again share the screen with Murphy, Paul Anderson (The Revenant), Sophie Rundle (Bodyguard), Finn Cole (Animal Kingdom), Kate Phillips (The Crown) and Natasha O'Keefe (Sherlock Holmes: The Abominable Bride). Aidan Gillen (Game Of Thrones) and Jack Rowan (Born To Kill) will allso be back as Aberama and Bonnie Gold, along with Charlie Murphy (Happy Valley) and Kingsley Ben-Adir (Deep State). Harry Kirton (We Can Be Heroes), Packy Lee (The Frankenstein Chronicles), Ned Dennehy (Good Omens), Ian Peck (Endeavour) and Benjamin Zephaniah will be returning, too.
"The story of the Peaky Blinders and of the Shelby family gets woven into the political fabric of Britain and Europe as the 1920's end and the thirties begin," teases creator Steven Knight. "Tommy Shelby faces the darkest force he has ever faced and his struggle is as relevant today as it was then."
Peaky Blinders series 5 release date
"I've had an idea…"
Series five has just concluded on Sunday nights on BBC One.
Peaky Blinders series 6 and 7
At the series five BFI launch, Steven Knight confirmed his plan to write two further seasons of Peaky Blinders, and to bring things to a close after series seven. The news hasn't yet had the official BBC stamp announcement, but considering Knight is currently midway through writing series six, the renewal announcement can't be long away.
Previously, Knight had long indicated that he had five series of the show mapped out, but in an interview with Deadline, he seemed even less sure that the end is nigh for the Birmingham-set period drama.
"The thought has long been to finish after season 5," Knight mused. "But the momentum and love for the thing seems to still be growing exponentially and this is making us pause before deciding finally."
Star Cillian Murphy is also there for it. "Listen, you know Steve has so many ideas. He's so inventive, I wouldn't be surprised. For me, I've always said as long as the writing stays as good as it is, I'm around."