News
Patrick Warburton to Return to 'Tick'-Verse in Secret Role
The former man in the blue suit will be appearing in Amazon's current take on the property doing "something special."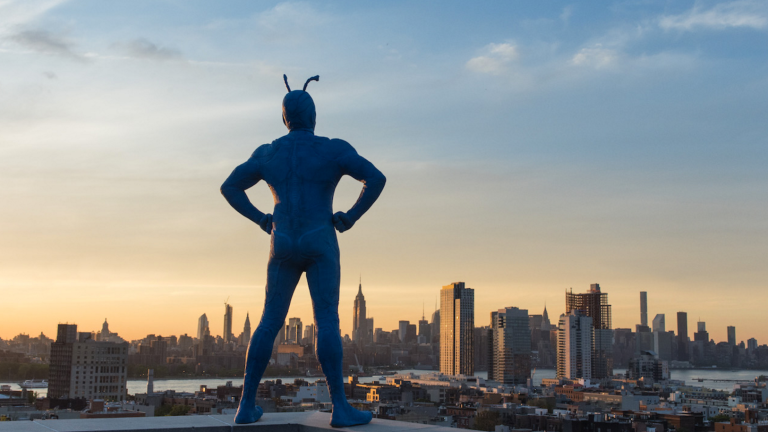 One of the best pieces of news to come out of last month was that Amazon is moving forward with their new Tick series. With series creator Ben Edlund and executive producer Barry Josephson both appearing at the New York Comic Con on Thursday to talk about the upcoming season, plenty of details about the new take on the series have come to light. One detail in particular might hold significant interest to fans of both the animated and live-action Fox versions of the show because guess what? Past is officially meeting present. 
Patrick Warburton, who for the longest time has been the de facto surrogate for Edlund's character (he remains a producer on The Tick, continuing to prove his adoration for this property), is apparently going to appear in some capacity in the new series. 
Josephson playfully teased Warburton's appearance: "He's going to do something special, can't say exactly when it will be, but it will happen." The formidable Peter Seranifowicz is playing the current version of the Blue Bug of Justice, offering his own bombastic slant on the superhero. Edlund is so good at creating elaborate, satirical worlds that Warburton's presence will clearly involve some tongue-in-cheek. "There will be some comment on The Tick, because he was, The Tick," Edlund offered up. 
Beyond this highly-anticipated Warburton role, Edlund and Josephson spoke about the larger scheme of the show's season and how Jackie Earle Haley's The Terror, who is merely hinted at in the pilot, will be taking on a much more dominant role as the assumedly Big Bad of the series. In perfect Tick fashion, a very self-aware season was hinted at, with major characters and plot points borrowing and poking fun at such established comics territory as the Punisher and the Civil War Registration Act.
With Warburton getting brought up, it was only natural that other characters and actors from The Tick-verse were brought up in regard to if they'd be making appearance or not. While the duo wouldn't divulge any specific members of The Tick's rogue's gallery that might be appearing, they were quick to mention loving their previous casts and would jump to work with any of them again in some new context. 
While expanding on this idea of bringing back old characters with new angles, Edlund elaborated, "Each time we do that it's going to be an interesting new expression of those things that have come before because it's an unprecedented attempt—at least on our part—to make a superhero comedic universe you can actually invest in and care about. It starts there." As the season and world of The Tick continues to grow, Edlund hopes to push all of this even further, "As we build our universe we'll be able to get increasingly more absurd and more fun. It just always has to have a through line of heart and continuity."
On this topic of characters seeing new motivations and being explored in different ways, Edlund brought up that one of the strongest examples of this in the series comes in the form of the show's portrayal of Arthur (Griffin Newman), who's really the focal point this time around, rather than sidekick. It's his viewpoint of a world that's become broken and no longer makes sense that pushes this narrative drive forward and it makes for a fascinating more current juxtaposition to the previous incarnations of the property.
This new, exciting take on Edlund's classic world will become available to watch on Amazon in 2017, with us awaiting eagerly in the mean time.