News
Patrick Stewart Teases Writers Room of New Star Trek Series
The TV return of Patrick Stewart to his iconic role of Jean-Luc Picard kicks off with a tweet teasing first the writers room meeting.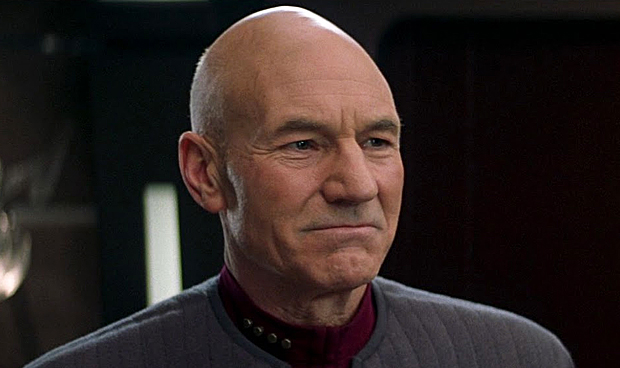 CBS All Access's untitled Star Trek Jean-Luc Picard spinoff series is quickly becoming a reality, as a tweet of the newly-launched writers room from star Patrick Stewart reveals.
Stewart, who made the official announcement of the Star Trek: The Next Generation follow-up series back in August, tweeted a photo of the former-and-soon-to-return Picard actor's proverbial ready room, joined by a creative coalition consisting of Kirsten Beyer (Star Trek: Discovery), Michael Chabon (Spider-Man 2), Akiva Goldsman (Star Trek: Discovery), Diandra Pendleton-Thompson (Awakening Love) and James Duff (Major Crimes). Indeed, Stewart's accompanying caption, "The journey has begun," is enough to stoke excitement amongst even the most lapsed of Trekkies.
The untitled Star Trek Picard series will manifest as the franchise's first visit to the Star Trek: The Next Generation time period since the 2002 movie, Star Trek: Nemesis, which was the last time Stewart played the iconic captain of U.S.S. Enterprises D and E.
The upcoming series will chronicle a storyline set during Picard's golden years, which were famously teased in an alternate-timeline setting in the 1994 Star Trek: The Next Generation series finale, "All Good Things…," living an idyllic existence working his family's famous vineyard in France. Of course, it is unknown if Picard's fate as an elderly grape-picker will occur on the series and plot details about what could bring the Starfleet legend out of retirement are not yet known.
However, one of the table occupants in Patrick Stewart's tweeted photo, Michael Chabon, recently teased that the setting of the series will be the year 2399 (using an image of Martin Landau and Barbara Bain from 1975-1977's Space: 1999 in a tongue-in-cheek way). Consequently, the backdrop of an impending new epoch, going from the 24th to 25th century specifically, should figure prominently in said plot.
A notable absence from the table photo is the show's own behind-the-scenes captain in showrunner Alex Kurtzman, who's currently juggling TV duties on Star Trek: Discovery and Hawaii Five-0. He and Chris Morgan had stewardship of Universal's setback-plagued "Dark Universe" monster movies, which launched unsuccessfully with 2017's Tom Cruise-headlining The Mummy. While the duo announced their exit last November, the projects are still up in the air.
Fans will have to settle for this inspiring tidbit for now, since the untitled Star Trek spinoff series has yet to mark a date on which it will engage. Indeed, the series is clearly at the earliest of stages and production won't likely commence until early 2019.
Joseph Baxter is a contributor for Den of Geek and Syfy Wire. You can find his work here. Follow him on Twitter @josbaxter.