News
Paterno Trailer Asks Al Pacino a Hard Question
Al Pacino takes a question off the stand in the first trailer for HBO's Paterno.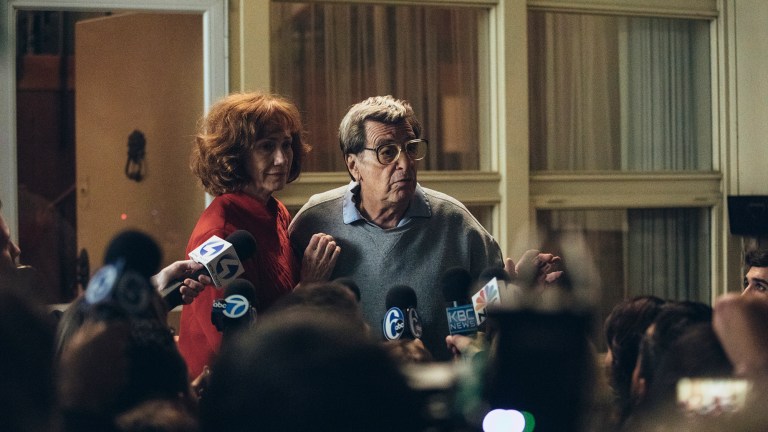 "Dad, did you know about Jerry," Al Pacino is asked in the first trailer for HBO's Paterno. Pacino stars as Joe Paterno, the Penn State football coach clipped in the Jerry Sandusky child sex abuse scandal. The film is directed by Barry Levinson. Levinson and Pacino last worked together on HBO's Emmy-winning You Don't Know Jack.
The screenplay was written by Debora Cahn and John C. Richards and David McKenna.
Paterno centers on "the winningest coach in college football history" according to the official synopsis. He becomes "embroiled in Penn State's Jerry Sandusky sexual abuse scandal, challenging his legacy and forcing him to face questions of institutional failure regarding the victims."
Paterno was Penn State's head coach. His assistant coach, Jerry Sandusky, was accused of multiple incidents of child abuse and molestation and ultimately sentenced to 30 to 60 years in prison. Paterno's legacy was shattered it was revealed Sandusky used the East Area Locker Rooms to abuse children he met through his Mile High charity. Paterno was dismissed by Penn State. He died in 2012.
Riley Keough (The Girlfriend Experience) plays 23-year-old Patriot-News reporter Sara Ganim. Kathy Baker stars as Sue Paterno, Joe's wife. Paterno also stars Greg Grunberg as Scott Paterno and Larry Mitchell as Jay Paterno, Joe's sons; and Annie Parisse as Mary Kay Paterno, Joe's daughter.
You can watch the trailer here:
Paterno debuts on HBO this spring.