News
Paranormal Lockdown Corks Up the Spirits
Nick Groff and Katrina Weidman are haunted hostages as Paranormal Lockdown season 3 throws away the skeleton key.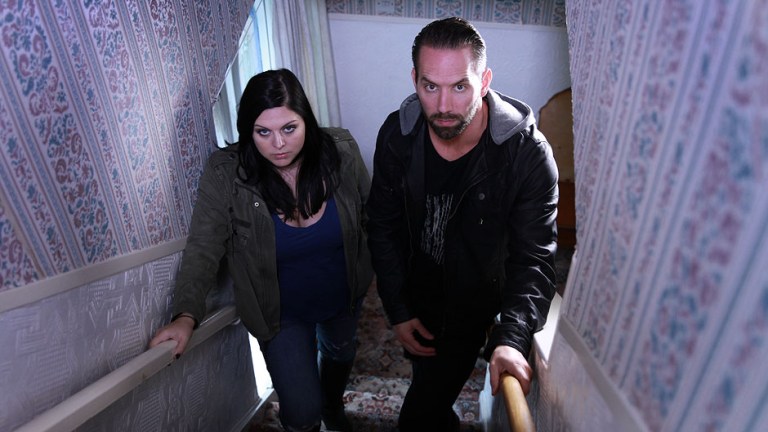 Nick Groff and Katrina Weidman might be suffering from a kind of spiritual Stockholm Syndrome. The two paranormal investigators endured two seasons of location shooting where they would spend an "unprecedented 72 hours confined to the most haunted locations in search of groundbreaking evidence of the paranormal," according to a press statement from Destination America about their show, Paranormal Lockdown. In that time, they've formed a special bond with their ethereal captors. Season 3 will see the pair toss back some moonshine in old Kentucky.
"In response to employee claims that bourbon isn't the only spirit locked inside the massive warehouses on the property," Paranormal Lockdown season 3 will feature the first-ever televised paranormal investigation of the Jim Beam American Stillhouse in Clermont, Ky.
Further reading: Ghostober Is Coming to Travel Channel
"This is the most groundbreaking Paranormal Lockdown season yet, and Katrina and I have been mentally and physically challenged every step of the way," host and executive producer Nick Groff said in a statement.
Groff, who dedicated his life to the field in an effort to discover the next major breakthrough in paranormal research, and Weidman, who has been working professionally as a paranormal researcher and investigator since 2006, use state-of-the-art investigative technologies to "delve into the deep, storied histories of the properties to uncover what lies beyond the boundaries of our reality," according to the press statement. But the mission comes with risks. "Mentally and physically exhausted, they'll be vulnerable to whatever lies within the haunted walls," reads the press statement.
Further reading: The Occult Influences of Sympathy for the Devil
"Living in these extremely haunted locations and dangerous environments for 72 hours has always been the ultimate test to conquer, but it's led us to discovering some of the best documented evidence we have ever captured," Groff added.
The series will offer back-to-back premieres weekly as it moves to season 3, which begins with an investigation of Old Sweet Springs Resort in West Virginia on Tuesday, December 4 at 9/8c. Groff and Weidman submerge themselves among the spirits, finding something that lurks beneath the surface of the mineral springs. Then at 10/9c, the two visit the Wildwood Sanitarium in upstate New York, where recent renovations have stirred up ghostly activity. The two attempt to determine what menacing spirits have made the home uninhabitable. Groff and Weidman will also explorate the "Portal to Hell" at Bobby Mackey's Music World in Wilder, Ky., as well as returning to the Monroe House in Hartford City, Ind. where they uncovered skeletal remains in season two.
"I'm excited for everyone to experience the journey that will truly make you question everything you thought you knew about the paranormal," says Groff, who has been fascinated with the paranormal ever since surviving a near-death experience as a child. Groff first surfaced in the paranormal world when he co-wrote, co-produced, co-directed, co-edited, and co-starred in Ghost Adventures: The Original Documentary . The film won a New York International Film & Video Festival award, and was nominate for an Eerie Horror Film Festival award. It aired on the SyFy Channel in 2007. Groff served as the executive producer, co-host, and co-investigator for seasons 1-10 of Travel Channel's Ghost Adventures series starting in 2008. Groff was the co-host of Destination America's series Ghosts of Shepherdstown for two seasons and executive produced Ghost Stalkers in 2014 and the Travel Channel show Vegas Stripped.
Further reading: The Dead Files Comes Back To Life in The Killing Fields
Katrina Weidman's passion for the supernatural began when she was a child living in historic Bucks County, Pa., where many locations are said to be haunted. She rose to national recognition in her role on A&E's hit series Paranormal State, in which she worked on hundreds of cases of unexplained supernatural phenomena and interviewed thousands of witnesses with the world-renowned Paranormal Research Society (PRS) from 2006-2011.
Weidman also hosted Chiller's Real Fear: The Truth Behind the Movies (2012) and The Truth Behind More Movies (2013), following Weidman and her team as they traveled the country chronicling the real-life stories that inspired some of the world's most iconic horror films.
Paranormal Lockdown will also merge a slate of never-before-seen episodes with hit premieres from Paranormal Lockdown UK.
Paranormal Lockdown returns to Destination America on Tuesday, December 4 at 9 p.m.
Culture Editor Tony Sokol cut his teeth on the wire services and also wrote and produced New York City's Vampyr Theatre and the rock opera AssassiNation: We Killed JFK. Read more of his work here or find him on Twitter @tsokol.