News
Pamela Smart: An American Murder Mystery Lets Killer Talk
ID's three-part special event Pamela Smart: An American Murder Mystery is an expose to die for.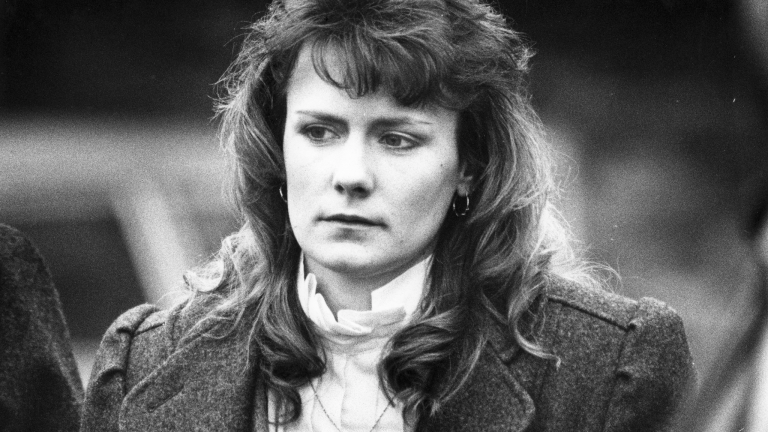 "You're not anybody in America unless you're on TV," Nicole Kidman's Suzanne Stone Maretto observed in the film To Die For. "What's the point of doing anything worthwhile if nobody's watching?" The character was reportedly based on Pamela Smart, who was a 22-year-old teacher at Winnacunnet High School when she found her husband Gregg Smart, who had been shot pointblank in the back of the head in what looked like a botched robbery on May 1, 1990. "When investigators discover Pamela has been having a sordid affair with high school student, Billy Flynn, a complicated web of lies and deceit unravel, revealing one of the most scandalous crimes of the century," according to Investigation Discovery. The true crime network will explore the case in Pamela Smart: An American Murder Mystery, a three-part special event premiering Sunday, August 19. Decades after her conviction, Pamela Smart maintains her innocence.
The crime stunned the town of Derry, New Hampshire condo, whose police department began looking at the widow, who caught their attention by making curious television appearances publicizing the crime. "From the tawdry affair, to teenage assassins, to the explosive nationally televised trial, this case transfixed the entire nation as Pamela Smart emerged as the original Black Widow," Henry Schleiff, Group President of Investigation Discovery, American Heroes Channel, Destination America and Travel Channel, said in a statement.
The team at the An American Murder Mystery franchise will interview key players, including Det. Daniel Pelletier, the police detective who tirelessly chased down leads; Bill Spencer, the investigative reporter who followed the case from the very beginning; Paul Maggiotto, the prosecutor who painstakingly crafted the case. But the centerpiece of the special is an exclusive interview with the Pamela Smart.
In the first nationally televised courtroom trial, Pamela Smart claimed that Flynn saw Gregg as a romantic rival, and independently killed him to eliminate competition for Pamela's heart. Ultimately, the explosive recordings and the boys' testimony against Pamela Smart led to her conviction for the murder of Gregg Smart. She is currently serving a life sentence without the chance of parole at a maximum-security prison in Upstate New York.
"Since the story of Pamela Smart ranks as one of the most scandalous and controversial crimes ever, we were compelled to bring this uniquely fascinating story to our viewers with a fresh perspective,"  Schleiff said.
Read the latest Den of Geek Special Edition Magazine Here!
"Sex, lies and a tale too-twisted-to-be-real surround the murder of Gregg Smart," reads Investigation Discovery's press statement. "Who Killed Him?  And why?" Pamela Smart was a high school media coordinator in Hampton, N.H., when she first met 16-year-old Billy Flynn, a sophomore at the school. "What began as a mentorship quickly evolved into a scandalous affair between Smart and Flynn, despite Pam's recent marriage to 24-year-old Gregg Smart," according to the ID Press statement.
"Police feared this was more than a botched robbery, and their suspicions were confirmed when the father of Vance Lattime, a friend of Billy Flynn's, reported he heard his son and Flynn discussing how one of his guns was the murder weapon with their friends, Raymond Fowler and Patrick Randall," according to the press statement.
"Investigators brought the four boys in for questioning, and it didn't take long for them to uncover the sordid affair, and a murder plot designed by Pamela herself. Claiming abuse by Gregg, Pamela recruited her lover and his three friends – Lattime, Fowler and Randall, to kill her husband; she also confided her plans in her student aide, Cecilia Pierce. To lure the evidence needed to convict Pamela, police convinced Pierce to wear a wire to a meeting with Pamela, resulting in a series of damning recordings of Pamela scheming after the crime. Pamela was arrested for first-degree murder on August 1, 1990.
Crime and justice journalist Diane Dimond; Pamela Smart's former intern, Cecelia Pierce; criminal defense attorney Mark Sisti; and others close to the case will also be interviewed.
Pamela Smart: An American Murder Mystery premieres Sunday, August 19 at 10 p.m. on ID.
Culture Editor Tony Sokol cut his teeth on the wire services and also wrote and produced New York City's Vampyr Theatre and the rock opera AssassiNation: We Killed JFK. Read more of his work here or find him on Twitter @tsokol.