Features
Our favourite things about The Five(ish) Doctors Reboot
Here are our favourite moments from Peter Davison and co.'s tremendous gift to Who fans, The Five(ish) Doctors Reboot...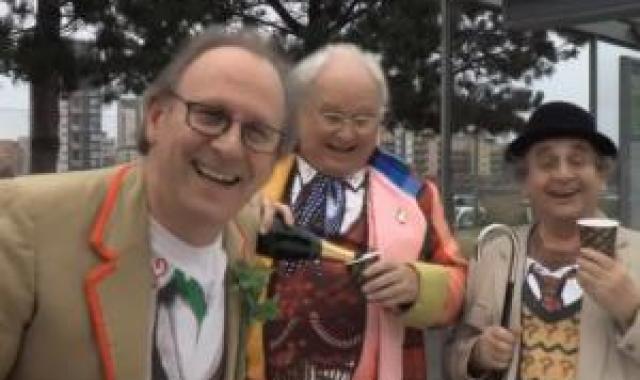 Contains Spoilers for The Day of the Doctor.
While we didn't see the Fifth, Sixth or Seventh Doctors in the flesh during The Day of the Doctor there's a possibility that they might still have featured somewhere. It's possible that, on set, Peter Davison, Colin Baker and Sylvester McCoy refused to let Zygons be Zygons.  
As with much of the anniversary programming, once you're done with being merely incredibly entertained by the Pythonesque brilliance and sequences involving K9 and Lisa Bowerman haunting Steven Moffat's dreams, you can then embark on a game of 'Spot the Reference'. Written, directed, and initiated by Peter Davison (confirming himself as the bigger nerd in the room), The Five(ish) Doctors Reboot is like a Easter Egg within an Easter Egg, so crammed full of in-jokes that a diagram of them all would resemble a cross-sectional diagram of a lung. This are not just about Doctor Who, but we also have Olivia Colman referencing her own ubiquity, Colin Baker's Wycombe Wanderers jacket, Rhys Thomas riffing on his own Gary Bellamy character, Peter Jackson's ever ad hoc approach to film-making, and appearances from Sarah Churm (who played Peter Davison's daughter in At Home With the Braithwaites), various Big Finish alumni, and members of the Doctor Who production team.
While the BBC negotiate a six-episode sitcom deal with Davison (potentially the driest comedy ever), hopefully this extra will find its way onto DVD with a Spaced-style subtitle reference track. Meanwhile, here's a list of our favourite bits:
1. Janet Fielding personifies Peter Davison's self-doubt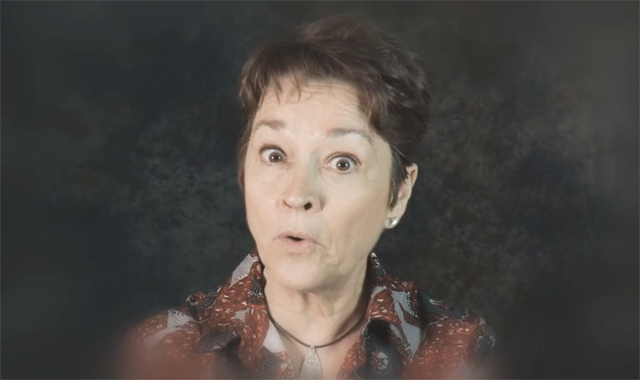 Well, if it had to be anyone, it had to be everyone's favourite plane-obsessed gobby Australian, didn't it? Interestingly – from the position of an amateur psychologist and Tegan/Five shippers – Fielding's voice cross-fades with that of Davison's wife, asking him to walk the dog. What are you trying to say, Peter Davison?
2. Georgia Moffett's Subtle Celery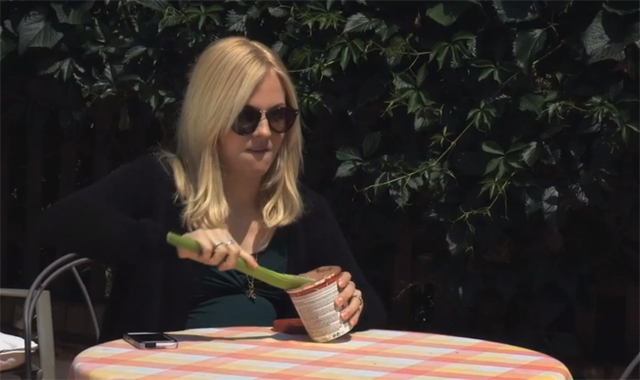 It's not immediately obvious until you hear the crunch, but Georgia Moffat is eating that ice-cream using a stick of celery as a spoon.
3. "I am what I am"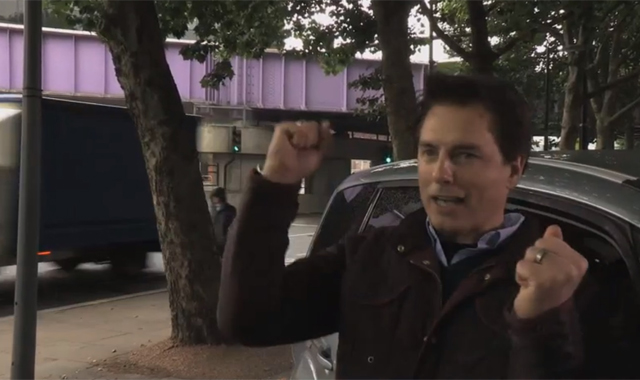 This John Barrowman sung-anthem kept cropping up throughout (initially mentioned by Rhys 'Fifth Doctor Outfit for his Birthday' Thomas, aka Donald Cox the Sweaty Fox), prior to the big reveal of Barrowman's secret life. Nice, subtle gag there, and also good to get Barrowman involved somewhere.
4. Niky Wardley's Unimpressed Face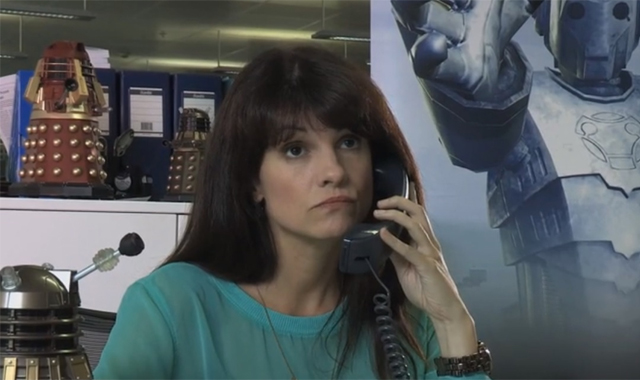 Big Finish's Tamsin Drew wins the 'Most Disparaging Supporting Character' award without saying a word.
5. Steven Moffat as the Cold, Gimlet-Eyed Bond Villain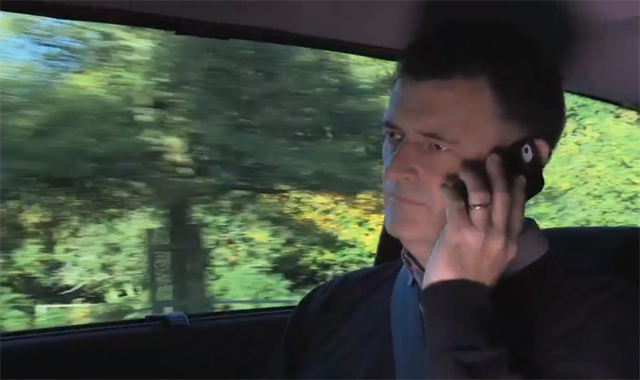 "And have Tumblr destroyed."
6. The ever-versatile Shada clip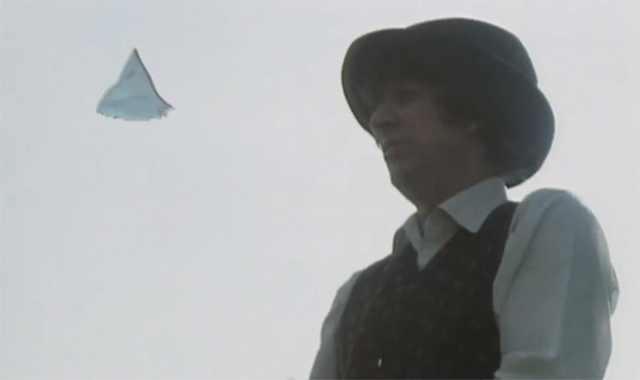 Followed by John-Culshaw-as-Tom-Baker signing off his answerphone message with 'Goodbye my dears', because frankly there haven't been enough Dimensions in Time references in the anniversary.
7. This image without context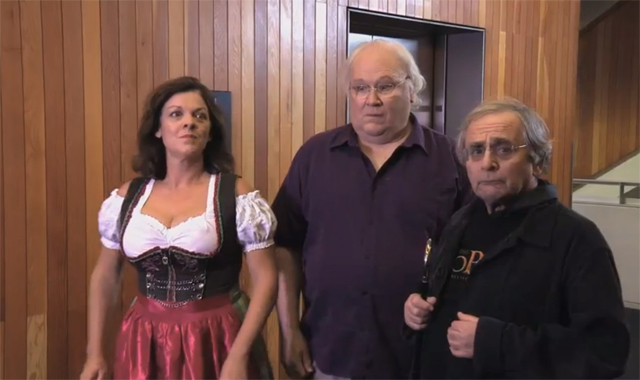 Seriously, you can pause The Five(ish) Doctors at almost any point and the ensuing screengrab is comedy gold.
8. "You're wasting your time, I've locked all the doors."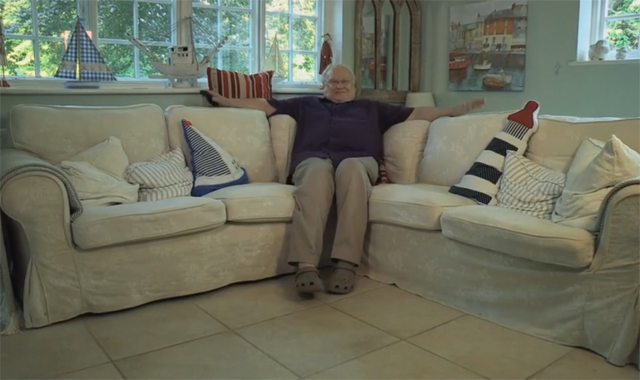 The Baker family react with horror to the news that Vengeance on Varos has got an expanded DVD re-release.
9. "Sylvester…who?"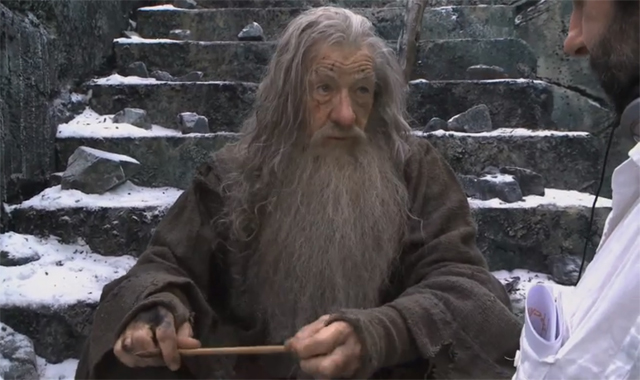 (Sir) Ian McKellen (most famous for voicing the Great Intelligence in The Snowmen and Zebedee in the 2005 Tom Baker-starring Magic Roundabout film) is very frank in his consideration of McCoy's sudden absence from The Hobbit.
10. "I'd like to go home now."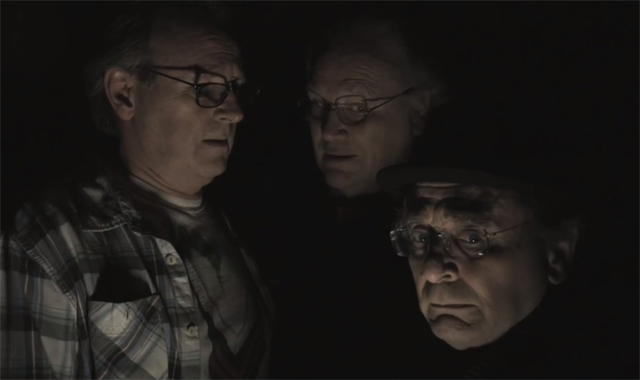 I don't know if you've ever seen the episode of Still Game Sylvester McCoy features in, but he really is very good at playing the Hans Moleman card.
11. Eighties vs Noughties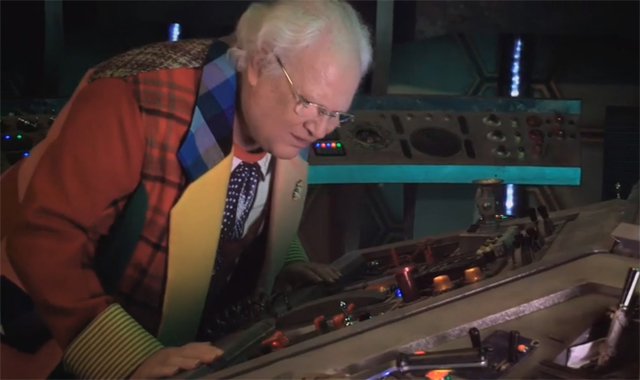 The music gag. The lighting gag. The use of the word 'toerag' as an insult. 'Must dash'. 'Illegal aliens I shouldn't wonder.'
12. The Cult of Skaro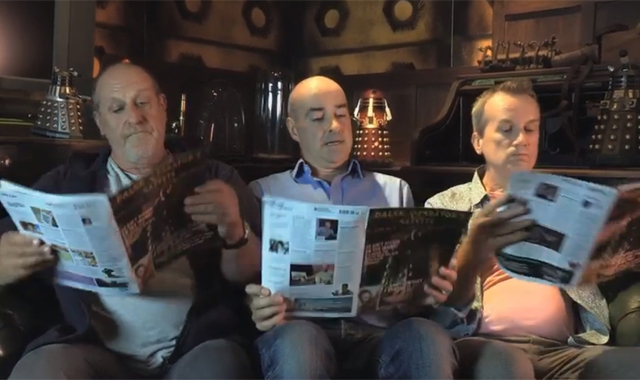 On top of getting Nick Briggs, Frank Skinner and David Troughton to play the Dalek operators (with real Dalek operators Barnaby Edwards and Nicholas Pegg appearing in the back of another shot), the fact that the three Dalek operators appear to have some sort of familial masonic cult thing going on is a nice, if worrying, touch.
13. Russell The Davies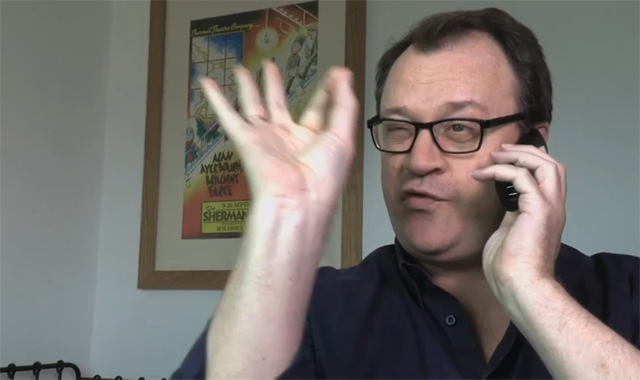 HOORAY.
14. This:
D'awww. 
15. "Why are we doing all of this?"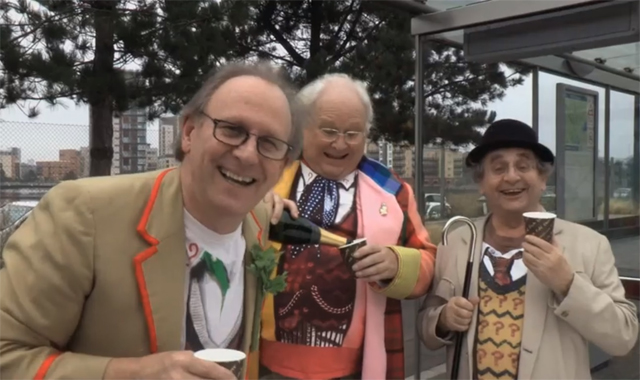 Because of all the anniversary bonuses, this really was one that smacks of serendipity (yet another word that Doctor Who taught me the meaning of). Steve Moffat is already quoted as saying he was delighted when Davison told him the idea, because it solved his problem of how to involve these three Doctors in the event. The Five(ish) Doctors emerged like the surprise Christmas present that wasn't under the tree, arrives late in the day when you weren't expecting it, and turns out to be one of the most memorable gifts you receive.
Follow our Twitter feed for faster news and bad jokes right here. And be our Facebook chum here.