News
Orton Breaks Free of Wyatt's Control on SmackDown
Bray Wyatt and Randy Orton took a dark and disturbing turn in setting up their WrestleMania title match ...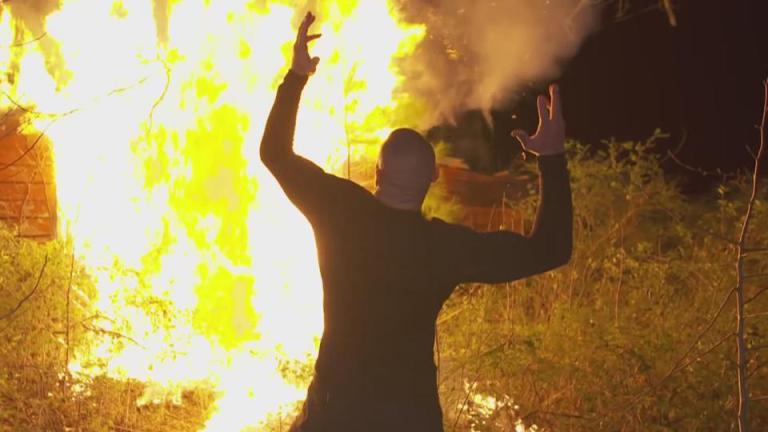 There were several elements of Bray Wyatt's promo on SmackDown Live this week that were interesting. First and foremost, in directing his message to AJ Styles, Wyatt called himself a deity. Who else has been using that term — actually, seven of them — recently in pro wrestling? Well, Matt Hardy!
Is there foreshadowing there to the possibility of the Hardys coming to WWE? Maybe. But more likely this was just a cryptic term being used by a cryptic character.
That being said, the segment with Orton and Wyatt did have a very "broken" feel to it. As Wyatt was delivering his promo, the video cut away to Orton at the Wyatt compound. There were quick cutaway scenes to worms on the ground and the production felt a lot like the "Broken Universe."
Of course, WWE's production value is 10 times that of TNA, so there were clear and noticeable differences in the presentation, but the concept was very similar.
Orton was very good in his delivery. I've felt for a while that Orton had been mailing it in, per se. He just didn't seem totally invested in what he was doing, a lot of that is his fault but some of it falls on WWE not giving him something interesting or noteworthy to do.
Orton has been reborn as a performer during this run with Wyatt.
I was surprised as how dark the segment went, though. That's not usually WWE's style. Orton spoke about how "Satan's sister, Sister Abigail," was buried right beneath where he was standing. The camera panned back to show Orton holding an ax and as Wyatt looked on from the arena, Orton looked at the worm-infested ground and asked Wyatt how long had it been that the worms and maggots were eating her flesh? Orton said all that was left was her wretched spirit. Orton told Wyatt that his black heart was beating through his chest, because he knew that Orton would destroy what makes him tick.
Orton said that he would burn the soul of Sister Abigail, and watch Wyatt die with her. The rocking chair had been rocking for this entire promo, and Orton finally grabbed it and stopped it. He threw the ax to the side, picked up a gas can and poured it all over the "temple," as Orton referenced it. He dumped gasoline all over the rocking chair and yelled that he was coming for Bray and his title at WrestleMania. Orton then the remainder of the gas all over the ground where Sister Abigail is buried. Orton said that Wyatt was about to hear Sister Abigail scream, and the last time he heard her scream was when she took her last breath.
At this point, Wyatt is on his knees in the ring, screaming and sobbing for Orton to not do this. Orton finished dousing the house in gas and stepped outside. Wyatt can be heard screaming "Randy, please!"
Orton struck a match on a tree outside and watched the flame dance for a few moments. Orton said he was going to burn the soul of Sister Abigail to eternal damnation, and he threw the match into the gas and the house exploded into flames. Orton posed in front of the inferno as Wyatt snapped, rolling outside the ring and smashing his head on the announce table. Orton stared deeply into the camera, snarling, as Wyatt covered his ears, balled up in the fetal position, and rocked back and forth.
I thought the segment was very well produced, and it did blur some lines between "good guy" and "bad guy." Despite his evil power and cult-like control over Orton, Wyatt was sympathetic here. You watched him fall to his knees and cry as Orton was about to destroy everything in his world. As much as WWE wants to keep Wyatt the heel, it was hard not to have a little empathy for that character in that moment. 
1. Becky Lynch beat Mickie James in a two-out-of-three-falls match
Not a show-stealing match by any means, but I liked the fire and aggression that James showed as a heel. This was a tricky match to put on free television, however. Similar to the Bobby Lashley vs. Eddie Edwards iron match match that TNA aired on Impact Wrestling a few weeks ago, matches like this with multiple falls feel like they're better placed on pay-per-view, where there is more time and less interruption to tell a compelling story.
2. AJ Styles beat Luke Harper
Interesting finish to this match, which will begin to set up plans for Styles at WrestleMania, it would appear. There has been a long-rumored match between Styles and Shane McMahon. Here, Styles pinned Harper but Harper's foot was on the ropes. Shane came out to re-start the match, which Styles argued. Harper went to hit Styles, but missed and decked Shane. Styles then threw Harper into the ring post and hit a springboard 450 for the pin.
I'm not sure exactly how this sets up a Shane-Styles match at WrestleMania, but they were in the same segment here and something happened. We'll have to see how this plays out.
I'm not a fan of Shane wrestling at all on WrestleMania. WWE has too many part-time performers as it is, and like last year with Undertaker, this feels more like Shane playing WWE fantasy camp because his dad's the boss.
3. Dolph Ziggler beat Apollo Crews
The crowd seemed to like the offense from both guys in this match. This did feel like filler, however. There just doesn't feel like there's a lot of consequence to this match and Ziggler is now in that unfortunate spot of having unlimited potential, that will never really be reached due to poor planning on poor booking on WWE's part.