News
Origin: YouTube Red Nabs Sci-Fi Series from The Crown Producers
Origin, an ambitious space sci-fi series from the producers of The Crown, will join YouTube Red's original content lineup.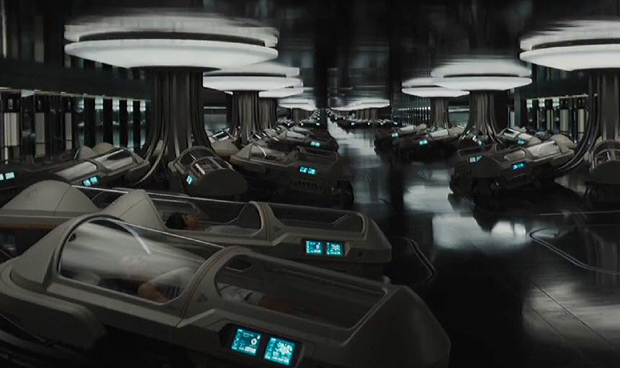 YouTube Red wants to make a mark in the age of streaming television, where it seems like every company is trying to hit big with a premium streaming side hustle. Indeed, the premium offshoot of the Google-owned video-sharing monolith has acquired a sci-fi thriller television project, called Origin, looking push hard into the peak television game.
YouTube announced its pickup of Origin, a project that originates from the U.K.'s Left Bank Pictures, who recently hit big with its Netflix offering, The Crown. The series will be space-set sci-fi offering, depicting a group of strangers who, due to mysterious circumstances, are stranded on a spacecraft that's headed for a distant planet. However, it soon becomes clear that one of the passengers isn't quite on the level.
Origin is the brainchild of Mika Watkins, who serves as creator, writer and executive producer. Watkins previously wrote for the Sky 1/Amazon sci-fi action series, Stan Lee's Lucky Man, BBC's Troy: Fall of a City and the CBBC teen mystery, Dixi. Watkins is joined here by Left Bank Pictures' Andy Harries, Rob Bullock, and Suzanne Mackie, with Midnight Radio's Josh Appelbaum, André Nemec, Jeff Pinkner and Scott Rosenberg.
As Left Bank Pictures CEO Andy Harries expresses in a statement:
"Mika is an exceptional new voice and we are excited to bring her first major project to the screen with our friends at YouTube Red."
Origin represents a tripartite production partnership between U.K., U.S. and China companies, with Left Bank (which is majority-owned by Sony Pictures Television,) joined by Midnight Radio, in association with China International Television Corp. and the international wing of Sony Pictures Television.
The series will join a growing lineup of original content on YouTube Red, a platform which just premiered its very first drama on October 11 with a series called Lifeline, which, based on a short story by Robert Heinlein, arrives from Dwayne Johnson's Seven Bucks company, facilitating a supporting appearance by the megastar. Moreover, the service plans to unleash Impulse, a serial continuation of the 2008 sci-fi film, Jumper, which will be run by its original (and very in-demand,) director, Doug Liman.
There's no word yet on when to expect Origin. For now, its would-be home YouTube Red is available in the U.S., Australia, New Zealand, Mexico and Korea.
*The title image is from the 2016 film Passengers.
Read the full Den of Geek NYCC Special Edition Magazine right here!