News
Orange Is The New Black: the best prison drama since Oz
Michael checks out Netflix original Orange Is The New Black, and finds it a warm, funny, comedy drama...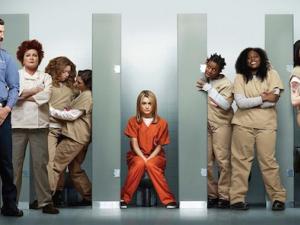 Cooking in Prison. Alan Partridge's desperate TV program suggestions are all brilliant in spite of themselves, but even he thinks that this one is doomed to failure. 'Too depressing' he surmises. We'll skip over the fact that, as of 2013, Cooking in Prison, or at least a Gordon Ramsay-helmed version of it, has already aired, and admit that yes, prison isn't the most cheerful of settings, particularly if your mind is drawn more to Scum and Oz than Porridge.
Props, then, to Orange is the New Black, which manages to find some wit and charm within the walls of a New York State thug jug. Orange, based on the real life experiences of Piper Kerman (fictionalised as Chapman in the show) and adapted for Netflix by Weeds showrunner Jenji Kohan, is ostensibly the story of a nice thirtysomething Connecticut native whose youthful indiscretions (for which, read: semi-accidental drug trafficking) catch up with her a decade after the fact. In an effort to avoid an even harsher sentence, Piper pleads guilty and is sentenced to fifteen months as a fish out of water in Litchfield Federal.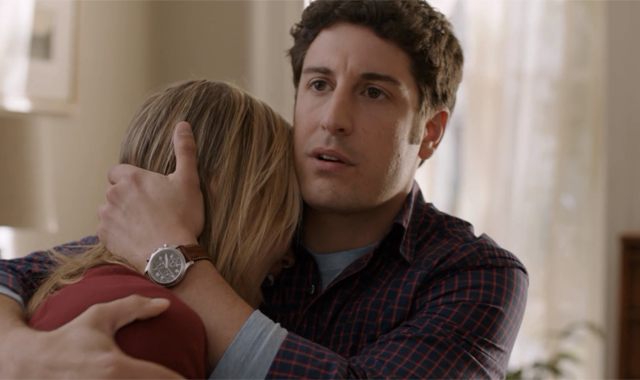 It's a real comedown. On the outside, Piper shopped at Whole Foods, watched Mad Men with her perfectly sweet boyfriend and was about to launch a business making and selling artisanal soap. Inside, she's reduced to being called simply 'Chapman', makes her own flip flops out of tissues and mops up piss with sanitary towels. She also has to learn very quickly how not to incur the wrath of her pal inmates, and certainly not those responsible for ensuring that she gets fed. It's a big ask, particularly for someone whose sense of humor tends towards the dry. Taylor Schilling is great as Piper, the neophyte discovering that her New York sensibilities are precious little help on the steep penal learning curve. Meanwhile, her doting fiancé, Larry (Jason Biggs, American Pie's Jim, here playing, essentially, American Pie's Jim) has to learn to cope with his own loss of privileges and discover that imprisonment is never a punishment for one.
An absence of company is the last of Piper's problems, to the viewer's benefit more than hers. Saying that Orange is about Chapman is like saying the Divine Comedy is about Dante. Her discovery of the prison's oddities, its rules, both official and by convention, supply our means to explore the place, but attention swiftly turns to her pal inmates. Each episode explores the situation of a different character, offering Oz-style flashbacks to her life on the outside and the origins of the crime that bought her ticket to 'The Litch', although the crimes themselves go unsaid and unseen.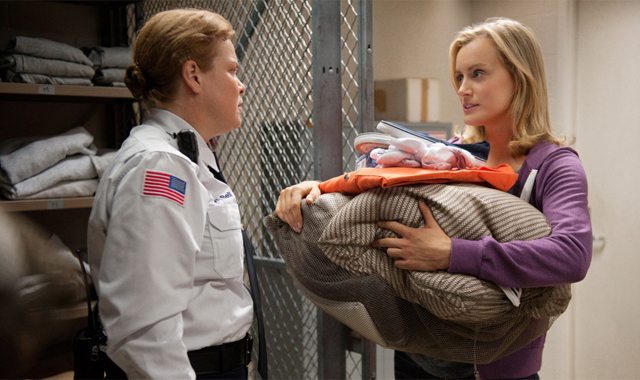 As the episodes mount, the character strands layer upon one another, entwine and form a soap opera of life behind bars. Yes, soap opera. And I mean that as a compliment. Orange is structured like a prime time serial, heavily character-driven and with the sense that the setting, rather than any single individual, is the true star of the show. Multiple plotlines run simultaneously, so different characters appear as cameos in one another's storylines, which intersect to form a sense that we're seeing a real community, albeit one whose inhabitants wish to leave.
As a soap opera, it has more in common with the character based humor of Coronation Street than the relentless misery of Eastenders. It's a drama, but a very funny one and is frequently laugh-out-loud hilarious. It humanises the inmates and the guards if it glosses over the motive and circumstances for their crimes, it does so for good reason, we've got to spend some time with them. Besides, we see the crimes from their switch of view, so of course there are mitigating circumstances. 
However harsh they make their exterior; it's difficult not to find sympathy with these women. Kate Mulgrew, light years away from the Delta Quadrant, plays Red, the prison's cook and Alpha Female. She makes Piper's life an utter misery, but as we get to know her, we can nevertheless feel something for her. Likewise, Laverne Cox, who has a peach of a role as Sophia, a transgender woman who loses access to her hormone pills and faces the return of her five o'clock shadow. Even in an environment that has been designed to enforce uniformity, it's a particularly cruel suppression of identity and Cox navigates her character's difficulties with real heart and humor.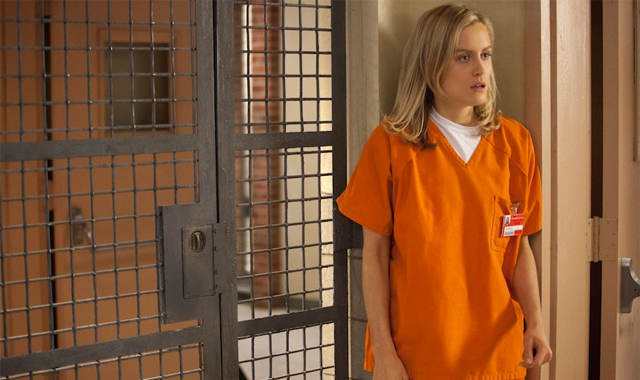 The prison staff are treated as well as the inmates, in dramatic terms at least, whether they exploit the situation like Mendez (The Wire's Pablo Schreiber, rocking an awesomely hideous moustache) or, as in the case of new boy John Bennett, find themselves as confused by it all as the inmates whose behaviour they are employed to police.
Although the darkness is lightened through razor sharp one-liners and skilful jump-cuts, it is never avoided outright. The writing is far too good for that and if we must use the portmanteau 'dramedy' (must we?) it's only because the drama and the comedy are in such fine balance that it's impossible to see where one ends and the other begins. It's a difficult thing to pull off, and even more difficult to make it look this easy.
Following the critical success of House of Cards, the resurrection of Arrested Development and the recent news that UK subscribers will be able to see Breaking Bad as broadcast, 2013 is shaping up to be a great year for Netflix. They've made some pretty decisive moves in their battle to claim the territory previously held by US cable networks. They can chalk Orange is the New Black up as yet another victory.
Orange Is The New Black is available on Netflix.