News
One Dollar Trailer: CBS All Access Concept Crime Series
CBS All Access has released the first full trailer for One Dollar, a concept-driven crime series.
CBS All Access crime series One Dollar will showcase a unique narrative strategy by gradually unifying its onscreen ensemble (à la Netflix's Sense8,) with the simple object of a single dollar bill that – through a seemingly unlikely series of events – passes from character to character, revealing each person's part in a series of egregious crimes that have fallen upon a small blue-collar town that's already struggling economically.
One Dollar is the creation of a relative newcomer in Jason Mosberg, writer of 2017 thriller movie Arsenal, which starred Nicolas Cage and John Cusack. In the director's chair for all 10 episodes is Craig Zobel, who's helmed episodes of Westworld, The Leftovers, American Gods and Outcast. The series is produced by CBS Television Studios in association with Anonymous Content. Zobel serves as an executive producer, joined in that capacity by Mosberg with Matt DeRoss, Alexandre Dauman and Graham Gordy.
One Dollar Trailer
The first full One Dollar trailer is here, using the path of the titular tendered note to show a small town in disarray; a state that's only going to escalate in the aftermath of a shocking crime that – at least from outset – appears to involve the possible violent deaths of seven people.
Here's the official synopsis:
One Dollar is a mystery set in a small rust belt town in post-recession America, where a one-dollar bill changing hands connects a group of characters involved in a shocking multiple murder. The path of the dollar bill and point of view in each episode paint a picture of a modern American town with deep class and cultural divides that spill out into the open as the town's secrets get revealed.
The main One Dollar cast consists of John Carroll Lynch, Nathaniel Martello-White, Philip Ettinger, Chris Denham, Kirrilee Berger, and Gracie Lawrence. Additionally, Leslie Odom Jr., Jeff Perry, and Sturgill Simpson are set to recur.
One Dollar Release Date
One Dollar is set to premiere on CBS All Access on August 30.
Here's the official poster…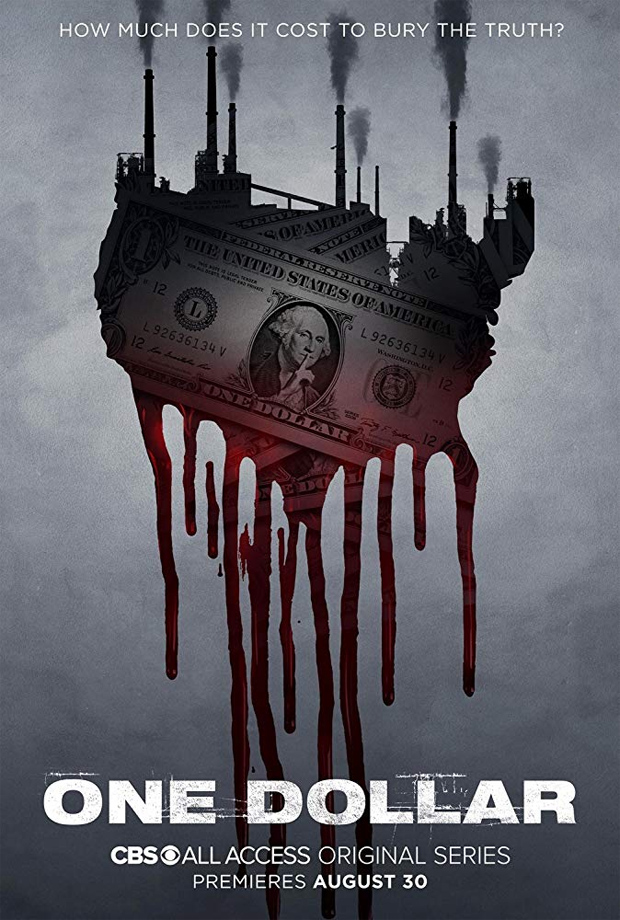 Read the latest Den of Geek Special Edition Magazine Here!