News
NXT Takeover Proved NXT is the Best Wrestling Show Around
NXT Takeover was the best show WWE has produced in at least a year, with great matches and one big surprise ...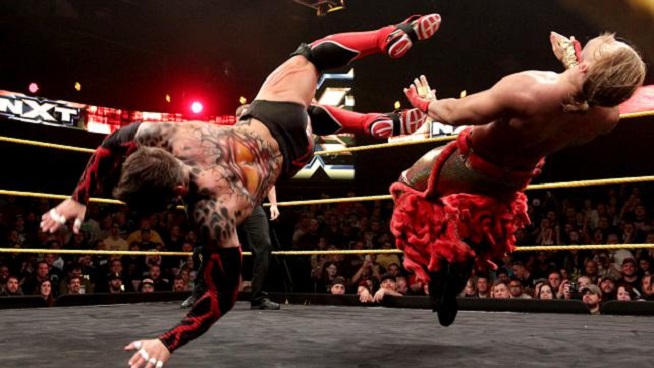 Kevin Steen was about to keep his promise. The WWE NXT Champion had Sami Zayn down on the mat and hurt. Hurt bad. He powerbombed Zayn on the outside of the ring, smashing his shoulder into the ring apron.
But Steen didn't just say he was going to beat Zayn, he said he was going to end Zayn.
So he rolled the No. 1 contender back into the ring, grabbed a steel chair, and was poised to smash the life out of Zayn on the live NXT Takeover special on WWE Network.
Then, music hit. It was unfamiliar. Seconds later, Samoa Joe emerged from the backstage area, and the roof nearly blew off the top of Full Sail University. Joe hit the ring and went face-to-face with Owens, but the champion backpedaled, saying "not tonight."
But the impact was made, no pun intended. Samoa Joe has come to terms with WWE.
It's an interesting deal though, according to a report by PWTorch.com. Joe has agreed on a deal similar to the deal Brian Kendrick and Rhyno signed with WWE/NXT, according to the report. It allows for them to make their own independent bookings, which Joe is still actively doing through his representation.
But none of that matters. Joe was the biggest piece on the open market that WWE could have added to its NXT brand at the moment, and like Triple H has since the live specials debuted, he made sure Joe was the exclamation point on this special. The NXT specials have become what WWE pay-per-views used to feel like. They're can't miss.
What Triple H has done with the NXT brand is remarkable. It's become the second-best wrestling product, available on a national scale, in the United States. WWE has created something with NXT that it couldn't do with the brand split. It has created its own competition.
Triple H runs NXT with outside-the-box thinking. NXT has brought together some of the best independent talent in the world, and they're being groomed for the main roster. They are being groomed for Triple H's main roster.
His reign running WWE's creative product has started to begin. It won't take over fully until Vince McMahon is out of the picture, but we're starting to see Triple H's influence grow. NXT is Triple H's vision for the future of WWE. That should be exciting.
NXT is the best wrestling program on national television. Creatively, I mean. It's better than Raw or Impact. The stories are compelling and make sense, and with only one hour each week, it's not watered down.
Triple H is a throwback to when wrestlers had control of wrestling companies. Guys like Verne Gagne and Bill Watts. With all due respect to Vince McMahon, his father, and someone like Eric Bischoff, they weren't wrestlers. Having been there, done that, brings a unique perspective. Triple H knows how to deal with the talent because he was a talent. Also, creatively, he's closer in age to WWE's core demographic, and the storylines in NXT reflect that.
The entire product is great, and NXT Takeover once again showcased why.
Quick Strikes
1. Kevin Owens is a central figure in WWE right now. He's still feuding with Zayn, I'm guessing, after their match never had an official ending. He's wrestling John Cena at the upcoming Elimination Chamber special next week, he apparently has a match on the horizon with Samoa Joe, oh, and Finn Balor became the No 1 contender for his title after beating Tyler Breeze at Takeover.
That's four things on Owens' plate. He's a superstar in the making, and in all honestly, WWE is already utilizing him as one.
2. Sasha Banks and Becky Lynch had one of the best women's matches in a while. NXT gives their women much more time in the ring to tell their match story, and they're utilizing their women better than any other major company in the U.S. right now. WWE doesn't give their women time to showcase in the main roster, in NXT, the division is a central point.
Match Results
1. Finn Balor def. Tyler Breeze to become the NXT Hvt. Title No. 1 Contender
2. Charlotte & Bayley def. Dana Brooks & Emma
3. Baron Corbin def. Rhyno
4. NXT Tag Team Championship: Wesley Blake & Buddy Murphy [c] def. Enzo Amore & Big Cass
5. NXT Women's Championship: Sasha Banks [c] def. Becky Lynch
6. NXT Heavyweight Championship: Kevin Owens [c] fought Sami Zayn to a no contest
The Finish
Everything about this show was amazing. Every single solitary second. It didn't make the most money of any show this year, but as far as entertainment goes, this was the most fun wrestling show I've watched in at least a year, perhaps more. Every single thing about this show was a home run. But honestly, we're coming to expect nothing less from NXT lately.