News
Not Going Out series 10 release date, plot and episode guide
Not Going Out returns this April for a brand new series.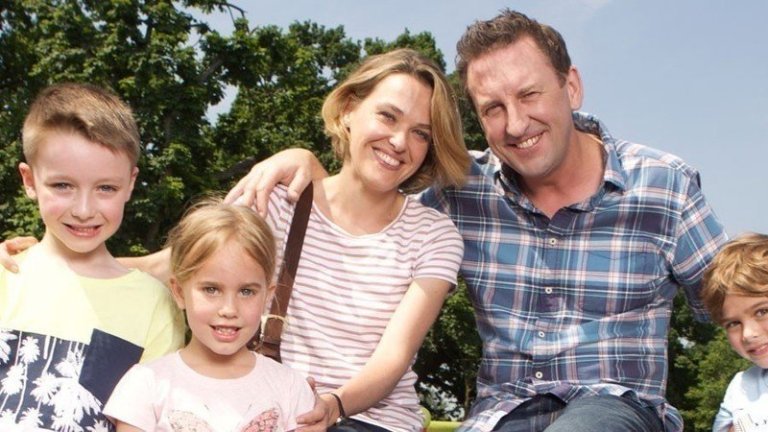 This month, Lee Mack's award-winning series Not Going Out will return to BBC One! The show now holds the title of 'longest running sitcom on air' and also 'longest running sitcom in our hearts' so it'll be grand to see it back for seven brand new episodes.
Lee and Lucy will be getting into all kinds of farcical and ridiculous trouble in series 10, and we've got a look ahead at what you can expect right here.
Not Going Out series 10 release date
Series 10 will get underway on 15th April on BBC One.
Not Going Out series 10 plot
What'll happen in series 10? The BBC's bumf explains all:
We jump straight back into the suburban-madness as married couple Lee (Lee Mack) and Lucy (Sally Bretton); Lee's lovably feckless father, Frank (Bobby Ball); best friends, world-weary Toby (Hugh Dennis) and uptight ice-queen Anna (Abigail Cruttenden); Lucy's generally disappointed father Geoffrey (Geoffrey Whitehead) and nice mum Wendy (Deborah Grant), show courage and selflessness… are in very, very short supply. As the family and friends take off for a sponsored group skydive for a local Children's Ward, surely any emerging fears will be suppressed for the good of all on board and the soon-to-be-benefiting children? Errrm.

Lee and Lucy grapple with concerns over the kids' sex education classes (of course Lee decides he's the best person to take over); make the immediately questionable decision to go on a holiday with Toby and Anna; deal with a terrible Ofsted report at the kids' school, which leads not only to moral dilemmas, but some slightly awkward religious passing-off; endure Lee's hypochondria over his failing memory; untangle a complex mystery involving the smashing of a precious family heirloom; and 'manage' a builder whose attitude to deadlines is somewhat relaxed.

How could it all not go to plan?
Not Going Out series 10 episode guide
Your complete guide to the next series is here, with official synopses from the Beeb…
Episode 1 – Parachute
Toby organises a sponsored parachute jump to raise money for a Children's Ward in his hospital. Supportively, Lee, Lucy, Anna and the grandparents all agree to take part, but once airborne will everyone pluck up the courage to jump?
Episode 2 – Facts of Life
Lee is outraged that the twins have started sex education at school and resolves to teach them everything he knows about the facts of life before Miss Anstis corrupts them.
Episode 3 – Holiday Share
Can Lee and Lucy's friendship with Toby and Anna survive a long weekend in a damp cottage in the New Forest?
Episode 4 – Schooling
When Charlie's school gets a bad Ofsted rating, Geoffrey and Wendy offer to pay to send Charlie to Private School, which presents Lee and Lucy with a moral dilemma.
Episode 5 – Memory
Lee decides to gatecrash Lucy's favourite television programme and watch it with her. Lucy is not best pleased especially when Lee can't remember the name of the leading actor
Episode 6 – Whodunnit?
Unable to convince Lucy that he didn't smash Lucy's precious heirloom, a blue and white antique vase that belonged to her grandmother, Lee summons the family to a meeting to flush out the culprit.
Episode 7 – Builder
Lucy takes the kids away to her parents while Lee stays in the house to oversee the building work in their kitchen. Unfortunately, the builder Lee has employed to do the job has an annoyingly relaxed attitude to deadlines.