News
NOS4A2: Every Day is Christmas in First Look at AMC Horror Series
Charlie Manx is on the prowl in this exclusive first look from the AMC horror series NOS4A2.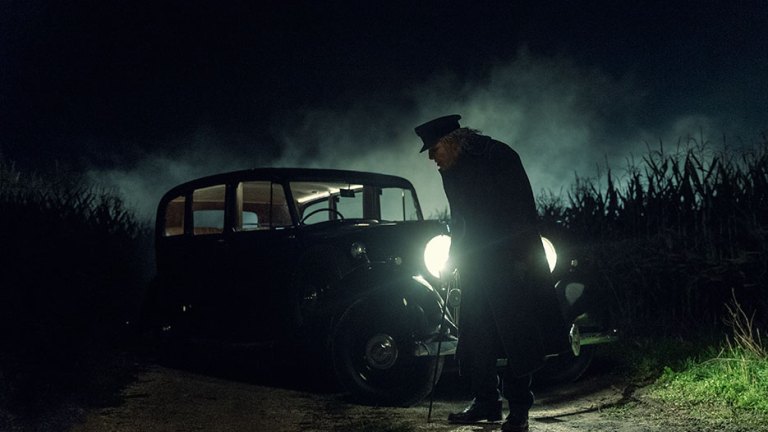 "If every day was Christmas instead of another day of misery and woe – wouldn't that be wonderful?" Charlie Manx (Zachary Quinto) asks while driving his 1938 Rolls-Royce Wraith at the beginning of this NOS4A2 clip. Yes, it probably would be wonderful! But given the other details in this exclusive first look at AMC's horror series NOS4A2, Christmasland is not all its cracked up to be.
See for yourself below.
That video includes the most footage of NOS4A2, based on the novel of the same name by Joe Hill, that we've seen yet. And there are some cast and crew interviews to boot. As it turns out, Charlie Manx is not someone you'd want hanging around your kid…which is all the same to him as he would just abduct them anyway. 
"Nightmares and horror fiction they take what's reassuring and then they infect it with a sense of unease," writer Joe Hill says. This is almost immediately corroborated by the placid shots of an otherwise normal New England town. As we now know, however, the world of NOS4A2 is bound to be anything but normal. 
NOS4A2 stars Ashleigh Cummings as small town New Englander Vic McQueen. Vic leads the normal American girl life until one day she discovers that she has a supernatural ability that helps her find lost things and connects her in a way to Charlie Manx. Manx, for his part is an immortal parasitic serial killer of children. Manx "feeds off the souls of children, then deposits what remains of them into Christmasland – an icy, twisted Christmas village of Manx's imagination where every day is Christmas Day and unhappiness is against the law." You know: Joe Hill stuff. 
NOS4A2 premieres Sunday, June 2 at 10 p.m. ET on AMC.
Alec Bojalad is TV Editor at Den of Geek and TCA member. Read more of his stuff here. Follow him at his creatively-named Twitter handle @alecbojalad