News
No Reason Why Goldberg Can't Stick Around WWE
WWE teased involvement with Reigns after Goldberg's feud with Lesnar comes to a close ...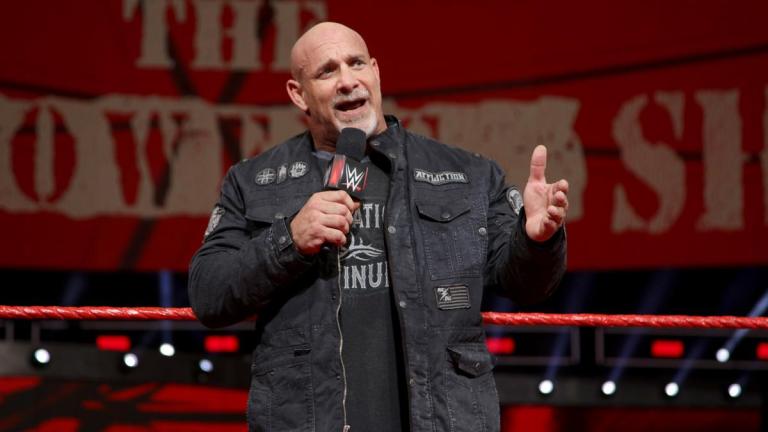 Goldberg's return on Monday's Raw would lead you to believe that there could be more in store for the former WCW world champion than just Brock Lesnar at the upcoming Royal Rumble and WrestleMania shows.
In Raw's closing segment, Goldberg went face-to-face with Chris Jericho and Kevin Owens, before also teasing some sort of match with the man who stole his finisher, Roman Reigns, as well as perhaps even doing something with Braun Strowman, although Strowman seemed to be used more as fodder for Reigns and Goldberg to pull off a double-spear.
It begs the question as to whether or not Goldberg has more than just this Lesnar feud left in him.
Physically, Goldberg looks great. Seriously, the guy is 50 years old and he looks almost the same as he did back in WCW's prime. Sure, he's a little more gray and there are a few more wrinkles, but he's in great shape.
Is he in top wrestling shape? Does he have good cardiovascular shape? Probably not. The match with Lesnar at Survivor Series was short, in part, to protect him. I don't think he had the ability, at the time, to do a long match. Let's be honest here, Goldberg tended to be exposed even in WCW when matches went too long.
But the match heading into Survivor Series was put together without much time. Also, Goldberg received a much bigger reaction than I think anyone, including Vince McMahon, ever expected.
Goldberg's time is running out, though. He is 50, so there is a short window to squeeze all you can out of this character. Could he give Lesnar a match at WrestleMania (after competing in the Rumble) and then Reigns a match at SummerSlam? I'm sure he can.
1. Seth Rollins beat Kevin Owens
This match should have felt like a bigger deal than it did. The Rollins-Reigns-Jericho-Owens thing has been going on for so long now, everything about it feels like a retread. The wrinkle of Jericho being in the cage at the Royal Rumble is a good one, but this match felt stale and done before.
2. Karl Anderson beat Cesaro
This was a good match and a very good showing for Anderson as a singles wrestler. I don't think this is going to spark Anderson on any sort of singles run in WWE, only because he seems to be a better fit when teaming with Luke Gallows, but this was a good match and presented him more seriously as a threat to an opponent than at any other time thus far.
3. Braun Strowman beat Sami Zayn
This match did just about everything right from a booking standpoint. The brawl around the ringside area hid any limitations from Strowman in a match that went this long (more than 15 minutes). In a straight-up wrestling match, in the ring, there isn't much Strowman can do that will fill the 15 minutes, but this brawl hid his limitations.
At the same time, Zayn was able to get in a good amount of offense due to the weapons and being outside the ring. Zayn showed good fight as a big underdog and Strowman filled a long segment while getting over as as a ruthless monster.
4. Xavier Woods beat Titus O'Neil
There was no reason, whatsoever, to care about this match. WWE took a lot of steam out of New Day this week, considering just two weeks ago they were the longest-running champions of all-time in the tag division. The match was thrown together quickly, without purpose and without any storyline reason. Basically, this is what we call "filler."
5. Drew Gulak beat Cedric Alexander
Very short match. The match ended when Alexander was distracted and he got rolled up by Gulak, who also had a handful of tights despite being in front of the referee. The match was too short to really mean anything for either wrestler, though.
6. Roman Reigns beat Chris Jericho to retain the U.S. Title
This was a better-than-expected match, to be honest. Again, this suffers from what we had in the night's opening match, where everything between this four feels a little stale.
The finish here was genius, though. Jericho trying to get Reigns DQ'ed by tossing him the belt when the referee turned around was really good. It made Reigns look a little foolish to catch it, though.
7. TJ Perkins beat Brian Kendrick
This match, to me, highlighted where WWE is dropping the ball with the cruiserweight division. This match wasn't anything more than a typical WWE undercard match. Same with Gulak-Alexander from earlier in the show. There was no pace to it that really differentiated it from the rest of the show. WCW used the cruiserweights really well in the Nitro era. Let them go out there and do things the heavyweights can't. It doesn't undercut the heavyweights, who can brawl and do power moves better than the cruiserweights. Let the high-flying guys go out there and fly.
8. Rusev & Jinder Mahal beat Big Cass
This match was so short, and so poorly booked, it honestly felt like Cass was being punished for something. I don't think that's the case, but it highlights how awful this booking was. If Enzo was hurt, and they couldn't do the tag match, just wait until next week (or whenever) and do the tag match.
9. Bayley beat Nia Jax to become No. 1 contender for the Raw Women's Title
OK, are you ready for this? Sasha Banks helped Bayley win over Nia Jax. At the Royal Rumble, Sasha Banks turns heel and costs Bayley the title against Charlotte. Bayley and Sasha have one No. 1 contender's match, which Bayley wins, and then goes on to beat Charlotte at WrestleMania. Bayley-Sasha is then a feud for the women's title as Raw enters the summer months.
Book it.