News
Nickelodeon's The Casagrandes Are Getting A Spinoff Series
The Loud House characters are ready to star in their own series on Nickelodeon.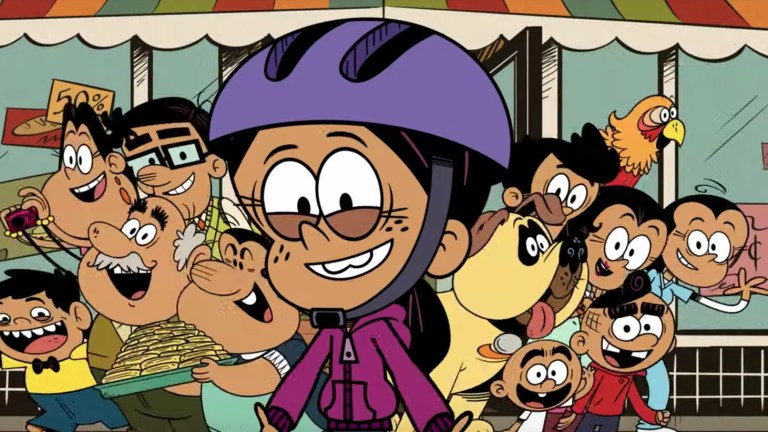 Nickelodeon's The Loud House is getting a spinoff. 
Titled The Casagrandes, the animated series follows Ronnie Anne, an 11-year-old girl who moves to the city with her mom and older brother to live with their extended multigenerational Mexican-American family. 
The series will reintroduce characters first seen in the 2017 special, "The Loudest Mission: Relative Chaos." The characters have since appeared in other episodes of The Loud House. Animated spinoffs are new territory for Nickelodeon. Earlier this year, the network announced that potential spinoffs of SpongeBob SquarePants are in development. The Loud House has been a hit for the network. In addition to the spinoff series, a movie version of The Loud House is in development and will stream on Netflix. 
Nickelodeon released the full logline and cast for The Casagrandes: 
Starring Izabella Alvarez (Westworld) as 11-year-old Ronnie Annie, Carlos PenaVega (Big Time Rush) as her brother Bobby and Sumalee Montano (Nashville) as her mom Maria, the series showcases the culture, humor, and love that's part of growing up in a multigenerational Mexican-American family. After moving in with their grandparents in Great Lakes City, Ronnie Anne adjusts to her new life living under one roof and over the family-run mercado (local market), which is a gathering place for everyone in the neighborhood.

In the first episode, "Going Overboard," Ronnie Anne finds out her Tio Carlos was a famous skateboarder and she begs him to teach her some new moves. Then, in "Walk Don't Run," Ronnie Anne and Sid start a dog-walking business to save up for a new skateboard in a plan that quickly gets out of hand. 
A few big names also lend their voices to the show; Ken Jeong and Melissa Joan Hart voice friends of the family. 
You can watch the first trailer for The Casagrandes below:
The Casagrandes premieres on Monday, Oct. 14th at 1:00 p.m. on Nickelodeon. The series will then move to its regular timeslot on Saturdays at 11:30 a.m., beginning Oct. 19th.