News
SpongeBob To Get Year-Long 20th Anniversary Celebration
Nickelodeon is ready to turn up in a pineapple under the sea for SpongeBob's 20th birthday.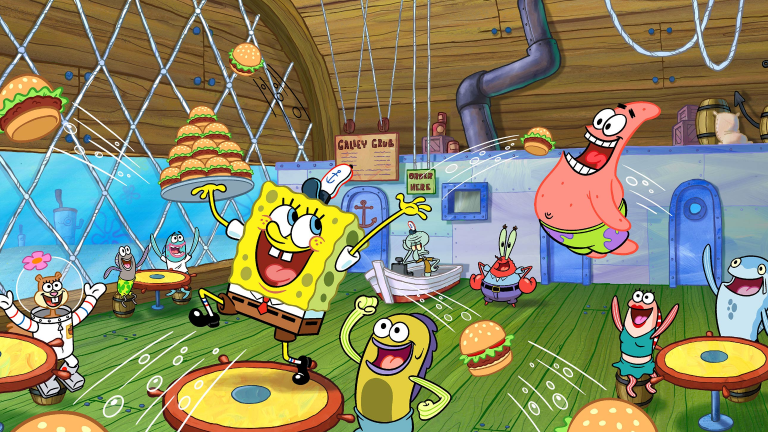 SpongeBob SquarePants has staying power. The beloved nautical creature turns 20 in 2019 and Nickelodeon is celebrating the show's massive success with a year-long tribute, "Best Year Ever."
SpongeBob's "Best Year Ever" kicks off with a mixed live-action and animated special, "SpongeBob's Big Birthday Blowout," on Friday, July 12th. According to the network, the live-action part of the episode will feature the voice talent behind SpongeBob (Tom Kenny), Patrick (Bill Fagerbakke), Mr. Krabs (Clancy Brown), Sandy (Carolyn Lawrence), Squidward (Rodger Bumpass) and Plankton (Mr. Lawrence) "playing live-action doppelgänger versions of the animated characters they voice." In the episode, Patrick and SpongeBob come to the surface where they encounter some familiar characters at The Trusty Slab restaurant, all while the residents of Bikini Bottom are setting up a surprise party for everyone's favorite yellow sponge.
SpongeBob's "Best Year Ever" will culminate with the release of the franchise's third animated feature film, The SpongeBob Movie: It's a Wonderful Sponge, which releases summer 2020.
In between, Nickelodeon is launching a new product line with Alpha Group that showcases SpongeBob's iconic moments (and hopefully most meme-able), new clothing partnerships, a dedicated YouTube channel, and a new mobile game. Details for the YouTube channel and mobile game are sparse, but we'll keep you posted. It's likely Nickelodeon will have more announcements about SpongeBob's "Best Year Ever" soon. The anniversary date falls during San Diego Comic-Con week, so it's likely Nickelodeon will have a big presence for SpongeBob at the event.
"The tiny residents of Bikini Bottom have held the world's attention for a remarkable 20 years and we owe it all to the monumental creator Stephen Hillenburg," said Ramsey Naito, EVP, Animation Production and Development, Nickelodeon. "This anniversary special is a love letter to everyone in the universe of SpongeBob, from the fans across the globe to the incredible creative team, crew and talent who continue to bring these great characters to life."
For the last 17 years, SpongeBob SquarePants has been TV's No. 1 animated show for children. Clearly still appealing to young fans, the show has stayed in the spotlight in part because the love people have for SpongeBob and his pals has manifested itself into the internet's meme culture. In certain corners of the internet, even as an adult, SpongeBob feels like a daily part of our lives. That in itself speaks volumes about the quality of the show, who it resonates with, and why SpongeBob should be celebrated and deserves a "Best Year Ever."