News
Nickelodeon pondering comebacks for Rugrats, Hey Arnold
Hey football-head! Have you heard that Nickelodeon might be reviving a bunch old shows? Well, they're thinking about it...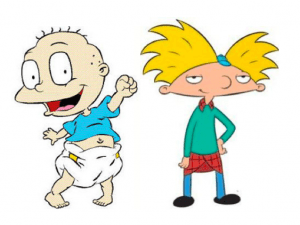 Cards on the table, here – this is one of those news stories that is clearly born from a fairly small statement. There's only a nucleus of an idea here, but if it comes to fruition we could be seeing comebacks for some beloved children's programming.
Nickelodeon's content president Russell Hicks said this to Variety: "We are looking at our library to bring back ideas, shows that were loved, in a fresh new way."
Variety went on to extrapolate that "the network might seek to experiment with retooled versions of classics that could include Rugrats, Hey Arnold!, You Can't Do That On Television or Victorious."
These could be series revivals, or another sort of come back, according to the report. The Rugrats are no strangers to the big screen, after all, so could there be another movie on the cards? At this stage, it's hard to tell.
It's interesting, though – the mere fact that Nickelodeon are considering these revivals says a lot about nostalgia. It's a valuable commodity these days, and perhaps a familiar name or recognisably football-shaped head can be the difference between getting a new project off the ground.
As this story develops, we'll bring you updates. Like we said – it's very nucleus right now, but that could well change.
In the meantime, we'll be pondering this: if The Rugrats come back, where does All Grown Up sit within the canon of the show? It's a big, important question.