News
Nickelodeon Debuts First-Look Clip For LEGO Jurassic World Series
LEGO is building a new Jurassic World brick by brick for Nickelodeon.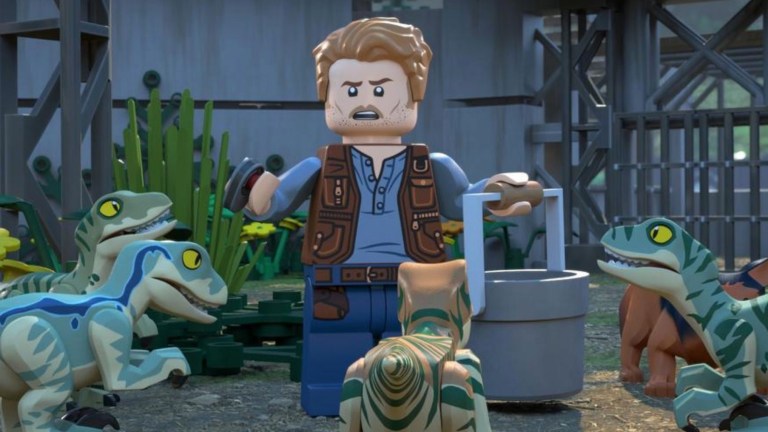 Dinosaurs may technically be extinct, but the Jurassic Park franchise will outlive us all. Nickelodeon announced its new animated series titled LEGO Jurassic World: Legend of Isla Nublar will premiere on Sept. 14th at 11:30 a.m. The series is not to be confused with a second, non-LEGO Jurassic World animated series coming to Netflix in 2020. Clearly there are more than enough velociraptors to go around. 
Nickelodeon's small screen adaptation of the blockbuster hit is a partnership between the children's network, Universal, and LEGO. It's billed as a mini-series with 13 episodes and is set before the events of the 2015 Jurassic World film. Within the film franchise's universe, the park had been open for 10 years before the Chris Pratt-led sequel. It will mark the first full Jurassic Park animated spinoff series to hit TV; previous attempts stalled in the '90s when the film franchise was at its height. If you're in interested in that little nugget of lost TV history, head over to Jurassic Outpost for details on the cancelled "The Lost World" animated series.
Nickelodeon released a first-look clip featuring some new characters and a familiar theme tune. Watch the wonder of entering Jurassic World take LEGO form below… 
Nickelodeon also released a logline for the series:
Set in 2012, newly hired animal behaviourist, Owen Grady, and Assistant Manager of Park Operations, Claire Dearing, team up on Isla Nublar to deal with everything the Jurassic World park throws their way, including runaway dinosaurs, ongoing construction to expand the park, throngs of tourists, unpredictable tropical weather and an impulsive boss!
The series, which is a prequel, also has its own prequel. LEGO Jurassic World: The Secret Exhibit Part 1 and Part 2 will be available on the Nick App and VOD on Sunday, Aug. 25. LEGO sets inspired by the show are on sale now.
read more: Jurassic World: Where To Stream All The Films
Chris Longo is the deputy editor and print editor of Den of Geek. You can find him on Twitter @east_coastbias.