News
New Tales From The Crypt TV Series Updates
Alright, boys and ghouls...Tales From the Crypt will return to cable TV soon. Updated with more details.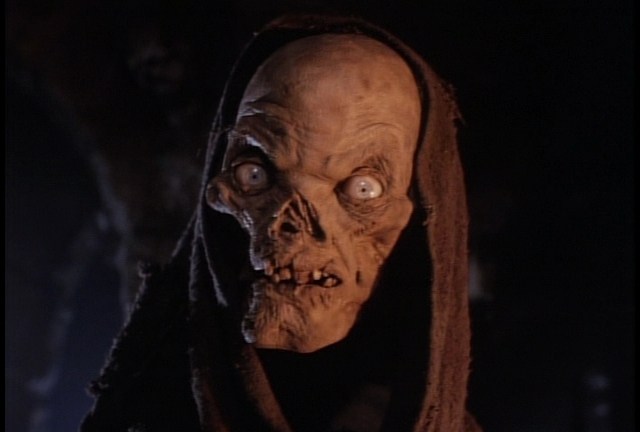 TNT has made it official, there will be a brand new Tales From the Crypt TV series. The network has officially ordered 10 episodes, as part of a new block of horror programming that will also include another M. Night Shyamalan produced anthology series, called Time of Death, and Creatures, about an "internet bogeyman" named Mr. Gorgi. Expect all three to premiere in 2017.
"I'm really thrilled about the way this horror block is coming together with the addition of Time of Death and Creatures," said Shyamalan in a statement (via The Wrap). "That such a beloved property like Tales From the Crypt is launching our evening makes it an even more unique and exciting opportunity. Across the board, the level of talent has been very inspiring."
As you can see from my original post down below, the announcement of a new Tales From the Crypt TV series was met with much rejoicing. Well, at least by me. And fine, by much of the rest of the internet, too.
That is, until, there was talk that the new Tales From the Crypt wouldn't actually be what we thought it was, and that it might be a season long anthology, rather than the traditional, self-contained one-and-done format.
But executive producer M. Night Shyamalan told a group of reporters at WonderCon (via SlashFilm) that they might be walking that back a little bit, so that's encouraging. "You know, I can't say 100% but I'm thinking right now, where I am, if you'd asked me this six months ago I would have a different answer, but where I am right now it's more individual Black Mirror kind of stuff right now," Mr. Shyamalan said. 
He also promised (as we already knew) there would be a Crypt Keeper of some kind, but that's all we've got. More details below!
Original post from January 7th follows…
M. Night Shyamalan will executive produce a new Tales From the Crypt TV series for TNT. Well, it's actually being described as "a two hour horror block" featuring "short and long-form storytelling" for the network with a Tales From the Crypt "segment."
These early reports indicate that these won't be adaptations (or re-adaptations) of stories from the old EC Comics, but rather new material. I'd be surprised if that's a hard and fast rule, though.
Tales From the Crypt is a brand name with some serious creative power behind it. The flagship horror comic of the 1950s hosted some of the biggest talents of the era, and its short stories remain some of the best written and drawn comics of all time. Reprints are currently available in hardcover from Dark Horse Comics.
The comics inspired an HBO series that ran for seven seasons from 1989-1996, which took A-list film directors of the era like Richard Donner and Robert Zemeckis and let them adapt their favorite stories from the Tales From the Crypt, Vault of Horror, Haunt of Fear, and crime comics published by EC. It is fondly remembered, and strangely not commercially available, likely because of rights issues. Perhaps the new series will help straighten that out.
If TNT knows what's good for them, they'll get John Kassir to dust off that Crypt Keeper puppet from the HBO days (see update down below for more info).
M. Night Shyamalan has had something of a renaissance recently, having found success with Fox's Wayward Pines event series (which has been picked up for a second season), and the low-budget horror of The Visit. "I couldn't be more excited to be teaming up with Kevin Reilly, Sarah Aubrey and the entire TNT team in this unique endeavor," he said in a statement. "To be part of such a beloved brand like Tales From the Crypt, something I grew up watching, and to also have the chance to push the boundaries of genre television as a whole, is an inspiring opportunity that I can't wait to dive into."
The folks at Bloody Disgusting have uncovered some less than encouraging news about the new Tales From the Crypt. For one thing, it would seem that John Kassir's Crypt Keeper is owned by HBO, which means TNT can't use him. This is one of those annoying things about HBO's hold on the franchise. I recently did some legwork to try and figure out why the series isn't available on any streaming service, HBO Go, or on Blu-ray, and got the runaround from HBO and other companies that once had a stake in the TV show.
Instead, while there will be a Crypt Keeper, he'll be "an old man with a cane, wearing a hood, and keeping warm by a fireplace." While it's certainly more faithful to the EC Comics original version of the character (as well as the underrated early '70s movie anthology version), Kassir's Crypt Keeper is as much a horror icon of his time as Freddy, Jason, or Michael Myers. This is a bit of a shame.
They also report that this won't be an episodic anthology, but rather a thirteen episode storyline, possibly dealing with voodoo in New Orleans. This isn't great news, either. None of this is confirmed, but they're pretty trusty, and I figured this was worth passing along.
The new Tales From the Crypt and the TNT horror block are expected to launch in the fall.