News
New Spider-Man Animated Series Release Date and New Trailer
There's a brand-new Spider-Man animated series on the way this summer!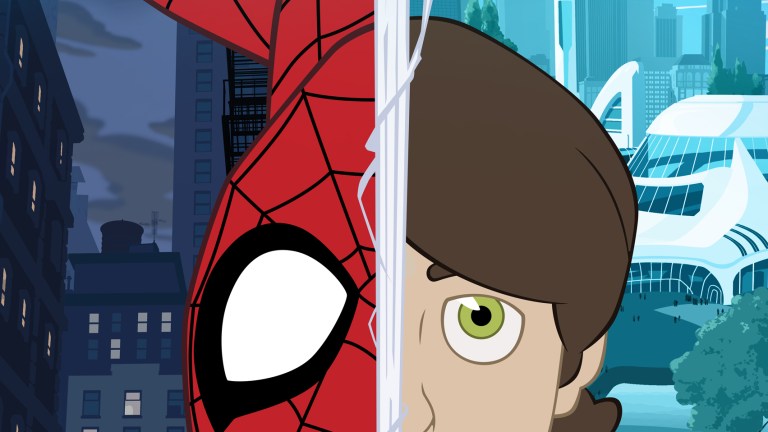 Back at New York Comic Con in October, Marvel revealed that a brand new Spider-Man animated series is on the way for 2017. Marvel Animation's Cort Lane (Senior Vice President Animation and Family Entertainment) announced that next year "a brand new Spider-Man series, one we've been working on for a few years now will make its debut." The new series, titled simply Spider-Man, "will follow the adventures of Peter Parker from the very beginning. It's filled with humor and heart and we have an amazing creative team coming."
Stephen Wacker (Vice President Current Series & Development) mentioned some talent behind the new series and announced that one of the series consultants will be current Amazing Spider-Man comic book writer Dan Slott. The series will pull a great deal from Slott's nine year run on the comic, including the addition of Max Modell, the head of Horizon Labs and mentor to Peter Parker. Modell will be voiced by Fred Tatasciore.
Marvel has revealed a new official synopsis:
In the new series, Marvel's Spider-Man, we will see a fresh take on Spider-Man, as Peter Parker is learning the responsibility that comes along with being a new, super-powered hero in New York City, just as he's being accepted into Horizon High, a high school for brilliant young scientific minds. He struggles with the duality of his social life at school and hiding his secret identity from everyone including his best friend Harry Osborn, who attends the competing Osborn Academy for geniuses. As Peter embraces his alter-ego and takes on super villains such as Vulture, Lizard, Doctor Octopus and Sandman, he watches his hero lifestyle come between his personal relationships and struggles to keep Harry from landing on the wrong side of the law.
Here's a new teaser…
Here are some earlier clips, too…
And check out this longer clip, featuring Spidey in a homemade costume taking on the Scorpion!
Spider-Man Animated Series Release Date
The new series will arrive on August 19th!
Spider-Man Animated Series Voice Cast
Robbie Daymond ("Bread Winners," "Get Blake") as Spider-Man, Max Mittleman as Harry Osborn ("One-Punch Man," "Transformers: Robots in Disguise"), Nadji Jeter as Miles Morales ("Jessie," "Kirby Buckets"), Melanie Minichino ("Blaze and the Monster Machine," "Mr. Peabody and Sherman") as Anya Corazon, Fred Tatasciore ("Marvel's Avengers Assemble," "Marvel's Hulk and the Agents of S.M.A.S.H.") as Max Modell, Laura Bailey ("DragonBall Z," "Marvel's Avengers Assemble") as Gwen Stacy, Nancy Linari ("The Real Adventures of Jonny Quest," "The Addams Family") as Aunt May, Patton Oswalt ("Ratatouille," "Pickle and Peanut") as Uncle Ben, Scott Menville ("Teen Titans," "Teenage Mutant Ninja Turtles") as Doc Ock, John DiMaggio ("Clarence," "Samurai Jack") as The Jackal, Alastair Duncan ("The Batman," "Final Fantasy XIV") as Vulture, and Marvel's very own Chief Creative Officer Joe Quesada, who is also executive producing the series, as the coffee shop owner Joe.
We'll update this with more information as soon as we have it!