News
Netflix's Castlevania Trailer, Release Date, Story, & Everything Else We know
The principal actors are in place for Netflix's upcoming series.
Castlevania is finally getting its own animated series. The story of the Belmont family of vampire hunters will come to Netflix from the minds of producer Adi Shankar and writer Warren Ellis. 
Konami's action-platformer video game series first arrived in 1986 for the Nintendo Entertainment System and has since expanded to over 30 titles, including Symphony of the Night, Aria of Sorrow, and Lords of Shadow. With over 30 years of hunting down Dracula, it was only a matter of time before the Belmonts made their way to television.
Here's everything we know about the series:
Netflix Castlevania Trailer
The first teaser for Netflix's new Castlevania series has arrived! Check it out below:
Netflix Castlevania Release Date
Castlevania will premiere on July 7, 2017 on Netflix.
Netflix Castlevania Cast
Netflix has revealed the principal cast of voice actors for their upcoming Castlevania animated series. The cast is highlighted by the contributions of Richard Armitage (perhaps best known for his work in the TV series Hannibal) will be playing Trevor Belmont while Graham McTavish (who plays the Saint of Killers on AMC's Preacher TV series) will be playing Dracula. 
Rounding out the cast will be voice actors Matt Frewer, Tony Amendola, Emily Swallow, and Alejandra Reynoso. For the full breakdown of the known voice actors so far, be sure to check out the official video announcement below:
Netflix Castlevania Story
According to Netflix's official description of the show (via IGN), the Castlevania animated series follows "the last surviving member of the disgraced Belmont clan, trying to save Eastern Europe from extinction at the hand of Vlad Dracula Tepe himself."
Furthermore, the plot will be a rough adaptation of Castlevania III: Dracula's Curse, which makes sense given how deeply that game tapped into the Castlevania mythology. Dracula's Curse told the story of Trevor Belmont and his mission to slay Dracule once more in 1400s Europe. fought to stop Dracula from ravaging Europe in the 1400's. This was also the game that introduced Alucard, Dracula's son.
Netflix Castlevania Details
The show is being helmed by producer Adi Shankar – creator of this Power Rangers short – and written by comic book scribe Warren Ellis (Transmetropolitan). Shankar told IGN that Ellis "added so much depth to the material."
An old Facebook post from Shankar also suggests that it could be a "super violent" and "satirical" take on the vampire sub-genre. A recent update from Shankar to IGN, portrays the show in a different light. He describes the show as "Castlevania done in the vein of Game of Thrones." That means that the show will be, in Shankar's words, "R-rated as fuck" and "the best fucking video game adaptation we've had to date."
Frederator Studios, makers of Adventure Time, are behind the animation. The studio had previously stated that they were working on "a project right now that we're doing that needs to go unnamed, based on one of the most world-famous video games of the last 30 years, that we've had in our shop for 12 years without being able to get it started."
To say that this news is unexpected would be quite the understatement. There had been no concrete indication that Konami was even considering such a program much less that they were thinking about releasing it via Netflix. 
Specifics aside, the fact that there will soon be a Castlevania show to binge watch is exciting enough on its own. While we'd be lying if we said that this is how we expected Konami to return the franchise to prominence, it's encouraging to know that they still have plans for some of their beloved franchises that don't involve slot machines. 
Netflix Castlevania Poster
Castlevania exec producer Adi Shankar has dropped the first official bit of art from the upcoming series in the form of an awesome poster: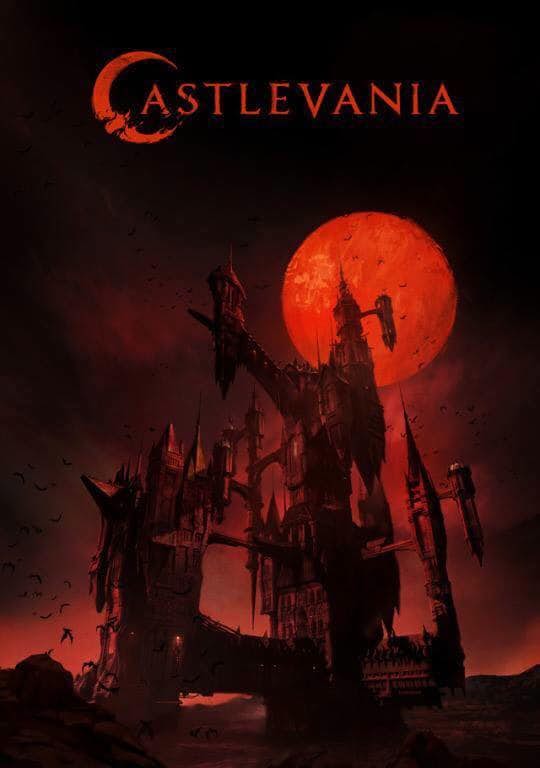 That's indeed none other than Dracula's castle, the one that's appeared in countless Castlevania games since 1986. It looks better (creepier) than ever in this poster. Can't wait to see what this show is all about!
Matthew Byrd is a staff writer for Den of Geek. He spends most of his days trying to pitch deep-dive analytical pieces about Killer Klowns From Outer Space to an increasingly perturbed series of editors. You can read more of his work here or find him on Twitter at @SilverTuna014.