News
Netflix Orders Watergate Limited Series From George Clooney
The Clooney-produced 8-part series will tell the full story of President Richard Nixon's downfall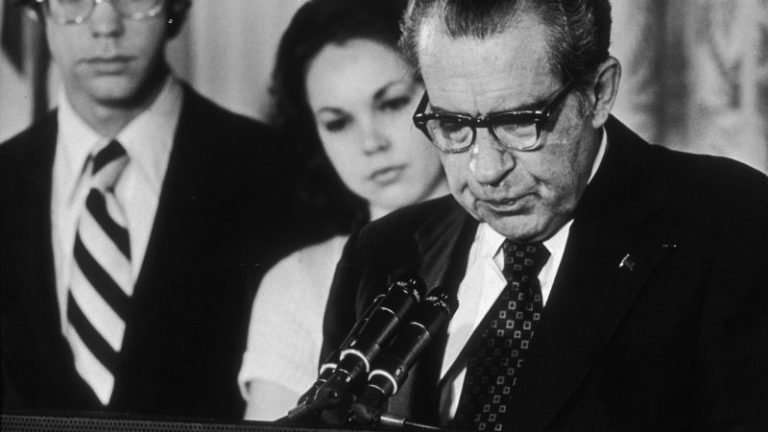 An entire generation of young Netflix-watchers is about to find out why we add "-gate" to the end of scandals. 
According to a report from Variety, a limited series about the Watergate scandal that led to Richard Nixon's impeachment/resignation is underway at Netflix.
Netflix has ordered the concept from a crew of Hollywood players who know their way around a political scandal story. George Clooney will executive produce and potentially direct the still unnamed eight-episode series. Bridge of Spies screenwriter Matt Charman will serve as the cheif writer and Grant Heslov (Argo) will join Clooney as an executive producer. 
As you may know from feverishly Googling terms like "how to impeach a President," the Watergate scandal was a series of events that began with five men breaking into the Watergate hotel in 1972 and culminated with the resignation of President Richard Nixon in 1974. A Congressional investiagtion ultimately revealed that Nixon had been involved with sending the five burglers into the DNC headquarters at the Watergate hotel for some good old fashioned "oppostition research."
Netflix, of course, has had a monumental level of success with limited series in recent years particularly those that involve true crime, corruption, and mystery. Shows like Making a Murderer, and Wormwood have helped establish the streamer as a primary destination for limited series surrounding true stories. Now Clooney's series, described as "delving into the stories of certain key figures in the infamous scandal," will be able to take that limited series format into a non-fiction scripted direction.
News broke last month that Clooney was developing and starring in a TV adaptation of darkly comic World War II novel Catch-22. So it will be interesting to see which series, Watergate or Catch-22 will win the coveted spot of "first Clooney TV project to air since E.R."