News
Netflix Mulling House of Cards Spinoffs
The Underwood dynasty may be coming to a premature end, but House of Cards may stand erect.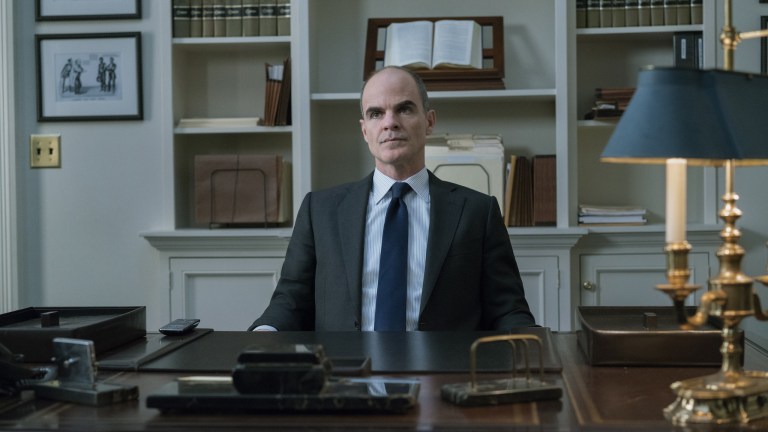 Take a step back. Look at the bigger picture. Netflix understands they made a promise to run their flagship series, House of Cards, well past suggested term limits. But circumstances have changed. The streaming network also understands the nature of promises is that they remain immune to changing circumstances. Netflix decided to enact a dictum from the series itself: If you don't like how the table is set, turn over the table. Netflix is considering House of Cards spinoffs in the wake of Star Trek: Discovery actor Anthony Rapp's allegations that Kevin Spacey made sexual advances on him in 1986, when Rapp was 14.
On Oct. 30, Netflix announced that the upcoming House of Cards season 6, set to air in 2018, will be its last. But Variety reported "multiple ideas" are in early stages of development. According to reports, one could focus on the President Underwood's top fixer Doug Stamper, played by Michael Kelly. The project would be written by former House of Cards executive producer Eric Roth.
After the allegations were made public, and Spacey responded, Netflix and Media Rights Capital released a statement saying they were "deeply troubled," but sent executives to meet with House of Cards' cast and crew "to ensure that they continue to feel safe and supported." 
There is no word yet on whether Spacey, himself an executive producer on the show, would be involved in any spinoff series.
The House of Cards spinoffs  would join a similar slew of projects HBO is considering for Game of Thrones, which is set to end its run after Season 8.
House Of Cards started filming season 8 this month. House of Cards was the streaming service's first scripted series when it premiered in 2013. The series was nominated for multiple Emmy Awards. Spacey and costar Robin Wright both won Golden Globes.