News
Netflix Signs First-Look Deal with Dark Horse Entertainment
Netflix and Dark Horse Entertainment have inked a deal for the streamer to get first rights for Dark Horse's IP.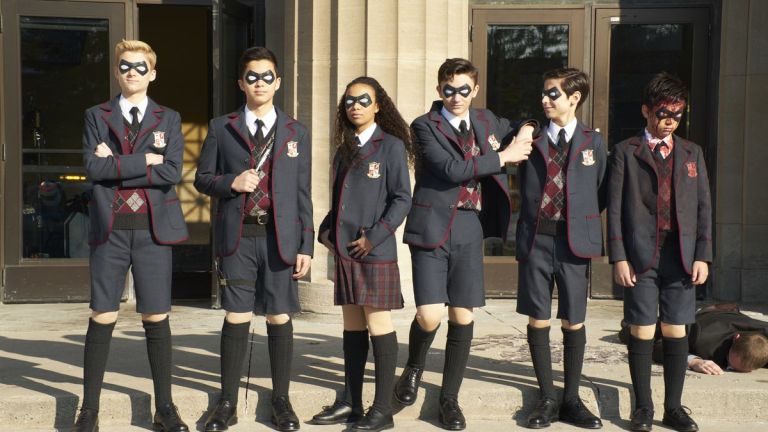 Netflix's journey into the comic book realm just hit warp speed.
Netflix and Dark Horse Entertainment have announced that they've entered into an agreement in which Netflix will get a first look at TV and film rights for all of Dark Horse's intellectual property. 
Netflix and Dark Horse had already established a relationship with Netflix producing Dark Horse content; including the successful The Umbrella Academy TV series and the decidedly less successful film Polar. This deal formalizes the two company's burgeoning relationship and both sides are already exploring future joint projects. In addition to The Umbrella Academy partnership, Dark Horse Comics is also home to the comic book version of Netflix's super hit Stranger Things. 
Dark Horse Entertainment's Mike Richardson, Keith Goldberg, and Paul Schwake have all signed on to produce various future projects.
"We are very excited about this new arrangement with the talented people at Netflix," Mike Richardson, Dark Horse Entertainment's President and Founder, said in a statement. "We have strong creative relationships as well as a large content library to work with and, as we have seen with our recent projects, Netflix is the perfect partner to bring our stories to fans around the world."
further reading: The Umbrella Academy Season 2: Everything You Need to Know
Dark Horse Entertainment is the motion picture and television-producing arm of fabled comic imprint Dark Horse Comics. The film side of the studio launched in 1992 and immediately began to produce films based on Dark Horse characters like The Mask and Time Cop. More recent projects have included Hellboy, R.I.P.D. and the aforementioned Umbrella Academy, based on the Dark Horse Comic from Gerard Way and Gabriel Bá
"Following the success of The Umbrella Academy, we're excited to extend our relationship with Dark Horse Comics," Cindy Holland, Vice President, Original Content for Netflix, said. "The Netflix teams are already working in deep collaboration with Dark Horse to identify projects beyond the world of traditional superheroes — branching into horror, fantasy and family entertainment — that we think our members will love."
The Dark Horse expanded universe is the second big collection of comic book IPs that Netflix has gained after acquiring the Mark Millar Millarworld properites. 
It may be awhile before the partnership begins to announce new projects. Dark Horse was previoulsy under an overall deal with producer UCP, which produced Umbrella Academy and Syfy's upcoming Resident Alien. While it's unclear what characters Dark Horse maintains film and TV rights for, some notable Dark Horse's most notable characters include, Hellboy, Conan, Ghost, Usaji Yojimbo, and the citizens of Sin City.
Alec Bojalad is TV Editor at Den of Geek and TCA member. Read more of his stuff here. Follow him at his creatively-named Twitter handle @alecbojalad