News
Neil Gaiman's American Gods: Folio Society Edition Review
The Folio Society Edition of Neil Gaiman's American Gods, with illustrations by Dave McKean, is an object to cherish...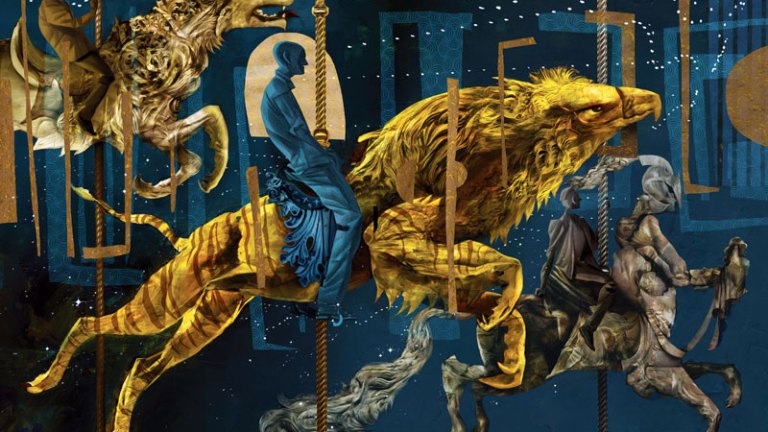 It seems a bit strange to start a review of one book by saying how good a completely different book is, but here it is: before I settled down to read the Folio Society's new edition of American Gods, I was reading Christopher de Hamel's 2016 (non-fiction) Meetings With Remarkable Manuscripts.
Meetings With Remarkable Manuscripts describes the fascinating history of some of the few medieval manuscripts left in the world, but it also goes into detail about what those books look like now, and what it feels like to touch them, smell them, and turn the pages. It's a love letter to the book as an object that continues to exist through time, and so I was in the mindset to appreciate exactly what it is the Folio Society does when they take a book and lavish care upon it as something physically beautiful, as much as a mental treat.
They've done a great job with American Gods. It comes in a sturdy slipcase, and has an eyecatching cover design and 11 color illustrations by Dave McKean. It's a heavy, satisfying book to hold, and feels like it could last. But it's also fresh — it includes new introductions by McKean and Gaiman that explain some of the choices they made in regard to the images and this version of the text. For this is the original, untrimmed version of Gaiman's novel. He explains in his introduction that it has been released before as a very limited edition by Hill House; he also mentions that the buyers of that limited edition "received free 'reader's copies' so the person who had bought the book could read the expanded text without worrying about getting jam stains on any of the pages."
To be clear: this Folio Society edition is the version of the book that you don't want to get jam on.
Anyway, let's get to the text itself. American Gods is already a hugely successful novel. Millions of battered, spine-cracked copies lurk on shelves around the world. It won both the Hugo and Nebula awards in 2001, and is about to find its way on to our screens as a television series, set to premiere in April 2017 (Ian McShane is cast as Mr. Wednesday, which is an exciting thought), but I did wonder if I would love it as much now as I did upon my first reading of it, 15 or so years ago. Has it aged? I know I have.
I think I enjoyed it more. It's such a big, warm-hearted book with love to spare for all its characters, from Gods to men, but the times in which we live in now made me very aware of a different angle to it. It is a very intelligent book about what it means to live in a country and feel a sense of belonging to it, even if other people would dispute your claim. It asks the question: Who has a claim to land, and why?
Here's a very quick overview: Shadow finds out, upon the morning of his release from prison, that his wife has been killed in a car accident. He feels he has nothing left to live for, so when an old con artist called Mr. Wednesday offers him a job as a bodyguard, he accepts it. Mr. Wednesday tells him that a war is coming, and they travel across America, signing up some very strange people to fight on their side, and stopping at odd roadside attractions along the way.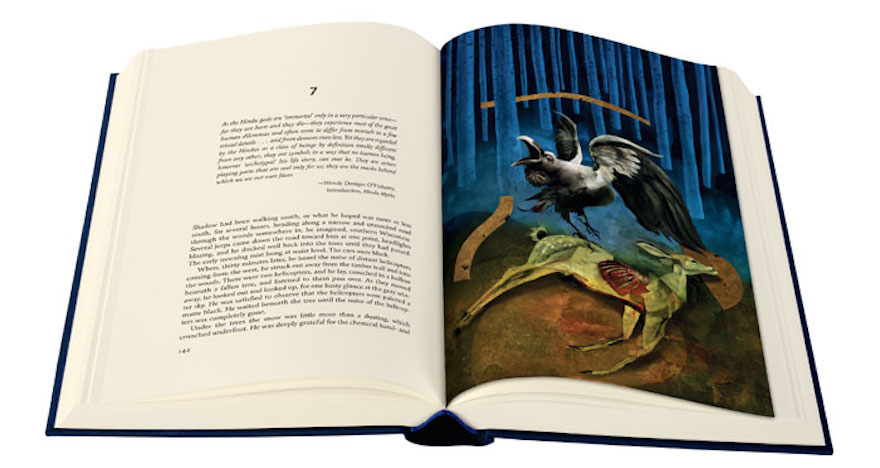 The heart of the book, and the reason it works so well, is Shadow. For all the more colorful and fantastic characters we meet, Shadow is quiet and still. He never says much, and hardly reacts in most situations. He admits to being numb to it all after his wife's death, and so we get the perfect foil for this adventure. Shadow grounds us, and he's a really powerful figure whose eyes we see this madness through.
In order to make that dynamic work, we don't spend a lot of time looking directly at Shadow, so I was very relieved that the character is not given a face in Dave McKean's artwork. It seems the perfect choice, to me, to represent Shadow as a body at most. The cover of the book sums it up perfectly: it's a stylised representation of Shadow in prison. The walls of the prison are made up of raised golden lines, and the moon is a raised circle of light. Shadow, in contrast, is a black form, his back to us, looking out through the bars.
Gaiman once named McKean as his favourite artist to work with, and it's a very successful partnership again here; these almost 3D, layered pictures capture the weirdness and grandeur of the Gods, looking so textured that you almost feel you could put your hands into them and feel the images.
This technique marries with Gaiman's approach to language. He relishes in building texture; the level of detail is extraordinary at times. Take, for instance, the paragraphs in which he describes Shadow's walk through tourist attraction The House on the Rock — every room contains curios, artefacts, old machines, player pianos, china dolls, broken puppets, and onwards, and onwards, building up image upon image. Is it too much at times? This is a large novel, and yet I can't begrudge the time we spend in description, taking us deep into this version of America.
For it is a version of America being created here, one at war with itself for no good reason, with the new vying against the old for all the wrong reasons. And yet, as one of the new Gods says to Shadow at one point:
That's the miracle of America. Freedom to believe means the freedom to believe the wrong thing, after all. Just as freedom of speech gives you the right to stay silent.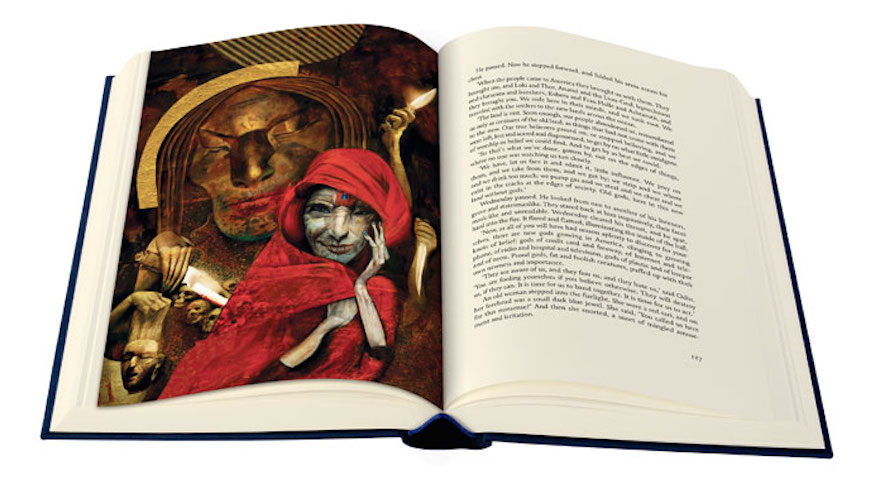 Journeying through this huge, expansive, at times wrong-headed country (and wondering where you fit without putting that into words) is the job of both Shadow and the reader, and that makes this a really good book to find for the first time, or to reread right now.
At the end of my rereading, I closed American Gods, put it back in its slipcase, and made space for it on my shelf. It looks really good there, even though it hasn't amassed a whole lot of history just yet, unlike those medieval manuscripts I read about earlier. Still, it's definitely an object to be cherished and that is something the Folio Society know about.
If you want to cherish Gaiman's American Gods as a possession to keep for decades, and also as a book that speaks to us about this moment, this edition is the one to get. 
American Gods by Neil Gaiman The Folio Society Edition 2017 is available to order now here. Illustrations by Dave McKean from The Folio Society edition of American Gods  ©DaveMcKean2017