News
NBC's Reverie Offers A Script To Screen Pilot Peek (EXCLUSIVE)
Sarah Shahi, the star of NBC's virtual reality thriller, Reverie, walks us through a portion of the pilot in new video.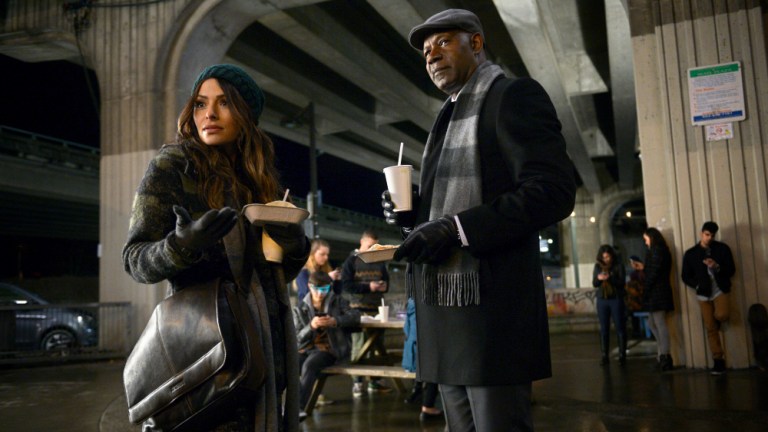 Reverie on NBC is taking the thrilling sci-fi aspects of Inception and Black Mirror and turning it into a new kind of TV detective procedural. 
Sarah Shahi (Person of Interest, Alias) stars in this hour-long series as Mara Kint, a hostage negotiator given a fascinating new job. Mara is tasked with entering into a massive virtual reality system called Reverie to "rescue" individuals who have become lost inside. 
It may be hard to imagine just exactly how that would work, so NBC has provided a "script to screen" video of the start of Mara's journey in the pilot. Here Shahi reads from the pilot script to offer context as Mara makes her debut trip into Reverie.
It looks like Mara is dropped into a "training" portion of Reverie called "the box" by VR developer Paul Hammond (Sendhil Ramamurthy). That doesn't make the experience any less real of horrifying as she is confronted with a forest fire and a Prestige-style glass box that slowly fills with water. 
Thankfully Paul Hammond created the exit command "exodus" as "Oh God! Help! My brain is dying inside this machine! Stop everything!" was probably a bit too wordy. 
Reveries comes from producer Mickey Fisher who previously worked on shows like Extant, Mars, and The Strain. Shahi is joined in the cast by Dennis Haysbert (24, The Unit), Kathryn Morris (Cold Case, Minority Report), Sendhil Ramamurthy (Heroes, Beauty and the Beast) and Jessica Lu (Awkward, American Horror Story).
Reverie debuts this Wednesday, May 30 at 10 p.m. ET.