News
NBC's A.P. Bio Teaches A Dubious Biology Lesson In New Clip
In a Sneak Peek of A.P. Bio episode 2, Paula Pell's Nurse Helen has a disturbing lesson plan for the biology class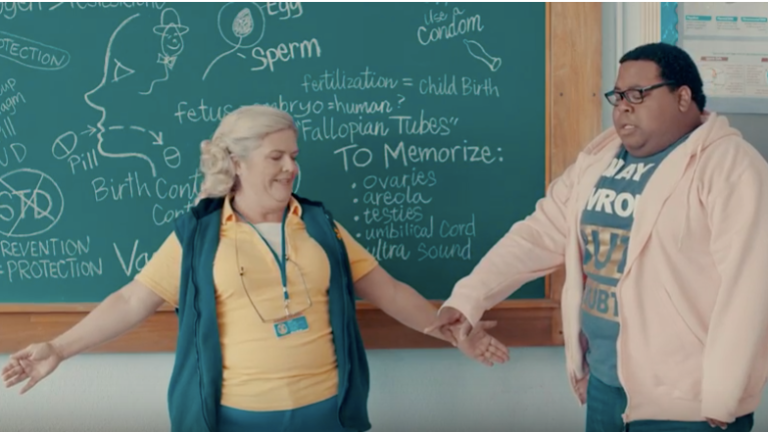 The title of NBC's new Glenn Howerton comedy, A.P. Bio, is a bit of a misnomer. 
Howerton's Jack Griffin may be teacher of A.P. Biology at Whitlock High School in Toledo, Ohio but he has absolutely no intention of teaching his students biology, A.P. or otherwise. 
In the now available to stream second episode "Teacher Jail," school nurse Helen (Paula Pell) takes over to give a biology lesson of her own.
In our review for A.P. Bio Season 1, we mentioned that long-time comedian, actress, and writer Paula Pell "spends episode two sucking up every possible brilliant joke onscreen like a fire does oxygen" and now you get a sense why. Helen is a purely Pell-ian creation of eager-to-please Midwestern gooberdom and her ability to traumatize children is second to none. 
A.P Bio debuted on February 1, before taking an extended period off for the Winter Olympcs. The show will return for its full first season run on March 1 but in the meantime, NBC is conducting an interesting experiment. The pilot and the next two episodes are all currently available to stream on NBC.com.
That experiment has led to some fun numbers from the folks at Nielsen Research. While, A.P. Bio's February 1 "soft" debut brought a disappointing 0.9 Nielsen rating in the 18-49 demographic, the online numbers offer a slightly more encouraging 1.26, good for third biggest ever digital viewing increase for NBC.
Perhaps that's a strong sign for the future of digital television or maybe just a Winter Olympics-induced one-off. Either way, the lesson here is that Paula Pell is great.