News
NBC Fall TV Preview 2015
NBC has a Blindspot for judging new shows, but at least the network is starting to head in the right direction.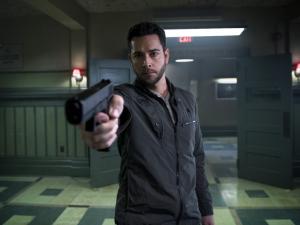 Last year, I predicted NBC's awful class of freshman shows would sink the ship. I was laughably wrong. Against all logic, NBC finished No. 1 amongst adults ages 18-49 for the second-straight year. Surely you would have guessed that Chicago Fire and Bad Judge were ratings juggernauts, but at least I can take solace in the fact that Sunday Night Football and the Super Bowl heavily inflated the numbers.
Surprising no one, Marry Me, A to Z, Constantine (despite our best efforts), State of Affairs, and Bad Judge all got the ax. Yet, the worst newcomer of the lot, The Mysteries of Laura, is back for a second season. I read that yesterday and did a triple take. In all fairness, I doubt any critic watched another episode after its abomination of a pilot. Don't just drink my haterade, take it from my TV reviewing peers:
The Mysteries of Laura is nothing. It's a "nothing" a show. Designed to do nothing. If you're a Debra Messing fan, then here she is. Have at it. – IGN

Yes, Mysteries of Laura, you can have it all! You can be a terrible cop show and a terrible parenting show. You can be a ridiculous drama and an unfunny comedy. You can try to glom on to the legitimate problems of working mothers yet insult them, and your audience in general, in the process. – Time

That's certainly a plausible solution to the mystery of how in the hell something as awful as The Mysteries of Laura got on the air. In 2014. On a broadcast network. Which employs people who should have never let it get this far. – THR
Of all the uninspiring choices to come out of 30 Rock this decade, I feel this one best represents NBC's programming strategy: Safe, boring, unimaginative. It's truly amazing that we're having this conversation year after year while the cable networks churn out the kind of binge-able programing you'd stay in on a Friday night for. That's the love we once felt for NBC.
The silver lining is the peacock is trending (slightly) upward as we march toward 2016. A year ago I could barely get through the trailers for the new shows. Now I'm intrigued enough to sit through the pilots. That's a start! Before we go any further, remember you can check out all of our 2015 Fall TV Previews.
What's returning:
James Spader and Maroon 5 frontman Adam Levine are the faces of the network. What? Years of missteps have left NBC with only two billboard-worthy returners. Spader plays a hell of baddie on The Blacklist (Sept. 24), which is back for its third season. Levine, Gwen Stefani, Blake Shelton and Pharrell, are the star coaches who sit in those swinging chairs on The Voice (Sept. 21). The music competition, now in its ninth season, is still the ratings king for the network with more than 11 million viewers per episode.  
After changing timeslots and escaping the late summer throughout its run, Grimm (Oct. 30) is another holdover that's stuck around for an unlikely fifth season.
The tag team of Chicago P.D. (Sept. 30) and Chicago Fire (Oct. 13) are on different nights because we couldn't handle the WINDY CITY GOODNESS!
Law & Order: SVU (Sept. 23) will run on NBC until time is sucked into a black hole. Then it will continue in reruns.
The Mysteries of Laura (Sept. 23) is why that black hole exists.
Finally, Undateable (Oct. 9), by all accounts an enjoyable show, did a live episode last season. NBC decided to use a gimmick that happened to work reasonably well and replicate it every week this season. 
What's new:
Well, it's new to me: Heroes Reborn will lead into The Blacklist, which will be followed by Wesley Snipes casino drama The Player (Sept 24). The premise of the latter is that filthy rich people would rather bet on future crimes than feed the homeless or help special needs children and a man is going to stop these crimes before they happen. That man is not Wesley Snipes, but Philip Winchester (Strike Back). It may or may not be the present day version of Minority Report.
When a heavily tattooed woman crawls out of a zipped bag in the middle of Times Square, it warrants at least a look. I'm not sure how long Blindspot (Sept. 21) will stick around, but Jaimie Alexander has the potential to be a breakout star.
Chicago P.D. and Fire didn't cover all the emergency bases so they're adding Chicago Med (Nov. 17) to the trifecta of shows I'll never watch.
The network that used to be the pacesetter for sitcoms is offering us Truth Be Told (Oct. 16) starring Mark-Paul Gosselaar, Tone Bell, Vanessa Lachey and Bresha Webb, "a new comedy about two diverse couples for whom no topic is off-limits." I guess Emmys are off-limits too.
Finally, Neil Patrick Harris is doing a weekly variety show called Best Time Ever (Sept. 22).
A revival we're excited about:
I missed Heroes during its original run, so I'll have to take a break from dogging on NBC to allow a fan of the show to explain why the network could be doing a good thing here. Take it from Den of Geek contributor, Heroes fan, and person from Cleveland, Nick Harley:
Everyone loves a good redemption story. After critical acclaim and fan adoration quickly fizzled out into indifference and outright contempt after Heroes' stellar first season, I'm interested to see if Tim Kring and Co. can learn from past mistakes and recapture the spirit of that first go-round in Heroes Reborn. I'm intrigued by the shorter episode order and Kring's comments about Heroes Reborn taking the anthology route.

I'm also curious to see how the show fits into the oversaturated superhero media market and how it will set itself apart. Heroes was one of the only superhero games in town during its first run, now those properties are a dime a dozen. It's also interesting that Heroes Reborn is only a soft reboot, with many original characters returning to tango with some fresh blood. Will the new characters, like Zachary Levi's described anti-hero, be overshadowed by old fan favorites? Most of all, as a fan, I'm excited to reunite with Jack Coleman's character Noah Bennet, aka HRG, who was the most complex character of the original run and my personal favorite, and I'm glad some of the fat, like Milo Ventimigla's ever-dull protagonist Peter Petrelli, has been cut. Can Heroes redeem itself? We'll soon find out.
A show we're skeptical about:
I supposed you could be excited about Mark-Paul Gosselaar (best known as Saved by the Bell's Zack Morris) starring in a new comedy. Better idea: You can watch the following sitcoms, which are far superior:
The Last Man on Earth (Fox)Brooklyn Nine-Nine (Fox)You're The Worst (FXX)Man Seeking Woman (FXX)Broad City (Comedy Central)The Mindy Project (Hulu)Old episodes of Saved by the Bell (Netflix)YouTube videos of cats being jerks
A strong take on NBC's fall lineup:
For all the moaning, I'd still roll the dice on NBC than snooze through CBS' procedurals.