News
NASA Streamed The Premiere of Netflix's Lost in Space For Astronauts Currently In Space
The Robinsons haven't strayed too far yet. The ISS is the first stop for Netflix's Lost in Space.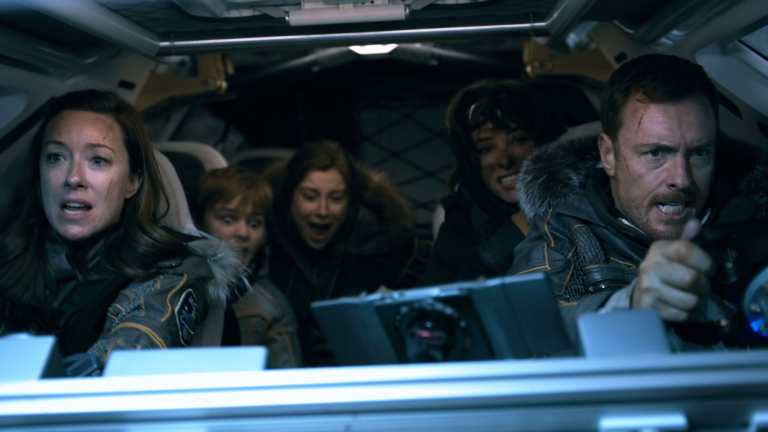 In what we can only hope is more treat than ominous foreshadowing, Netflix beamed up the premiere episode of its upcoming Lost in Space reboot to astronauts aboard the International Space Station. While it's not quite a Tesla roaring through low orbit, it's a welcome surprise considering the astronauts were the first members of the public to see any footage of the reboot of Erwin Allen's classic sci-fi series from the 1960s.  
According to Netflix, the streaming service handed the goods over to NASA 12 days ago, and managed to get a decent stream up to the International Space Station through technology far more advanced than my apartment's spotty Wi-Fi. There are currently six men stationed on the research platform, three from the United States.
There's been plenty of mystery surrounding Netflix's Lost in Space, and for a while it seemed conceivable that the company lost the footage for the show somewhere in space. Thankfully, they released the first-look teaser in a premiere date announcement video: 
The reboot, much like the original, is set 30 years in the future. The Robinson family boards the Jupiter 2 as one of the first families selected for space colonization, but whereas NASA makes it look easy sometimes, traveling in space is far more difficult than it seems. The Robinsons are thrown off course light-years away from their destination and must stick together despite some… alien obstacles.
Lost in Space stars Toby Stephens (Black Sails) as expedition commander John Robinson, Molly Parker (Deadwood) as engineer Maureen Robinson, and Parker Posey (The House of Yes) as Dr. Smith, and Max Jenkins as the always in danger Will Robinson. The first season releases April 13th on Netflix. Check out our Lost in Space news hub for everything we know about the new series.