News
Narcos Season 3 Trailer, Cast, and Release Date
Netflix's Narcos season 3 moves past Pablo Escobar to the Cali cartel. Here are the players.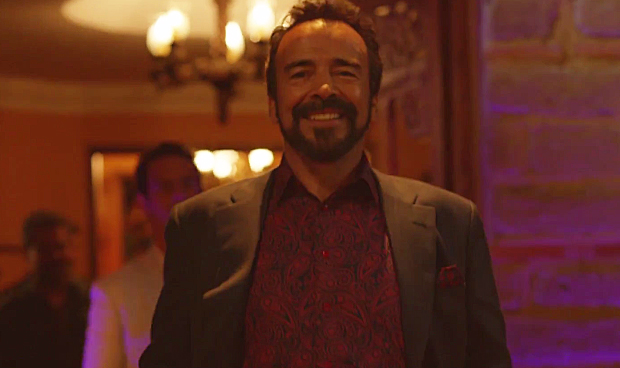 Warning: Necessary SPOILER info, going into Narcos Season 3.
Netflix announced that it has renewed Narcos for Seasons 3 and 4. The first two seasons of the series followed the rise and fall of Colombian drug kingpin Pablo Escobar, played by Wagner Moura. However, as it was always planned, Season 2 culminated with fatal cosequences for Moura's Escobar, per the show's fact-based story. Thus, in a move that only a select few shows have successfully implemented, Narcos will go into its next season, having killed its protagonist.
So, what happens now? Well, as in real life, power vacuums are rarely left vacant for long.
Narcos Season 3 Trailer
"Cocaine cartels are about succession," we learn in the new Narcos season 3 trailer, which chops up a succession of high-tension lines in white sands. "The day Pablo went down, the Cali cartel became public enemy number 1."
Narcos season 3 will follow the operations as it grows into the "biggest cocaine cartel in history. .. Cocaine Incorporated."
You can watch the trailer here:
The trailer follows the teaser for Narcos Season 3 . If you were wondering how the series could possibly continue after Season 2 carried out the fact-based gunshot-to-the-head execution of Pablo Escobar, then this clip answers that question definitively, proving that it's narcotics business as usual.
While we saw Columbia's Cali cartel help bring down the scourge of Escobar's Medellin cartel, it's apparent that there's a Cali cartel problem left in the aftermath. Now, a returning Cali cartel man Gilberto Rodriguez Orejuela (Damián Alcázar) is THE man, rejoined by his brother – and the brains behind his rise – Miguel (Francisco Denis), hitman Pacho Herrera (Alberto Ammann) and their man in New York, Chepe Santacruz Londono (Pepe Rapazote).
Consequently, the other bit of news pertaining to Narcos Season 3 is that Boyd Holbrook, who played DEA agent Steve Murphy for two seasons is officially finished with the show. This truly drives home the idea of Narcos Season 3 arriving as a reset of the story, though, remaining under the same thematic structure.  
Narcos showrunner Eric Newman candidly comments that the series was always designed to reflect the cyclical nature of the narcotics market, telling THR:
"There's a revolving-door aspect to narco kingpins and we'll certainly exploit that. From the beginning when we decided to call the show Narcos and not Pablo Escobar, I had always had in mind to tell the continuing story of cocaine."
Narcos also stars Pedro Pascal (Game of Thrones) as real-life DEA agent Javier Peña. José Padilha (Elite Squad, RoboCop) and Eric Newman (Children of Men) will continue to serve as executive producers of Narcos, which is produced by Gaumont International Television for Netflix.
Narcos Season 3 Cast
The Cali cartel in Narcos season 3 will have four godfathers. Gilberto Rodriguez, played by  Damian Alcazar will be the "boss of bosses," according to the Netflix synopsis. His brother  Miguel (Francisco Denis) is the brains behind outfit. Hitman Pacho Herrera (Alberto Ammann) runs the Mexican connection and distributes the narcotics internationally. Chepe Santacruz Londono (Pepe Rapazote) is in charge of the Colombian drug network's New York City empire. The Rodriguez brothers pleaded guilty in 2006 and were sentenced for 30 years and forfeited $2.1 billion in assets. Pacho was assassinated in prison in 1998.  Chepe was killed in 1996.
Michael Stahl-David and Matt Whelan will play the DEA agents who take the cartel down. DEA agents Chris Feistl (Stahl-David) and Daniel Van Ness (Whelan)  "enter the operation with enthusiasm and inexperience," according to the Netflix synopsis. Their story line will not be quite as accurate as the timeline for the cartel. 
Narcos Season 3 Story
Here is Netflix's official synopsis for Narcos Season 3.
"In a post-Pablo Escobar world, those final words spoken in the last season of the Netflix original series Narcos foreshadow the upcoming season's pivot into the corrupt, powerful and wildly profitable world of Colombia's Cali Cartel — the biggest drug lords you've probably never heard of. Now that the bloody hunt for Pablo Escobar has ended, the DEA turns its attention to the richest drug trafficking organization in the world: the Cali Cartel. Led by four powerful godfathers, this cartel operates much differently than Escobar's, preferring to bribe government officials and keep its violent actions out of the headlines."
Narcos Season 3 Release Date
Narcos Season 3 arrives on Netflix on September 1, 2017.