News
Mystery Science Theater 3000 Cancelled by Netflix
Mystery Science Theater 3000 has been canceled before, and it just happened again. It's time to save MST3K. Again.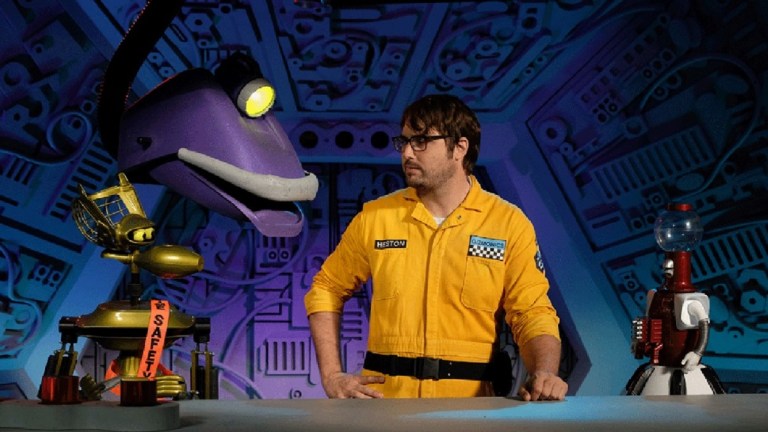 Things have been far too quiet on the MST3K front lately. It has been over a year since Mystery Science Theater 3000 season 12 hit Netflix, and since then, we've heard nary a peep about production on new episodes. Sure, series creator Joel Hodgson has been busy with the live tour and various other efforts, but you would think that after a year, and with Thanksgiving looming (an all important date on the MST3K calendar) Netflix would get the ball rolling again. You would be wrong. It's time to find another home for the Satellite of Love. 
Hodgson sends out regular email updates to an MST3K mailing list, and today's email blast brought the news fans have dreaded. Mystery Science Theater 3000 season 13 isn't happening. At least not on Netflix.
"As some of you might have guessed, we won't be making new seasons of the show for Netflix," Hodgson wrote. "However, I want you to know that we've had a wonderful time working with the Netflix team, and will always be grateful to them. After all, they gave us the opportunity to spend the past few years aboard the Satellite of Love, and made it possible for new generations to discover the joys of riffing cheesy movies with your friends."
But there's a hopeful note here, as well. "I couldn't be more grateful or proud to our incredible cast and our wonderful crew for bringing this incarnation of the show to life, and hope that we'll get the chance to continue collaborating on MST3K as we enter our next chapter," Hodgson wrote.
Both the recent and classic episodes of MST3K will remain on Netflix, so it's only future episodes of the show that need to find a new streaming home. Hodgson sounds optimistic that's exactly what will happen. "Now, I know you might have questions about the future of Mystery Science Theater, but as you've seen over the last four years, we are just as dedicated to keeping MST3K alive as ever. And I want to remind you that there are still lots of options for us to explore in the years to come. This isn't our first rodeo! So, while this might be the end of the first chapter of bringing back MST3K, don't worry: it's not the last chapter."
The annual MST3K Turkey Day Marathon will happen as scheduled via a variety of online outlets, including YouTube and the new dedicated Mystery Science Theater 3000 Twitch channel, so you'll still be able to see all your robot friends during the greatest holiday tradition of them all. But hopefully that terrific new cast gets a chance to riff more cheesy movies on a new network in the not-too-distant future.
So what do we do? Well, for starters, you should probably spend some time streaming those episodes on Netflix. Maybe that will convince the streaming service to rethink their MST3K season 13 stance. Or maybe we can rally around something like a #SaveMST3K hashtag. Or maybe we should repeat to ourselves it's just a show and really just relax. Nah, the hell with that. MST3K forever. #SaveMST3K
(cue "Mighty Science Theater")
Mike Cecchini is the Editor in Chief of Den of Geek. You can read more of his work here. Follow him on Twitter @wayoutstuff.