News
MST3K Marathon Coming to Twitch
Twitch and Shout Factory will be spending the week with an endless deluge of classic episodes of Mystery Science Theater 3000!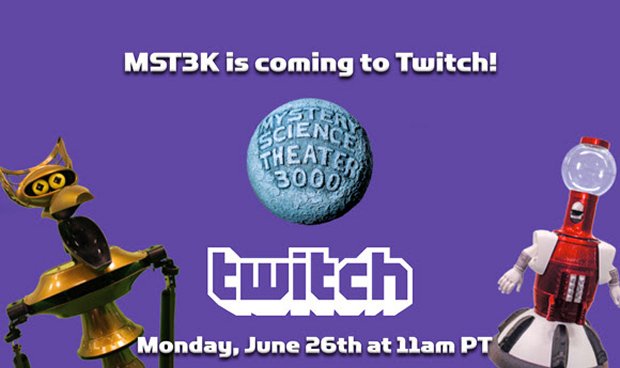 It used to be that if you wanted to sit through a Mystery Science Theater 3000 marathon, it had to be Thanksgiving. But we live in the future and we live in a time when MST3K is relevant again.
A couple months ago, their eleventh season hit Netflix and now we're less than two weeks away from their live tour. Plus they have a Dark Horse comic coming out. In the meantime, Twitch and Shout Factory are joining forces to give us a borderline FXX Simpsons-level look at the show.
Starting on Monday, June 26 at 11 am PT, they will be showing a six-day Mystery Science Theater 3000 marathon. I'm talking 38 episodes! Plus, there will be extra bits and shorts tossed in there.
Here are the 38 episodes in question.
Interestingly enough, the list is missing the top-rated episodes that were used in the Thanksgiving marathon. So don't expect to see Manos or Pumaman.
Cave Dwellers

The Touch of Satan

Final Justice

City Limits

Phantom Planet

Hercules Unchained

The Girl in the Gold Boots

Mad Monster

Swamp Diamonds

Tormented Angels Revenge

The Sword and the Dragon

Manhunt in Space

Red Zone Cuba

The Unearthly

The Wild World of Batwoman

Crash of the Moons

The Starfighters

The Rebel Set

Secret Agent

Super Dragon

Ring of Terror

The Atomic Brain

The Indestructible Man

Hamlet

The Beatniks

Legend of Boggy Creek II

Attack of the Giant Leeches

The Incredibly Strange Creatures Who Stopped Living and Became Mixed-Up Zombies

Gunslinger

The Corpse Vanishes

The Violent Years

Monster A Go-Go

Code Name: Diamond Head

The Human Duplicators

Beginning of the End

The Painted Hills

Night of the Blood Beast

The Killer Shrews
Man. While there are definitely some great episodes in there like Cave Dwellers and Final Justice, there are some harsh movies in there that are hard to watch even with Mike or Joel, like Hamlet and Monster A Go-Go. At least it means getting to see Legend of Boggy Creek II without having to shell out for the DVD.
Gavin Jasper won't stop until he gets his man or your lunch. Follow him on Twitter!