News
Marvel's Moon Knight TV Series on Disney+: Everything You Need to Know
Moon Knight, the Fist of Khonshu, he of the awesome costume and annoying Batman comparisons, is getting a Disney+ series.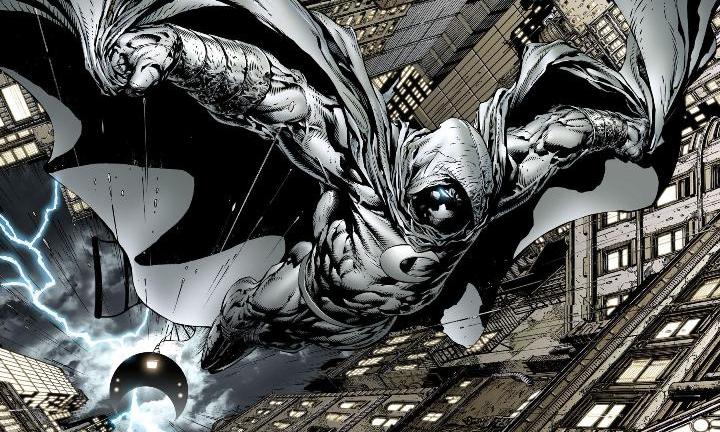 Worried that Marvel's lineup of Disney+ TV shows was too heavily focused on leaning on characters you already knew about from the MCU movies? Well, fear not, true believer, because there's a Moon Knight TV series coming to Disney+. The Moon Knight TV series was first revealed by Kevin Feige at the D23 Expo. The Hollywood Reporter broke the news that Umbrella Academy TV series writer Jeremy Slater will serve as showrunner on the Disney+ Moon Knight show. Moon Knight was created by Doug Moench and Don Perlin and first appeared, appropriately enough, in the pages of Marvel's Werewolf by Night series in 1975.
Watch everything Marvel and more with a FREE Disney+ TRIAL, right here!
Moon Knight is Marc Spector, a former mercenary and adventurer who becomes the avatar of the Egyptian moon god Khonshu after some archaeological misadventuring. Think of Spector at that point in his life as kind of an even more morally questionable Indiana Jones. With the wealth he accrued through questionable means, Spector turns to crimefighting (as one does), designs a ridiculously cool costume, and then spends most of his publishing career being compared to a half-assed Batman. Despite that, the character has endured for over 40 years, supporting his own ongoing series numerous times, and counting comics luminaries like Bill Sienkiewicz, Warren Ellis, Alex Maleev, and Brian Michael Bendis among the many who have told his stories.
Back in the old days when Marvel Netflix shows were still a thing (doesn't that seem like…a very long time ago?), the darker elements of Moon Knight (and the brutal violence he sometimes unleashes) would have seemed like a perfect fit for that corner of Marvel's multimedia empire. But these days the prestige Marvel shows are all headed to Disney+, and Moon Knight is one of only two currently announced series that doesn't have direct ties to current MCU movies (the other is the recently unveiled Ms. Marvel). But unlike with ABC's Agents of SHIELD or the sadly departed Marvel Netflix shows or current Hulu offerings, Marvel characters that appear on the Disney+ shows are more likely to make the jump to the big screen.
Moon Knight is one of the few superheroes who has struggled with mental illness during his career, as well, at one point believing that his entire superheroic life had been a hallucination. That would be quite an angle for a series to open on, if Marvel Studios and Disney were to go that way. All I'm saying is that Werewolf by Night had better show up at some point, though. It's only fair.
Grab a FREE TRIAL of Disney+, on us, right here!
Moon Knight Release Date
At the moment, there's no release date set for Moon Knight. We're going to see The Falcon and The Winter Soldier, Loki, and WandaVision first, and those will start rolling out in late 2020 on Disney+. In other words, the earliest we're likely to see Moon Knight is early 2022. We'll update this as soon as we have more concrete info.
Mike Cecchini is the Editor in Chief of Den of Geek. You can read more of his work here. Follow him on Twitter @wayoutstuff.