News
Midnight, Texas Trailer and Synopsis
Outsiders find a home in True Blood novelist Charlaine Harris's supernatural trilogy Midnight, Texas.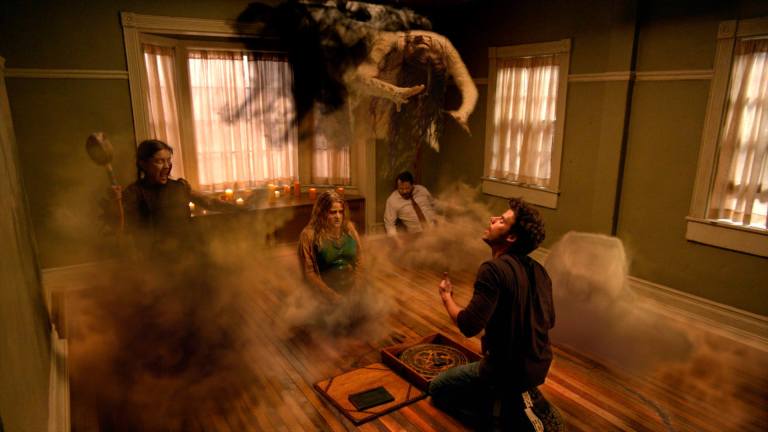 What do you do when you're used to being the only freak in the room and you move to a town of oddities? Solve a murder. Midnight, Texas, the upcoming NBC series adaptation of Charlaine Harris's best-selling 2014-16 fantasy trilogy, is scheduled for a mid-season premiere. No official release date has been announced. David Janollari, who was co-creator of HBO's Six Feet Under with Alan Ball, will be adapting the True Blood author's words.
Read and download the full Den of Geek SDCC Special Edition magazine here!
Midnight, Texas follows Manfred Bernardo, played by Francois Arnaud of The Borgias, a psychic medium who finds himself in a remote Texas town where supernatural outsiders, including a vampire, a witch, an angel, and a hitwoman.
The pilot for Midnight, Texas, was directed by Niels Arden Oplev (Mr. Robot, The Girl with the Dragon Tattoo). The series also Sarah Ramos, Arielle Kebbel, Peter Mensah, Parisa Fitz-Henley, Dylan Bruce, and Yul Yazquez. Jason Lewis (Sex And The City) plays an angel named Joe.
"Joe is not like a Hallmark angel," Lewis told Elle magazine. "He's not some cherubic icon on the front of a greeting card. He's an immortal creature who has lived through a lot of different circumstances. I think one of the hardest fights in life is to move through your experiences and life's struggles and to hold on to a sense of hope and discovery. That struggle there, I found that pretty interesting."
"Welcome to a place where being normal is really quite strange," reads the official synopsis.
"From the visionary director of Mr. Robot and based on the hit book series from the author behind HBO's True Blood comes a journey into a remote Texas town where no one is who they seem. From vampires and witches to psychics and hit men, Midnight is a mysterious safe haven for those who are different. As the town members fight off outside pressures from rowdy biker gangs, ever-suspicious cops and their own dangerous pasts, they band together and form a strong a strong and unlikely family."
Midnight, Texas is executive produced by Monica Owusu-Breen (Agents of S.H.I.E.L.D., Alias, Brothers & Sisters) and David Janollari (Six Feet Under, American Family).
NBC released a first-look trailer for the midseason supernatural series Midnight, Texas. 
NBC screened the Midnight, Texas pilot episode at their at New York Comic-Con panel on Saturday, October 8, 2016.